Kim Duyen to vie for Miss Universe 2021 crown
Nguyen Huynh Kim Duyen is due to be the next contestant to represent Vietnam at the Miss Universe 2021 pageant scheduled to take place in Costa Rica this December.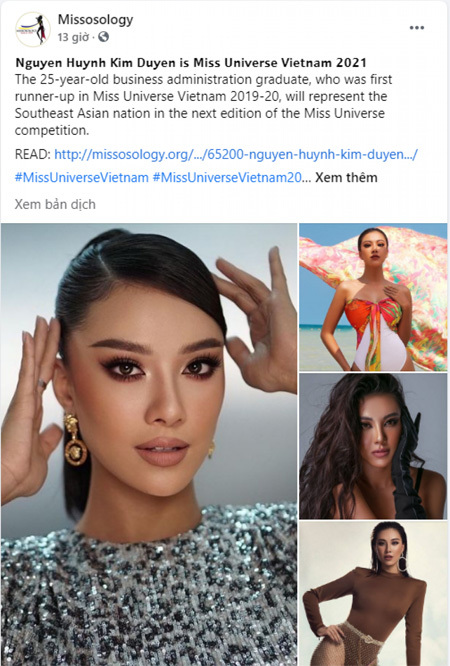 Kim Duyen is briefly introduced by global beauty website Missosology.
Originally hailing from Can Tho, the local beauty won the first runner-up title during the Miss Universe Vietnam 2019, the national competition which names Vietnamese contestants to the Miss Universe pageant.
Recently Kim Duyen was briefly introduced by global beauty website Missosology which stated, "The 25-year-old business administration graduate, who was first runner-up in Miss Universe Vietnam 2019, will represent the Southeast Asian nation in the next edition of the Miss Universe competition."
Duyen stands at 1.73 metres tall and measures 90-60-95. She is widely viewed as an outstanding face who regularly participates in various charitable campaigns throughout Vietnam, including health care for people with HIV/AIDS, support for LGBTQ+ rights, along with offering assistance to poor children attending school.
Duyen's predecessor, Miss Universe Vietnam 2019 Khanh Van clinched a Top 21 finish in the grand finale of the Miss Universe 2020 held recently in the United States.
The 69th competition was postponed from its original date last year to May this year due to the impact of the COVID-19 pandemic.
VOV

As the world's leading publication on beauty pageants, Missosology has selected Vietnamese representative Khanh Van among its top five Hot Picks for the upcoming Miss Universe 2021 contest.
A number of local beauty queens who have won the Miss Universe Vietnam pageant in previous years appear incredible in a photo collection taken in order to celebrate the upcoming Year of the Buffalo.