How will V-League 2021 end?
VPF (Vietnam Professional Football) and V-League 2021 have been placed in a dilemma. It's unclear how V-League 2021 will end, or if it will be delayed until early 2022.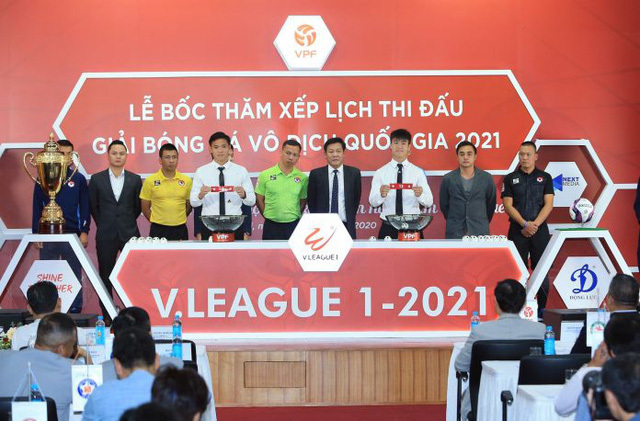 VPF is in the most difficult period in its history. The main problem lies in financial capability, caused by impact of Covid-19.
In 2020, its finance report presented at the shareholders' meeting (2020-2023 term) showed that the company initially planned to collect VND111.5 billion, mostly from ad and sponsor contracts. But it finally incurred a loss of VND7 billion.
Despite the VFF's support of VND7 billion sourced from FIFA allocated to Covid-19 hit football federations, VPF is not sure of making profit.
In previous years, though VPF had to pay VFF for the right to organize professional football tournaments (VND11 billion a year), and supported the football club (VND44 billion in 2018-2020), it still could make a profit of VND300 million (in 2019) and VND2.8 billion (2018).
However, financial challenges, or even losses, have been warned for this year, though V-League is halfway, and the sponsor is still there.
The biggest problem on which football clubs disagree is the plan to move over to the next year the operation maintaining cost.
With the current situation of VPF, it is nearly impossible to ask the organizer to share costs to maintain operation until February 2022. Therefore, other solutions to the 2021 season should be found.
The majority of football teams can hardly 'live' until V-League 2021 comes back, while they still have to pay footballers, Vietnamese and foreign, not to mention expenses to maintain living and training.
The only way out for them now is that VPF and 14 football teams sit together to discuss and find a common voice to the solution to the 2021 season. This would be better than the tentative solution on moving the tournament to 2022 initiated by VPF.
Perhaps V-League has to sacrifice its remaining time for the national squad and U-23 team. Therefore, ending V-League 2021 in 2021 instead of 2022 proves to be a better end for all.
One of the scenarios is that VPF recognizes the results gained so far and let HAGL take the throne, while the second position is given to Viettel.
Analysts said the scenario may face opposition from some football teams, but the solution may still be supported because of the convincing achievements of HAGL and the understanding that it would be better not to delay the tournament until 2022.
Another suggestion for the organizer is that no football team would be relegated, while the number of teams would rise to 16 the next season. 
Duy Nguyen

After nearly 18 years of living in Vietnam, retired Nigerian footballer Amaobi Honest Uzowuru has found his second home.