Hoang Anh Gia Lai to face An Giang in National Cup opener
Hoang Anh Gia Lai (HAGL) have been handed a straightforward National Cup draw against An Giang FC in the qualifying round following the online draw held on Tuesday in Hanoi.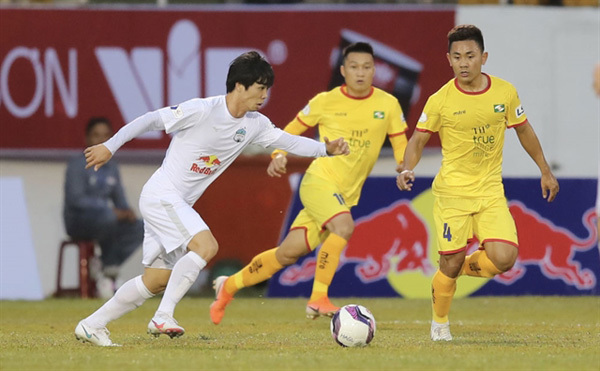 Hoang Anh Gia Lai striker Nguyen Cong Phuong (left) tries to pass Song Lam Nghe An players during their V.League 1 match last month. Hoang Anh Gia Lai will play An Giang in the National Cup qualifier on April 9. Photo courtesy of VPF
HAGL are expecting to fly high under their new coach Thai icon Kiatisuk Senamuang this season, and have three points from one win in the V.League 1.
An Giang are a V.League 2 team who have been in the second tier since 1997.
The National Cup includes 27 teams from the both V.League 1 and V.League 2 competing in a knock-out format from April 9 until September 30.
Due to the odd number of teams, Nam Dinh were randomly selected for a bye, while last year's four semi-finalists of Hanoi FC, Viettel, HCM City and Quang Ninh also got byes.
Other qualifying round matches include Hai Phong vs Binh Phuoc, SHB Da Nang vs Ba Ria Vung Tau, Hong Linh Ha Tinh vs People's Police, Song Lam Nghe An vs Pho Hien and Phu Dong vs Hue.
The cup winners will receive VND1 billion (US$43,400) and a slot in the Asian Football Confederation Cup 2022.
Also on Tuesday, a draw for the V.League 2 season was held.
The 13 teams will play each other once, after which the seven top teams will compete for the title. The winning team will be promoted to the V.League 1 along and win a purse of VND1 billion, while the first runner-up will take part in the play-off match for a chance to be promoted.
The other six teams will fight to avoid relegation.
Phu Tho and Khanh Hoa's clash at Viet Tri Stadium will be the opening match on March 20. The two sides will also square off a month later in the National Cup.
Other games are between Pho Hien vs Long An, Binh Phuoc vs former V.League 1 champions Quang Nam, Can Tho vs freshmen People's Police, An Giang vs Ba Ria Vung Tau and Dak Lak vs Hue. Phu Dong rest this round.
The V.League 2 is scheduled to end on September 18. 
Last-minute exit
Tay Ninh announced their withdrawal from the V.League 2 just two weeks ahead of Tuesday's draw.
Each team must have at least VND15 billion in the bank to compete in the first division, which Tay Ninh don't have.
"Tay Ninh could not cover the expenses for the competition as ruled so they have to leave the event. We really regret it and it is the reason why there are only 13 V.League 2 teams this season," said VPF General Director Nguyen Minh Ngoc.
The VPF and VFF tried to encourage the team to overcome their difficulties but Nguyen Thanh Son, director of the Tay Ninh Football Joint-stock Company, said: "COVID-19 had a strong influence on local enterprises which are mainly in small and medium scale. They could not support us anymore."
Tay Ninh have long struggled financially and after the withdrawal was announced, head coach Hoang Hai Duong and some players moved to Dong Nai FC in the Second Division while other members are looking for jobs at other clubs.
The VPF has decided to have only the bottom-ranked team relegated instead of two previously after Tay Ninh withdrew. VNS

Progressing through the Asian region's second round of qualifying matches for the 2022 World Cup, competently organising the 2021 V.League 1 season,