Hoang Anh Gia Lai coach keeps his eye on the prize
Hoang Anh Gia Lai (HAGL) are title favourites thanks to an 11-match unbeaten run in the V.League 1 and coach Kiatisuk Senamuang is aiming to keep his players focused in a bid to secure glory.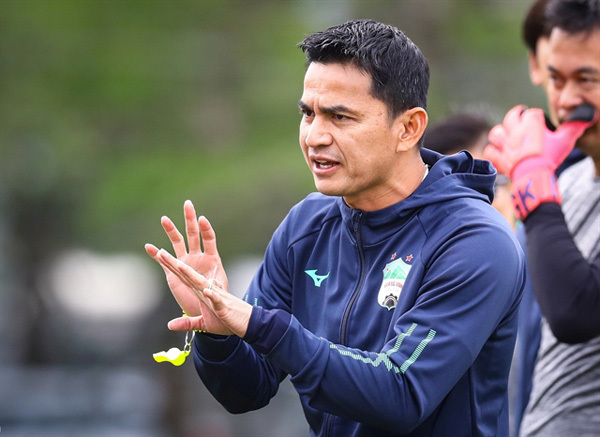 Coach Kiatisuk Senamuang of Hoang Anh Gia Lai said top position in the first period is success for his team while to take the trophy is big task of all coaches and players. Photo zingnews.vn
A 2-2 draw with Becamex Binh Duong on Sunday left HAGL on top of the table with one game to go before the league splits into a group of six teams to vie for the title and eight to battle to avoid relegation.
Senamuang's charges have picked up 29 points in 12 matches, with nine wins, two draws and a solitary loss to Sai Gon FC in their opening match of the season.
The result of their clash with Than Quang Ninh in the first period on Friday will not affect their position going into the split.
HAGL recorded seven wins in a row earlier this season, matching the record they set 17 years ago when Senamuang played for the team in 2004.
The draw with Binh Duong ended HAGL's winning streak.
"HAGL can't win every match. Everyone wanted to have a record but in football teams can win, draw or lose both at home or away. It is normal," Senamuang told reporters.
"I have told my players that they should work harder and do their best because we still have six games ahead, not only the first period," he said.
The Thai 'Zico' said compared to his initial target of finishing in the top three, their current position is already a success for the team.
In the last match before the split, HAGL will have to do without star striker Nguyen Cong Phuong, who is suspended after picking up three yellow cards.
Phuong has scored six goals along with a single assist and has been a key part of HAGL's attacking success.
Luckily for Senamuang, Phuong's fellow striker Nguyen Van Toan is in even better form, having netted seven times and assisted three times.
One concern for HAGL is their leaky defence, which has shipped six goals in their last four matches, double the figure in the eight prior games.
Senamuang has recognised the trouble and said he was trying to fix it and hoped it would work when they visit Quang Ninh who sit third in the table.
"We will play well in the last match with Quang Ninh and then the players will be released for the national team. My task is also to prepare their physique for them to compete in the V.League 1 and contribute for Vietnam," he said.
Senamuang said the break for national team fixtures would give him the chance to sharpen the rest of his squad as they prepare their bid to lift the title for the first time in 17 years.
VNS

Hoang Anh Gia Lai (HAGL) football club won all four team and individual awards of V-League 2021 in April, thanks to the team's impressive achievements at the tournament.