Hit dramas nominated for 2019 Mai Vang Awards

Two dramatic plays staged by HCM City's private theatres are top candidates to be nominated for the 2019 Mai Vang (Golden Apricot) Awards presented by the Người Lao Động (Labourer) newspaper.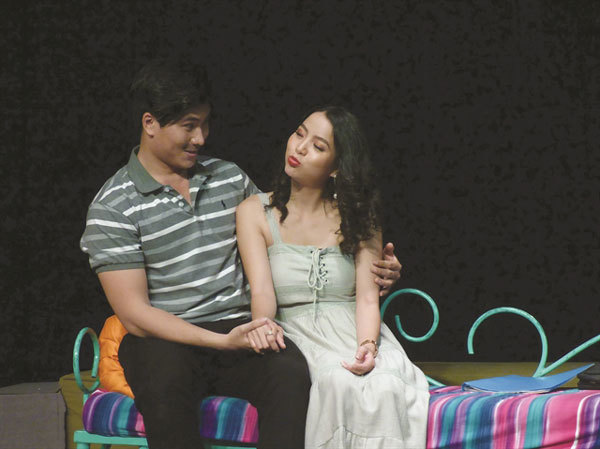 Actors Phuong Linh and Ngoc Son in play Tiền Là Số Một, which is about money and love staged by the Small Theatre of HCM City. The play is a top candidate to be nominated for the 2009 Mai Vang Awards presented by the Người Lao Động (Labourer) newspaper. Photo courtesy of the producer
The productions, Lão Hà Tiện (Eugénie Grandet) and Tiền Là Số Một (The Power of Money), feature themes about money and love that have left a strong impression on city audiences, particularly young people who are increasingly tired of stale comedic works.
Both dramas have staged more than 30 shows and are still hits.
Lão Hà Tiện, adapted from Honoré de Balzac's novel Eugénie Grandet, is performed by young actors of the newly opened Hong Hac Drama Troupe.
The play is about a wealthy but miserly Felix Grandet whose deeds lead to tragedy for his daughter Eugénie and himself.
In her Vietnamese version, female director Viet Linh, who has more than 40 years of experience in the industry, uses new concepts and techniques to highlight the play's messages.
She worked with young colleague, theatre director Tây Phong of Hong Hac Drama Troupe, to rewrite the screenplay.
The play debuted at the HCM City Opera House in June.
"Balzac released Eugénie Grandet in 1839, but it has modern content. The play's message is about the hypocrisy and shallowness of wealthy people and how money controls their lives," said Phong in an interview with local media after his work's premiere impressed audiences.
Phong invited young talents Le Chi Na, Thanh Tuan, Lương My and Hong Dao to play the leading roles.
"Our actors have been working every day to perfect their characters. Today, only quality performances can bring theatre closer to audiences, particularly to young people," he said.
Lão Hà Tiện was chosen to be a part of a theatre project launched by the HCM City Centre of Performing Organising and Cinematography this year.
The project provides financial support to private drama troupes that offer experimental plays.
Hồng Hạc Drama Stage began business in 2015. Its owners, Linh and theatre director Pham Hoang Nam, and young actors have worked hard to offer experimental shows in drama and musicals, helping audiences become closer to contemporary theatre offered in New York and Paris.
Lão Hà Tiện is staged on Saturday and Sunday at 155Bis Nam Kỳ Khởi Nghĩa Street in District 3.

At the Small Theatre of HCM City, young actors are heating up their audiences this summer with a serious play on love and money.
Their latest play, Tiền Là Số Một (The Power of Money), became a hit two months after its release.
The tragi-comedy is written by Hoang Man, a famed playwright of theatre in the Sai Gon style.
It is about the life and love of Tung and Phen, both poor farmers who become millionaires after winning the lottery.
"Money creates many things that make people enjoy. However, it destroys people when it controls their life," said the play's director Quoc Thinh.

"Our work features a very old story, but also contains social issues of today."
Thinh's play includes sound and light effects to help express the actors' emotions.
He used young actors such as Phuong Linh and Ngọc Sơn because "they make the play fresh," said Thinh, who plays a small role in the play.
For their performance in Tiền Là Số Một, Thinh's actors have worked several hours a day to improve their singing and dancing skills. They perform without microphones.
"Our troupe, the Small Theatre of HCM City, made its fame in the 1990s. I hope my young actors will developthe theatre and their art in the most professional way," said Thinh.
Tran Thi My Dung of Binh Thanh District said: "I was entertained and educated after watching Tiền Là Số Một. I believe the play will be nominated for the 2019 Mai Vang Awards."
Tiền Là Số Một is staged every weekend at 5B Vo Văn Tan Street in District 1.
The Mai Vang Awards began in 1995 and aims to honour the year's artists and productions in theatre, music and TV shows.
The list of nominations for the 2019 Mai Vàng Awards will be disclosed next month. The awards ceremony is expected to be held in December. VNS
Thu Anh