Heineken® x Top DJs present Vietnamese with exclusive "Music in a can" experience
This May, Heineken® has collaborated with electronic dance music (EDM) legends Tiësto, Dimitri Vegas & Like Mike, KSHMR and Quintino to launch limited edition Heineken® x Top DJ packs and a series of exciting consumer activities to follow.
Ranked among the top DJs on the EDM world stage by DJ Mag – Tiësto - regarded as the Greatest DJ of all time, Dimitri Vegas & Like Mike (No. 2), KSHMR (No. 12), Quintino (No. 33) - have joined Heineken® in introducing the brand's "Music in a can" concept. This campaign supports the brand packaging's transition to an all-sleek can design starting this month. Morever on legend Tiësto, his latest smash hit "The Business" is certified Platinum in 12 counties and gold in 10 countries (including the US) and has held a place on the Top 25 official singles chart in 12 countries as well as Top 50 on Spotify in 33 countries.
The Heineken® x Top DJ packaging features Tiësto, Dimitri Vegas & Like Mike, KSHMR and Quintino portraits on Heineken®'s iconic green and red star. Starting from May 10 to June 10, 2021, consumers will receive a limited-edition Heineken® x Top DJ four-can pack for every purchase of Heineken® Original sleek carton across all off-trade distribution channels nationwide. This promotion is also applicable for Heineken® Silver consumers in selected cities and provinces .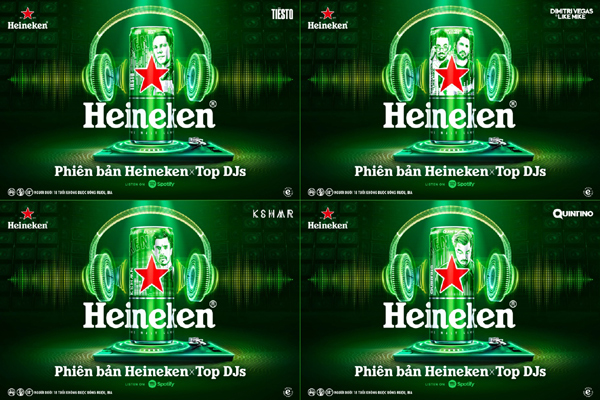 These limited-edition packs come with a special QR code that allows consumers to activate an augmented reality (AR) music experience within their palm. EDM fans can even mix their own beats personalized with their name by visiting the campaign's microsite at [http://heinekendjs.com.vn/]. From May 17 to 23:59 on June 13, 2021 (the AR music experience will be activated from May 24 to 23:59 on June 20, 2021), consumers will stand a chance to win one of over 3,000 prizes including Heineken® T-shirts, Harman Kardon speakers, 12-month premium Spotify subscriptions and iPhones 12 Promax.
In June 2021, Heineken® plans to organize a series of music parties in Hanoi and Ho Chi Minh City. These events will allow consumers to show off their DJ skills and even have their performance projected on massive LED screens at popular venues in Hanoi and Ho Chi Minh City. The detailed timeline and venue are subject to change based on the actual COVID-19 situation in these cities.
"This May, we will transition our Heineken® packaging in Vietnam to an all-sleek can design while maintaining the same perfect taste of our beer that has won millions of fans around the world since 1873," said Ms. Anna Bizon, Marketing Director of HEINEKEN Vietnam.
"We are pleased to collaborate with Tiësto, Dimitri Vegas & Like Mike, KSHMR and Quintino, to bring to life the innovative concept of "Music in a can". This campaign will once again present Vietnamese consumers with world-class experiences that only Heineken® can provide," she added
The upcoming Heineken® campaigns and events are only open for consumers from 18 years old and above. For more information, please visit Heineken's official Facebook Fanpage athttps://www.facebook.com/HeinekenVN or the campaign microsite at [http://heinekendjs.com.vn/].
HEINEKEN Vietnam is a subsidiary of HEINEKEN, the world's most international brewer. Originated in the Netherlands, this family-owned business with a history of over 150 years, brews and distributes over 300 beer & cider brands in more than 190 countries.
HEINEKEN Vietnam was established in 1991 and operates six breweries in Hanoi, Da Nang, Quang Nam, Ho Chi Minh City, Vung Tau, Tien Giang and 11 offices across Vietnam.
From humble beginnings with only 20 employees in Vietnam 30 years ago, HEINEKEN Vietnam is now the second largest brewer in Vietnam with more than 3,500 employees. HEINEKEN Vietnam makes a significant annual economic contribution to Vietnam, amounting to approximately 0.95% of the nation's total GDP.In Vietnam, HEINEKEN produces and distributes Heineken®, Tiger, Larue, BIVINA, Bia Viet and Strongbow cider.
For five consecutive years since 2016, HEINEKEN Vietnam has been recognized among the top three most sustainable companies in Vietnam by the Vietnam Chamber of Commerce and Industry (VCCI) and as a best place to work in Asia (in 2018, 2019 and 2020) by HR Asia Magazine, one of Asia's leading publications for HR professionals.
More information about HEINEKEN® Vietnam is available on HEINEKEN® Vietnam's website: http://Heineken-vietnam.com.vn/
N.M