HCM City: over 700 runners conquer 81-storey skyscraper

More than 700 athletes on April 28 raced the height of the 81-storey skyscraper Landmark 81 in Ho Chi Minh City's Binh Thanh district, the highest building in Southeast Asia.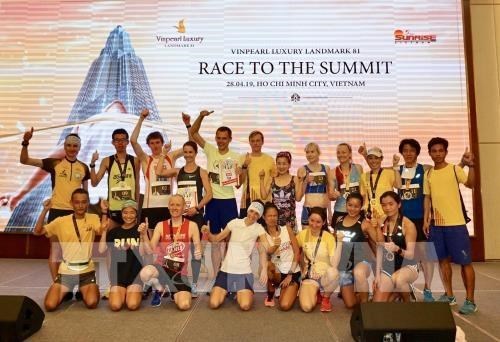 Top winners of the race pose for a group photo
The Race to the Summit, as part of the annual Vertical World Circuit (VWC), gathered professional runners from Australia, Poland, Japan, the Republic of Korea, and Vietnam, among others. To win the race, they had to complete 2,400 steps from the 1st to 81st floor of the building, which was considered the second hardest challenge of its kind in the world this year.
Finishing within 11:35 minutes, Piotr Lobodzinski from Poland, winner of the VWC World Championship in five consecutive years, topped the male category. He was followed by Mark Bourne from Australia with 12:25 minutes and Emanuele Manzi, Italian, 13 minutes.
Australian runner Suzy Walsham won the female category with 14:36 minutes, followed by Kim Jieun from the RoK (15:02), Laura Manninen from Finland (15:44). Nguyen Linh Chi from Vietnam came in fifth at 17:34 minutes. Chi was also the first among participating Vietnamese athletes to complete the challenge.
The race took place on the occasion of the inaugural of the 5-star hotel Vinpearl Luxury Landmark 81 at the building.-VNA