Hanoi's sleeping beauty awakens
Aficionados of Hanoi who love and care about Vietnam's age-old architecture have been enthralled over the last week after hearing of a beautifully-preserved mansion in the capital's Ngoc Ha Village.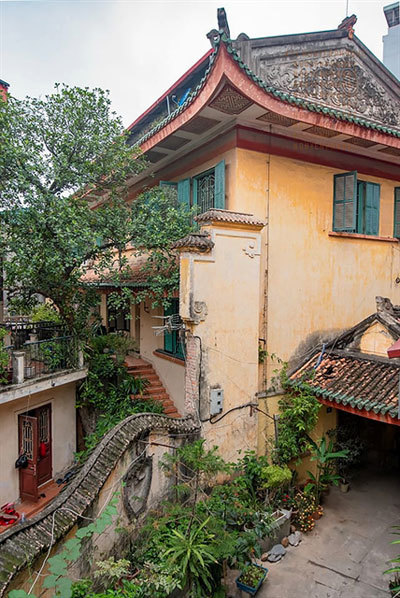 STYLE OF THE DAY: The side entrance to the mansion, which bears art deco touches. VNS Photo Nguyen Phu Duc
Nestled under tall ancient trees where Hoang Hoa Tham Street meets Ngoc Ha Street and well away from the crowds, the mansion lived its own quiet life until its owner recently opened it up to the public.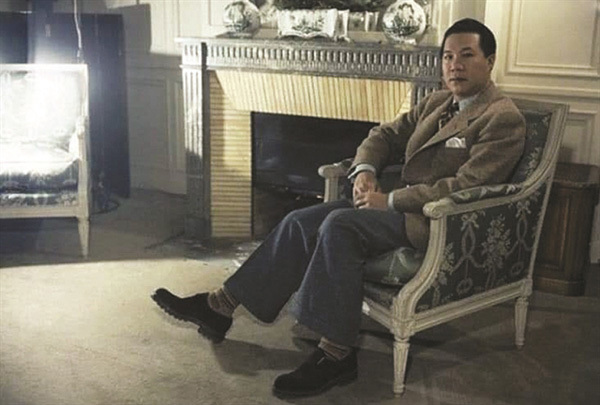 END OF TIMES: Vietnam's last emperor, Bao Dai, at one of his residences in Hanoi. Photo archives from Institute of Architecture
"It was a great surprise to find out about this architectural gem in Hanoi that few people know about!" said Ho Hoang Hai, 45, founder of the Phu Thanh retractable awning and lighting company and owner of major part of the property.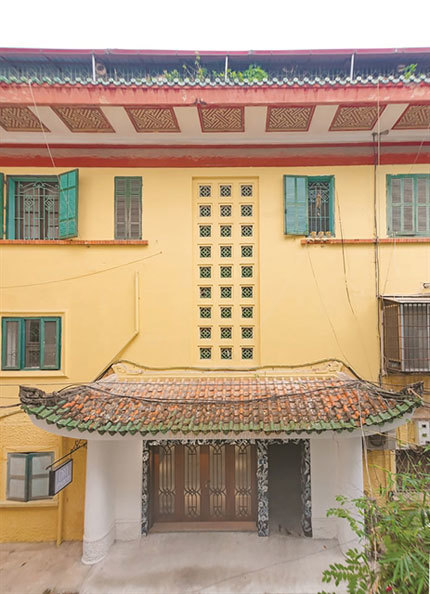 TYLE OF THE DAY: The side entrance to the mansion, which bears art deco touches. VNS Photo Nguyen Phu Duc
Bao Dai Mansion, as the secluded little palace is known by local people, stands at the entrance to Hanoi's once-beautiful Ngoc Ha flower village. It used to have two facades facing Hoang Hoa Tham and Ngoc Ha, but, over time, small buildings appeared that not only blocked its view but also shielded it away from curious passers-by and old architecture hunters as well as, thankfully, real estate developers.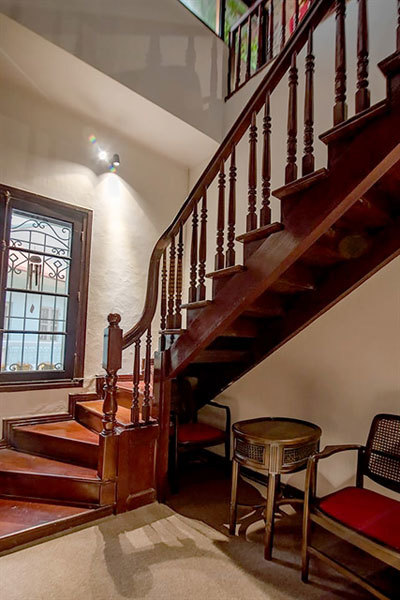 OLD ELEGANCE: The wooden staircase leading to the second floor. VNS Photo Nguyen Phu Duc
"The elderly living here told me that about 15 years ago a group of overseas Vietnamese from France came to visit, saying they were descendants of Vietnam's last emperor, Bao Dai. One woman even said she was born and grew up in the mansion."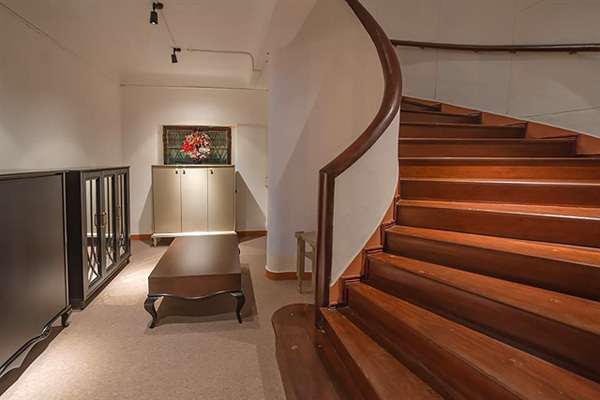 UP & AWAY: The wooden staircase leading to the first floor, which belongs to a different owner. VNS Photo Nguyen Phu Duc
Sleeping beauty
The mansion was built in the French style with Oriental décor including dragons and phoenixes. But the floor plan resembles a French villa.
It is the main and largest building in a complex of four houses. The second, located just 50 metres away, was said to be Emperor Bao Dai's guest house and has a ballroom. It became Hanoi's first draft beer house and was frequented by many.
The large room on the first floor of the main building belongs to another owner, while Hai now owns part of the ground floor and third and fourth floors, with four bedrooms. 
There is a 300-square-metre garden at the front, with a little pond, a small hill, and many old bonsai.
It was built by Marie Agnes Nguyen Huu Hao, the elder sister of Queen Nam Phuong, Emperor Bao Dai's wife, and her French husband Pierre Didelot. They engaged French architect Arthur Kreuze to build the mansion, who had many buildings around the world to his name.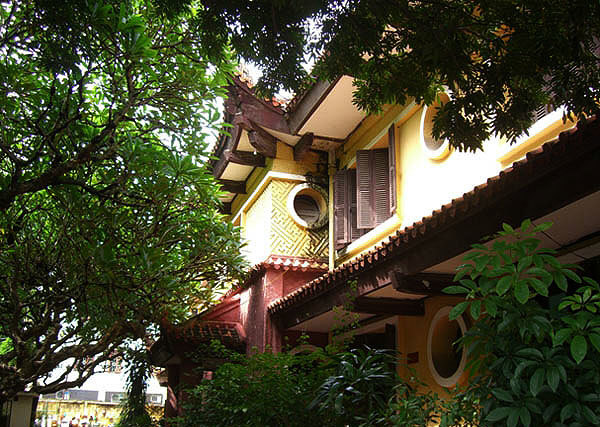 PRESERVED: The office of the People's Army newspaper is located in one of the better-preserved residences that once belonged to Vietnam's last emperor. VNS Photo Le Bich
In 1945, when the August Revolution took place in Hanoi and then in central Vietnam, a delegation of President Ho Chi Minh's provisional government arrived in Hue. Emperor Bao Dai shortly after agreed to abdicate the throne, with the heart-wrenching words: "I'd rather be a citizen of a free country than the emperor of an enslaved kingdom."
After the Geneva Agreement in 1954 temporarily divided Vietnam into two parts, the estates of the monarchy in the north became public property and were assigned to government cadres as housing.
"It was good fortune that the mansion's previous inhabitants knew about history, valued the estate's historical and artistic features, and preserved it all quite well," Hai said. "The mansion didn't suffer the fate of many French villas in Hanoi, which were chopped up into smaller bits to house extended families."
The buildings were constructed with materials imported from France, Spain and Italy from Europe in the early 20th century. The electrical wiring was placed inside the walls and still functions well. Its water pump is working, and an electrical "dumb waiter" can still bring food from the kitchen up to the living room on the second floor. All of the rooms have built-in wardrobes.
Its roof tiles remain intact, and their colour hasn't faded over time.
The mansion has its own garage in the basement of the main house. It's also said there is an underground escape to nearby West Lake, where there used to be a seaplane wharf on the shore.
There is also an underground water tank and built-in toilets on each floor. The wooden staircase, the hardwood floors, and all of the interior woodwork have amazingly remained intact. 
The time and The architect
Pierre Didelot (1898-1986) was a French 5th Baron, polytechnician, artillery captain, director of the Far Eastern Services of the Indochina and Pacific Radiotelegraph Agency, and Knight of the Legion of Honour and Cross of 1st World War 1914-1918.
He married Marie-Agnes Nguyen Huu Hao in Sai Gon in 1928, the elder sister of Marie-Thérèse Nguyen Huu Thi Lan, the maiden name of Vietnam's last queen Nam Phuong.
The mansion is one of three that architect Kreuze designed when he was teaching at the famed École Superieux des Beaux Arts de L'Indochine (EBAI - the Indochina School of Fine Arts).
Architecture studies were first established in Indochina by the School of Public Works with the purpose of training local technicians to serve the colonial administration.
In 1922, French architect and city planner Ernst Hébrard directed the teaching of architecture and city planning at the Higher Courts of Public Works, which was established the same year.
The EBAI was established in 1924 and its architecture department two years later.
In a paper published in 2018, author Le Xuan Son cited a hand-written document from EBAI founder Victor Tardieu: "When we visit Indochina, we are forced to note that remarkable monuments of old were built and that since our arrival nothing has been attempted to continue these traditions."
"The general idea is not to create a school that would implement old forms without discernment or critical thinking. A school based on the servile imitation of the past would only result in lifeless art, an eternal pastiche of eras that have passed. Rather, it would be a question of creating a school which, while respecting local traditions, would adapt to modern needs."
The architecture course was therefore to train future architects who were familiar with the forms and modes of French architecture and able to create a French style for the Far East, adapted to the local climate and in harmony with nature.
In 1930, Tardieu convinced Kreuze to come to Indochina and teach architecture at the school. In 1932, Kreuze was appointed interim director of the EBAI and head of the architecture section. He confirmed his regionalist orientation in a letter to the Governor-General of Indochina after a long study trip through Indochina.
Strongly criticising the imitation of metropolitical architecture that disregards the local situation, Kreuze pointed out the fundamental elements to be taken into consideration for any design: diversity of climate and geography between regions, in particular different countries (within Indochina), the adaptation of traditional architecture to the needs of modern life, and the use of local materials in the construction of new architectural projects such as the post office, train station, hospitals, and other public offices.
He emphasised that this teaching only created a "condition" and the profession of liberal architect must also be developed in Indochina.
For him, these elements would undoubtedly do "honour to the genius of a colonising France!"
But in 1945, the August Revolution ostensibly put an end to France's colonising, and the EBAI was forced to close. The school moved to Sai Gon in 1950 and architect Kreuze remained with the EBAI chapter until 1954.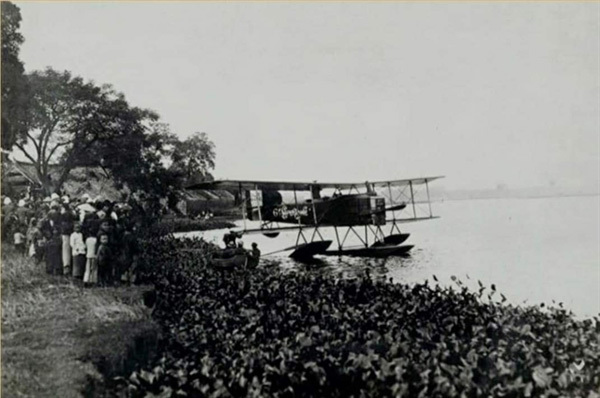 QUICK GETAWAY: A seaplane belonging to Emperor Bao Dai on West Lake. Photo courtesy of Ho Hoang Hai
Throughout his professional career in Indochina, Kreuze believed that the architecture of Tonkin (northern Vietnam) and Cochinchina (southern Vietnam) was heavily influenced by Chinese architecture. Architecture critics say that even his buildings, like the Residence for Officers at what is today 4 Ly Nam De Street and the Marines' Club in Tran Phu Street in Hanoi, adopted heavy Chinese influences.
According to architect Tran Quoc Bao, senior lecturer at Hanoi's National University of Civil Engineering's Department of Architecture and Planning, Kreuze's most important building was the Marines' Club, built in 1939 and 1940, which is now the head office of the National Sports Administration. 
The complex included two identical villas for common activities, including a large dining room/ballroom. "His use of slanted roofs using tube tiles was significant for all three buildings, which is an Oriental architectural feature," Bao told Sunday Việt Nam News.
Buildings designed by Kreuze, like the mansion in Ngoc Ha Village and residences on Ly Nam De and Phan Boi Chau Streets, all built during 1939-1941, share the same concept: the floor plan resembles French villas but the architectural style employs many Oriental features on the roofs and corners and in the decorative details.
Having been a member of a project in 2010 that traced all French buildings constructed in Hanoi before 1954, Bao is certain it is the largest private villa in the capital. 
All are ornate and graceful, and fit well with local landscapes. Kreuze dubbed this the "Sino-Annamite" style of architecture.
"Because of his extensive use of the turned-up roof, tube tiles, and other less-modified Oriental decorations, Kreuze's villas were thought to have been built earlier than those designed by Hesbrard and Roger, which bear a more modern look," Bao said. 
Tourist destination
Tour guide Nguyen Quang Huy commented on Hai's Facebook post: "It's magnificent! I have been a tour guide for more than 10 years but have never heard about this place."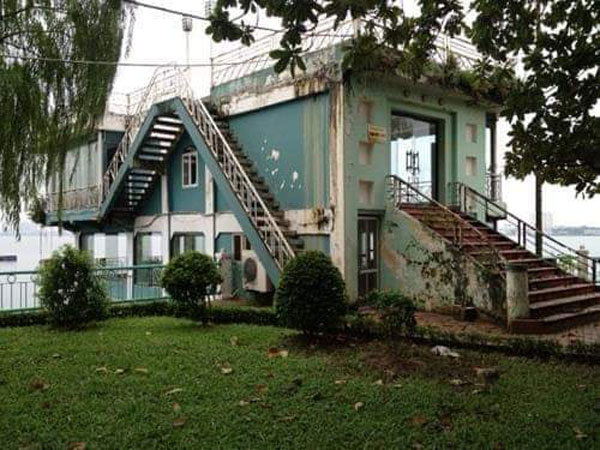 FLIGHT CENTRE: The seaplane wharf on the shores of West Lake. Its vintage look makes it a popular background for young people taking photos. Photo courtesy of Hoang Hai 
He suggested the villa be added to existing tours of the Ho Chi Minh Mausoleum, the Ho Chi Minh Museum, and Ngoc Ha Village, where the remnants of a shot-down B52 lie in Huu Tiep Lake.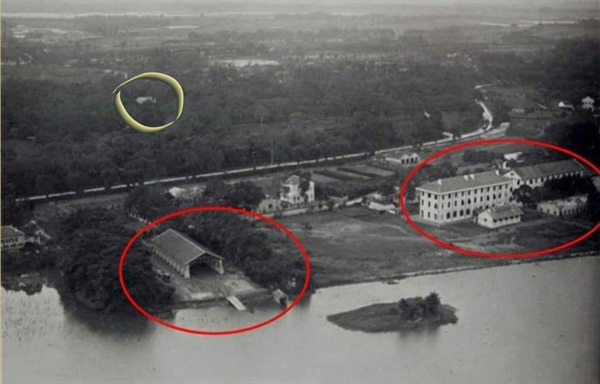 LINKED: The building on the right is modern-day Chu Van An High School, the garage on the shore housed seaplanes, and further back is the mansion. There is an underground tunnel leading from the mansion to the wharf. Photo courtesy of Hoang Hai
Located in a neighbourhood rich in historical landmarks, the mansion's reappearance in the public domain is hoped to prompt those separated by war to reconnect. "It would be nice if the descendants of the previous owners came back to see it," Hai said.
It may also be studied by the future generation of architects tasked with ensuring Hanoi remains an architectural gem for many years to come. VNS

Hue Museum of Royal Antiquities, a must-see destination in Hue Imperial City, is a place preserving tens of thousands of unique artifacts, mostly related to the Nguyen dynasty (1802-1945).

Many old French buildings dating back over a century have still been preserved in Hanoi amid the city's rapid urbanisation.