Hanoi's seasonal appeal grabs young artist
Hanoi's seasonal beauty and its original architecture featuring both old and modern elements have long been a source of inspiration for young painters, one of whom is Hoang Phong.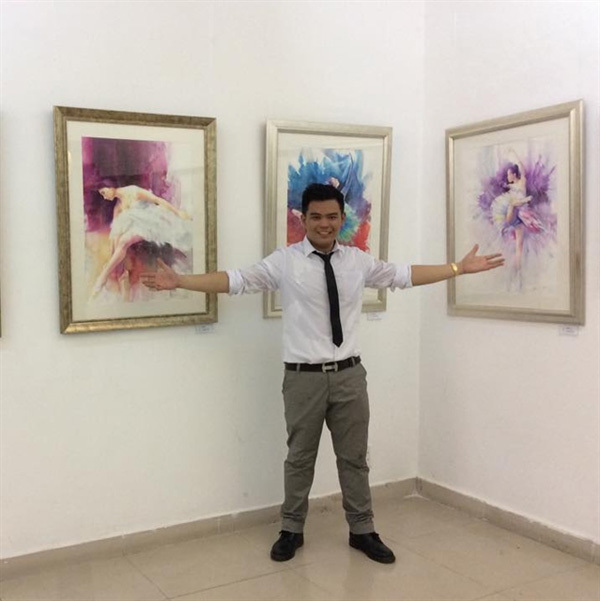 FROM THE HEART: Phong is based in HCM City but holds a deep affection for Hanoi. Photo courtesy of the artist
His watercolours include outstanding landmarks around the capital's Old Quarter, like the villa at 8 Chan Cam Street, Cua Bac Church, and Trung Vuong School.
Starting in late 2017, his collection on Hanoi now totals 60 paintings.
Anyone who knows the city quite well is sure to quickly spot familiar sites, be it a building or a certain area.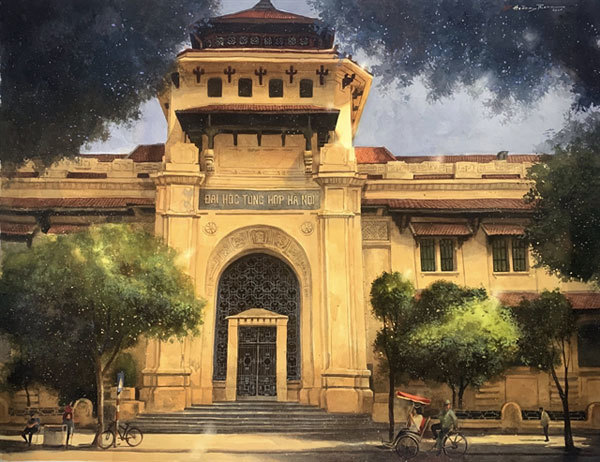 HALLS OF LEARNING: Phong's painting of the University of Hanoi, now known as the Vietnam National University. Photo courtesy of the artist
What may take many by surprise, however, is that Phong was neither born nor raised in Hanoi, and is based in HCM City.
The 33-year-old says art has been his passion since childhood and his path to art akin to destiny.
He took up painting in 2009 after attending a basic art course at the HCM City Fine Arts Association. His skills have been gradually honed under the guidance of experienced artists he has had the chance to work with, in addition to knowledge and skills he acquired on his own.
WALK ON BY: The French-style villa at 8 Chan Cam Street was the inspiration for one of Phong's art works. Photo courtesy of the artist
Phong chose watercolour to explore his own creativity.
"Watercolour has not been fully utilised in Vietnamese art, as people consider it a material used mostly in sketches," he explained. "In other countries, artists use watercolours to create masterpieces that are the equal of works using other materials."
"Watercolour paints are totally capable of creating arrays of light and also shade to create different spaces in a piece. They demonstrate what other materials can do," he says.
"I'm always keen to find new experiences and watercolours help me do so. Its inconsistency and uncertainty are what fascinate me, and I'm attracted by the purity and lightness, which give an art work a touch of elegance."
Phong is now a member of prestigious art organisations such as the HCM City Fine Arts Association and the International Watercolor Society, and his works have been part of more than 50 exhibitions nationwide.
He has chosen realism as the path to pursue, because he is generally attracted by the details of the objects he wants to capture in his paintings.
Portraits were his focus before, but he then began to specialise in landscapes and especially scenes from Hanoi's Old Quarter.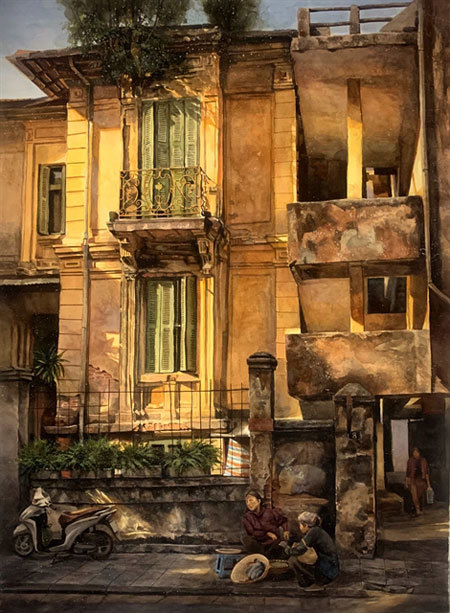 UNIQUE SETTING: Phong's paintings reflect his impressions of Hanoi, especially its specific atmosphere not found elsewhere. Photo courtesy of the artist
"This is my destiny," he says. "I first visited Hanoi by chance for urgent business, and was instantly charmed by its beauty. My affection for the city is indescribable."
"I often work based on emotion," Phong says. "When I feel it, I start to draw. Some pieces take me three, four or even seven days to finish, while it can take nearly a year to find the inspiration to complete others."
His paintings reflect his impression of Hanoi, especially the specific atmosphere of each season, which is not the case elsewhere. For example, Hanoi in autumn, as portrayed by Phong, is associated with bunches of daisies sold by street vendors under golden sunlight, while Hanoi in winter is quiet after the first cold breeze or sparkling under drizzle.
"I've been attracted by the city's quietness, ancient appearance, and particularly its culture," he says. "The lifestyles and daily routines of Hanoians are unique. And I must mention the food. There are so many specialities that get you hooked from the very first bite."
Another feature of Phong's paintings is the combination of the capital's modern and ancient elements. His style is realism, he says, so he wants to capture scenes he has witnessed himself.
The affection of local people also made a profound impression on him.
"My friends in Hanoi, whether I've known them for a long time or only met them recently, always extend a warm welcome and consider me part of the family, inviting me to dinner or taking me to scenic spots around town."
The young painter refuses to participate in any other art project, so he can fully focus on painting Hanoi, as his love for the city is so great he's afraid of missing any opportunity to paint it.
Many of his works were selected to appear in the bilingual book Impressions on Hà Nội - From the Sketches of French Colonial Buildings by the Kim Đồng Publishing House. Two others were covers for books celebrating the 100th birthday of veteran author To Hoai, such as Chuyện Cũ Hà Nội (Old Stories about Hanoi).
ON AUTHOR BY PAINTER: Two of Phong's works became the covers of books celebrating the 100th birthday of famed author To Hoai. Photo courtesy of the artist
"I hope my paintings will help young people in the future realise that Hanoi used to have such beautiful villas and street corners," Phong says. VNS
Luong Thu Huong

A Vietnamese-English language book featuring more than 200 sketches of Hà Nội's streets along with emotional essays about the capital city has been published.

The Hanoi Old Quarter contains great values of culture, history and architecture for the capital and the whole country.