Hanoi FC and Viettel square off in Super Cup
After an up and down 2020 season, midfielder Nguyen Quang Hai of Hanoi FC will be hoping to hit the ground running this year in the National Super Cup tomorrow (Jan 9) against Viettel.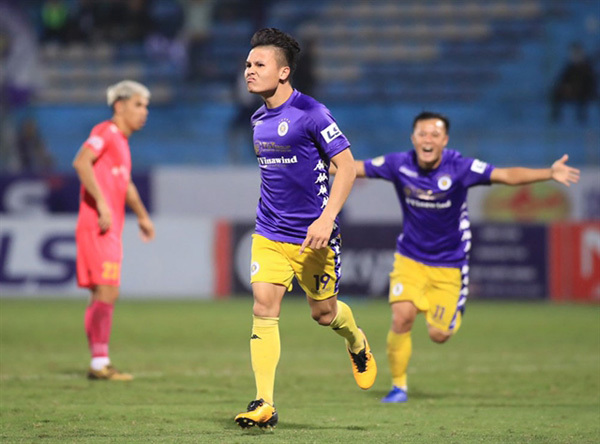 Midfielder Nguyen Quang Hai of Hanoi FC celebrates his goal during Hanoi's 4-2 win over Sai Gon FC in the V.League 1 last season. Hanoi will play Viettel in the Super Cup on January 9 at Hang Day Stadium. Photo courtesy of VPF
Hanoi, the National Cup holders, will aim to defend the Super Cup trophy while Viettel, the V.League 1 champions, are aiming to take the crown for the second time and the first in their current incarnation.
Hai has struggled and only notched four league goals last season, though he did pop up with goals in big moments.
Hai netted for the capital city team when they were drawing 1-1 with Sai Gon FC during the crunch November 8 V.League 1 match, sparking Hanoi's 4-2 win. The goal was then voted the best of the season.
In the National Cup final, he also shone by scoring the winner in a 2-1 victory over Viettel.
"I will do my best if I have a chance to play in the (Super Cup) match. Hope that my contribution will help my team succeed," said Hai at a press briefing in Hanoi.
While Hanoi have Hai firing fit, they will have to do without defenders Doan Van Hau, Do Duy Manh and Tran Dinh Trong due to injuries.
"Hanoi will definitely not have Hau in the match because he will have treatment this week. Manh and Trong have not found their feeling with playing yet after a long time out," said coach Chu Dinh Nghiem of Hanoi.
"It is unclear that they can play or not. And if they want to play they will also have to vie against other players such as Bui Hoang Viet Anh and Nguyen Thanh Chung," said Nghiem, who may also have to do without new foreign forwards Bruno Cantanhede and Geovane Magno.
On the other side, Viettel also face personnel problems.
Their captain Bui Tien Dung will not play as he has wedding parties on January 8 and 10, while defender Que Ngoc Hai is 50-50 to play after suffering a groin injury last month when he played for the national team in a friendly versus the U22 squad.
Viettel lost Cantanhede to Hanoi this season, which will be a big glow for the military team. The Brazilian scored 23 goals in two seasons and was a key part in their 2020 V.League 1 triumph.
But Pedro Paulo, another Brazilian, has come to fill his place. Paulo was the joint-top league goal-scorer last season with 12 goals for Sai Gon FC.
Speaking at the briefing, Viettel coach assistant Nguyen Hai Bien said: "All Viettel players have an opportunity to play in this match."
Bien, who won the national first Super Cup trophy as a player of Thể Công (the former name of Viettel) in 1999, added that: "It is really moved to participate as a member of the coaching staff this time. It has been 22 years since my and the team's first time. I hope that both sides play fairly and there is a win for Viettel."
The winning team will secure VND300 million while the losers will walk away with VND200 million. Other prizes will be delivered to the first scorer and man of the match.
Due to the COVID-19 pandemic, only 5,000 supporters will be allowed in Hang Day Stadium. The match which will be aired live on VTV6 from 4.45pm. VNS

The upcoming National Super Cup 2020 fixture on January 9 will permit only 5,000 spectators into the stadium in line with the Health Ministry's novel coronavirus (COVID-19) prevention and control measures.