Hanoi and Sai Gon's AFC Cup matches cancelled
The 2021 Asian Football Confederation (AFC) Cup matches in groups G, H and I of the ASEAN zone will be cancelled due to the COVID-19 pandemic.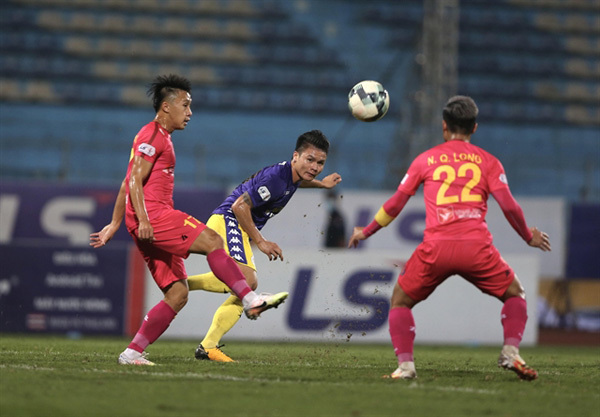 Hà Nội FC midfielder Nguyen Quang Hai is surrounded by Sài Gòn FC players during their V.League 1 match earlier this year. Both club's matches in the AFC Cup will be cancelled. Photo techz.vn
This means Vietnam's representatives Hà Nội FC (Group G) and Sài Gòn FC (Group H) will not compete in the continental tournament.
AFC General Secretary Datuk Windsor Paul John shared the news on hmetro.com.my on Monday and said an official announcement would be made in the coming days.
The Football Association of Singapore (FAS) previously agreed to host matches in groups H and I scheduled to take place from June 29 to July 6. 
However, it decided to withdraw due to the evolving nature of the COVID-19 pandemic in the country and around the region.
The AFC tried to find new hosts before making the decision but failed.
John said it was quite difficult to find a host in a short time and the matches cannot be postponed because they will disrupt domestic leagues, while many countries have kept borders shut with COVID-19 case numbers still high.
On its website, the AFC also stated: "It was decided that the competition will continue with the remaining matches and groups as much as possible, while at the same time, the matches across all stages which cannot be played due to matters arising from the COVID-19 pandemic will be cancelled and that such cancellations will be recognised as an event of Force Majeure."
In other news, Vietnamese champions Viettel FC have been officially ousted from the AFC Champions League after their 3-1 loss to Thai BG Pathum United on Monday in Bangkok.
Viettel's Pedro Paulo opened the scoring in the 23rd minute but the hosts dominated the second half and netted three goals to secure the win and strengthen their grip on second position.
Viettel are third after four matches with three points, nine less than leader Ulsan Hyundai of South Korea and six below BG Pathum United. They still have two matches later this week but even winning both won't be enough to qualify.
"We tried in the first half, but it's not enough," temporary Viettel head coach Jurgen Gede was quoted as saying on the-afc.com.
"We were not ready and not focused enough. We knew they were going to press and close the gaps. We didn't have any chance to beat BG Pathum United.
"After the two goals, it was over, as the players didn't have the confidence to come back. We have to congratulate BG Pathum United for playing well, but for us, we have to learn from our mistakes."
Gede's teams will next meet Ulsan Hyundai on Thursday and Kaya FC-Iloilo of the Philippines three days later.
Source: Vietnam News

On top of their historic achievement of advancing to the third round of World Cup qualification for the first time, the national football team have also qualified for the finals of the Asian Football Confederation (AFC) Asian Cup.