Ha Noi demolish Thanh Hoa in V.League

Ha Noi trounced Thanh Hoa 5-0 on Sunday to stay on top of V.League 1.
Striker Pape Omar and captain Nguyen Van Quyet netted a double each while Papa Ibou Kebe scored the other.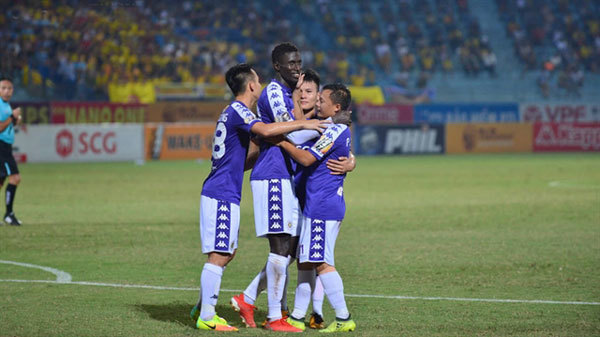 ROUT: Ha Noi players celebrate their win in the V.League on Sunday. The defending champions thrashed Thanh Hoa 5-0. Photo webthethao.vn
Quyet torn Thanh Hoa's defence to pieces from the 40th minute, sending a ball to Omar who added a light touch to open the score.
It was 2-0 for the hosts just 10 minutes after the break. Senegalese Omar again received a ball from national defender Tran Van Kien and made no mistake to complete his double.
French Kebe who signed his contract with Ha Noi last month marked his name on board one minute before the end of official time.
Quyet, after much effort, found goals for himself in the 81st and 90th minutes.
Quyet's outstanding performance was under the eyes of national coach Park Hang-seo who is hunting players for his squads at the World Cup qualification and SEA Games later this year.
It was Quyet's fourth goal in three matches.
Earlier, Lam Ti Phong's corner kick was the only goal of the match between Sanna Khanh Hoa and SHB Da Nang on Saturday.
At the 30th minute, Phong took charge of the kick from the left wing. His finish sent the ball curving past Da Nang's defenders and goalkeeper Thanh Binh to enter the net.
Former champions Da Nang tried to find an equaliser but failed to beat Khanh Hoa's concrete defence.
It was the hosts' second win in a row and they renewed their hope of staying in the V.League 1 this season.
Khanh Hoa are still bottom with 20 points, but they narrowed the gap to three points from their nearest rival, Hai Phong FC, who tied with former winners Song Lam Nghe An 0-0 on Sunday at the Vinh Stadium.
Also on Saturday, hosts Quang Ninh and Nam Dinh shared one point each after their match ended goalless.
Ten-man Quang Nam defeated HCM City 2-0 in a match where the referee gave the hosts a controversial penalty.
Playing without midfielder Van Thuan, HCM City faced difficulties although managed to maintain balance against the hosts.
Things changed in the added time of the first half.
Quang Nam's Gabriel dos Santos broke through HCM City's line-up. He was fouled by defender Ngo Tung Quoc around the penalty area.
Referee Nguyen Dinh Thai pointed to the spot and gave a penalty for Quang Nam under strong objection of HCM City coaches and players who believed that the fault was made out of the box.
Hoang Vu Samson converted the penalty into the opener.
Quang Nam slowed down the pace of the match in the second half. But their defenders worked well to prevent HCM City from scoring even when midfielder Duc Loc was sent off after his second yellow card at the 77th minute.
HCM City conceded the second goal when Samson escaped from all eyes to take Hong Son's perfect pass and send it home.
Coach Chung Hae Seong of HCM City through an interpreter said "it was not football" referring to the penalty that was the main cause of his team's defeat.
However, head of the Viet Nam Football Federation's Referee Council Duong Van Hien said the penalty was the right decision. Santos made a mistake out of the box but he made another afterwards and deserved to be penalised.
HCM City are still in second place on 35 points but the gap between leaders Hanoi has been extended to five points.
VNS