GM Liem shines at 2021 Grand Chess Tour
Vietnam's No. 1 chess player Le Quang Liem enjoyed a successful competition as he made a breakthrough to finish fifth at the Saint Louis Rapid & Blitz chess tournament in the United States, which was wrapped up on August 15.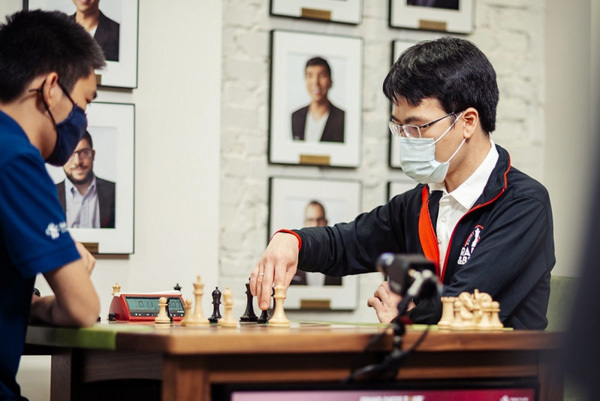 Vietnamese Grandmaster Le Quang Liem (right) finishes 5th at the Saint Louis Rapid & Blitz chess tournament. (Photo: Grand Chess Tour)
Whilst competing in the rapid chess competition held on August 11 to August 13, Liem was only able to earn six points after nine rounds, thereby slipping to last place.
However, in the two-day blitz chess competition which consisted of a total of 18 rounds, Liem produced a spectacular comeback with two wins against world No.30 Jeffery Xiong of the US and world No.33 Sam Shankland of the US.
He then went on to draw against world No.9 Wesley So of the US in the third round and recorded a win over world No.29 Peter Svidler of Russia.
In the final five games, Liem recorded one win, two draws, and two losses.
Overall, the Vietnamese GM scored a total of 17.5 points and finished fifth in the tournament. Following a string of impressive performances, Liem walked away with US$12,500 in prize money.
Saint Loius 2021 represents the third and final rapid and blitz event of Grand Chess Tour (GCT), a series of two classical and three rapid and blitz tournaments. Participants are eligible to earn tour points in these events. At the end of the GCT, the leading three players who record the most tour points will receive a bonus of US$175,000.
Source: VOV

Vietnamese GM Le Quang Liem wrapped up his Chessable Masters campaign as the runner-up pocketing US$15,000 in prize money, which is his most impressive performance thus far this year.

Vietnam's No. 1 player Le Quang Liem (world No. 32) defeated world No. 5 Levon Aronian of Armenia after winning tie-break points on August 6, cruising into the final match of the ongoing the Chessable Masters tournament.