Foreign authors release bilingual comic on Vietnamese children
A bilingual Vietnamese-English comic book entitled "The Lost Sandal" has been introduced to Vietnamese readers, a joint product of Belgian author Geralda De Vos and Swedish illustrator Sofia Holt, who are both living and working in Vietnam.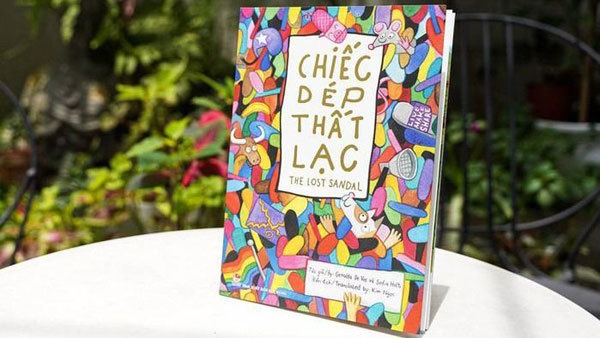 The cover of 'The Lost Sandal' comic book.
Released by the Kim Dong Publishing House, the book tells the story of the journey of Linh, a Vietnamese girl, trying to find her favorite sandal, which slipped off her foot when she fell asleep on the back of a motorbike.

Through the story, told in a simple and clear writing style with a sufficient amount of English vocabulary, 'The Lost Sandal' conveys a lesson for children to love and value their belongings while encouraging them to be helpful and share with people around them.

The authors also remind young readers that, with a small action such as picking up and returning a sandal, they will not only bring happiness to the person who lost it but also help to reduce the effect of plastic waste on the environment.

Belgian author Geralda De Vos came to Vietnam in 2017. Passionate about reusing trash, she started picking up lost sandals from the streets. She stacked them all on the back of her bicycle and began to imagine a person who worked as a collector of sandals. That's how she came up an idea of Linh and "The Lost Sandal".

Meanwhile, Sofia Holt grew up in Sweden, arriving in Ho Chi Minh City in 2014 to design furniture and interior products. She is currently working as a fashion designer, interior designer, and illustrator. What is interesting is that although she can't speak or read Vietnamese, she successfully "drew" Vietnamese words for 'The Lost Sandal'.
Dtinews
Kim Đồng Publishing House, one of Vietnam's leading publishing houses for children and teenagers' books, has issued a collection of 10 books portraying Vietnamese heroes at young age.

While there are multiple books for children to choose from, only a few of them are written by young, local authors.