Footballer Nguyen Van Quyet named Vietnam's most valuable athlete in 2020
Hanoi FC striker Nguyen Van Quyet, who recently won the 2020 Vietnamese Golden Ball, has been honoured as the most valuable athlete of the country in 2020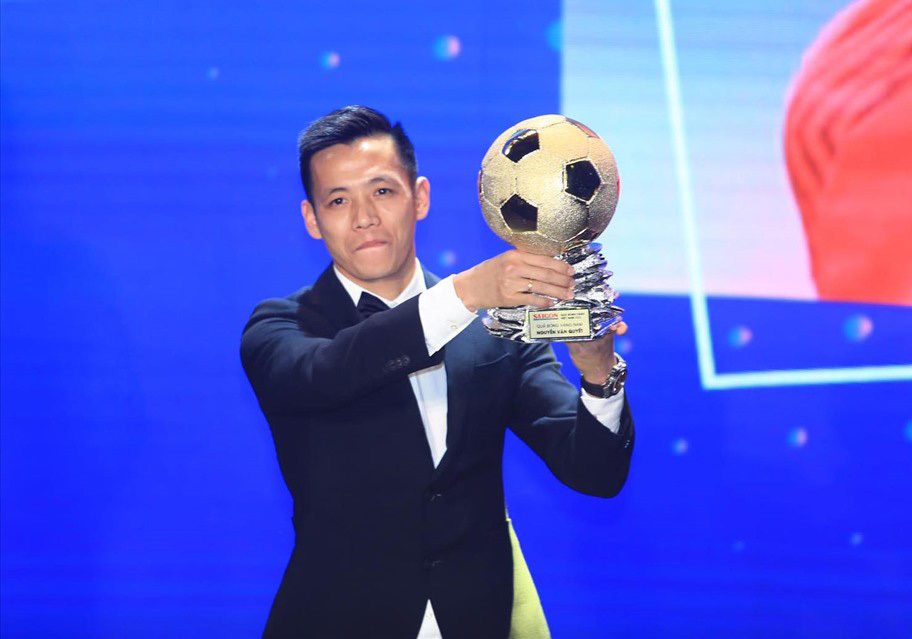 Hanoi FC striker Nguyen Van Quyet
Hanoi FC striker Nguyen Van Quyet, who recently won the 2020 Vietnamese Golden Ball, has been honoured as the most valuable athlete of the country in 2020.
According to the voting results announced by the General Department of Sports and Physical Training on January 23, Quyet topped the list of 10 outstanding Vietnamese athletes with 534 points.
The 29-year-old footballer was recognised for his significant contributions to Hanoi FC's 2020 National Cup title, V.League 1-2020 runner-up finish and 2020 National Super Cup trophy.

Earlier, Quyet also overcame many heavyweight candidates to be named the most valuable player of V.League 1-2020 at the V.League Awards 2020 in Hanoi on November 20.

Boxer Nguyen Van Duong followed Quyet in second position with 517 points. Last year, at the Asia/Oceania Olympic boxing qualifying tournament in Amman, Jordan, the Bac Ninh-born fighter knocked down his Thai opponent Chatchai-decha Butdee to become the first Vietnamese boxer to qualify for the Olympic Games.

The remaining eight athletes in the list included Nguyen Thi Oanh (track and field, 418 points), Le Tu Chinh (track and field, 411), Nguyen Huy Hoang (swimming, 383), Huynh Nhu (football, 331), Loc Thi Dao (archery, 320), Dinh Phuong Thanh (gymnastics, 308), Thach Kim Tuan (weightlifting, 290) and Nguyen Thi Anh Vien (swimming, 256).

For leading Viettel FC to the V.League 1 title right in his debut season, manager Truong Viet Hoang was convincingly named the most outstanding trainer of 2020 with 174 points, 35 points clear of the runner-up Doan Thi Kim Chi (female football).

Cao Ngoc Hung (track and field) was voted as the most valuable athlete with a disability with 378 points following his three gold medals won at the national championships, while track and field trainer Dang Van Phuc won the vote for 'Most outstanding trainer for disabled athletes' with 213 points. Nhan Dan
Hanoi FC skipper Nguyen Van Quyet was named the most valuable player (MVP) of V.League 1-2020 during the V.League Awards 2020 in Hanoi on November 20.

Nearly 10 years ago, Nguyen Van Quyet's name was called at the night of Golden Ball Awards ceremony as the youngster took the best young player of the year award.