Film shoot about Vietnamese folk stories kicks off

The first scenes of a film about Vietnamese folk stories by movie star and producer Ngo Thanh Van were completed last week in Ninh Binh Province.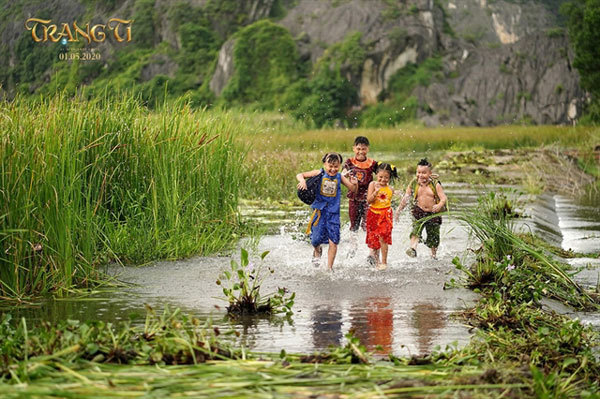 A scene from Trạng Tí (Child Master), a comedy produced by movie star, film director and producer Ngo Thanh Van. Photo courtesy of Studio68
The film, titled Trạng Tí (Child Master), is part of Van's new project based on a comic series by young artists from Phan Thị Company.
The comic series, Thần Đồng Đất Việt (Vietnamese Prodigies), features historic events and famous characters from different periods in Vietnam's history, such as Le Quy Don, a poet, encyclopaedist and government official, who lived in the 18th century, and Luong The Vinh, a mathematician and poet under the Le Dynasty.
The first of the 200 parts, released in 2002, were publishing phenomenon. More than a million copies of Thần Đồng Đất Việt have been printed.
Producer Van, owner of Studio68, a film and entertainment agency, completed a copyright deal with the publisher Trẻ and Phan Thị Company to adapt the book to film.
Van and the film's director Phan Gia Nhat Linh have worked to capture the Vietnamese spirit through the film.
Trạng Tí features four child characters, called Tí (Rat), Sửu (Buffalo), Dần (Tiger) and Mẹo (Cat), who live in a remote village and use their intelligence to protect their villagers.
"Trạng Tí is my dream to bring Vietnamese history and culture to film," said Van, who has more than 15 years of experience in the industry.
"I hope audiences, particularly children and teenagers, are proud of their country and people after watching."
The soundtrack, which uses folk music from people in the northern, central and southern regions, is composed by musician Duc Tri.
The film shoot is expected to be completed in February.
Vân is also working on three films based on popular myths, called Thạch Sanh (The Story of Thạch Sanh), Thánh Gióng (Saint Gióng) and Sơn Tinh &Thủy Tinh (Mountain and Water Gods).
Sơn Tinh-Thủy Tinh explains the origin of storms and floods and highlights the will and intelligence of the Vietnamese who battled natural disasters thousands of years ago.
Thạch Sanh tells the story of an orphan who grows up to be a brave woodcutter and defeats monsters to save a princess.
Thánh Gióng portrays a young hero named Gióng who becomes a giant and rides on an iron horse leading his villagers to fight against northern invaders.
Van's latest film, Hai Phượng (Furie), was a hit after its release in March.
In the film, Van plays Hai Phượng, a former gangster who tries to live a quiet life in the countryside with her daughter. Things change when the girl is kidnapped and Phượng starts a journey to save her daughter.
The film was distributed in the US by Well Go USA Entertainment. It was released in 600 cinemas in cities such as Dallas, Houston, Philadelphia, San Jose, Portland, Seattle and New York.
In Vietnam, Hai Phượng earned VND200 billion ($8.6 million) one month after its release. It is distributed on Netflix.
Trạng Tí will be in cinemas in May, according to producer Van.— VNS

The Vietnamese movie "Song Lang" (The Tap Box) by producer Ngo Thanh Van has continued to win new international awards, most recently from the Australian Cinematographer's Society.  

An action film dedicated to motherhood, Hai Phuong (Furie), will compete for an Oscar in 2020, the culture ministry's Department of Cinema announced on September 24.