Fifteen-year-old swimmer Van makes a splash
Last year was a nightmare for many athletes around the world but not swimmer Pham Thi Van who set a milestone in her career.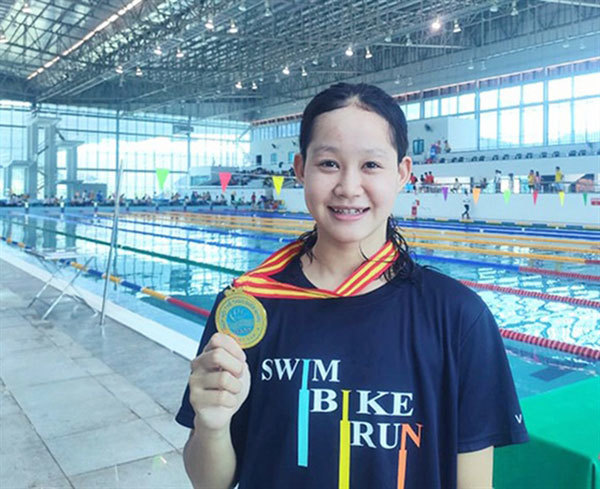 Thanh Hoa Province swimmer Pham Thi Van poses with her medal for winning the 50m butterfly at the National Swimming Championship last October. Photo baothanhhoa.vn
Vietnam's good management of the COVID-19 pandemic in 2020 allowed many local sporting events to be held, including the National Swimming Championship last October in HCM City.
While some athletes blamed their poor results on a lack of training camps, Van was able to steal the show.
The Thanh Hoa Province-born swimmer opened her season with six golds and two silvers at the National Age Groups Swimming Championships in June in Quang Ninh Province.
She also set tournament records in the 50m butterfly (27.85sec) and 50m backstroke (30.06).
At the National Youth Swimming Championships in July in Da Nang, Van, 15, competed against athletes in the 16-18 years old group.
The stiffer competition wasn't a problem for the girl who claimed seven golds, one silver and one bronze medal, setting a Thanh Hoa record medal haul at a national tournament.
According to coach Trinh Van Sang, Van had an incredible achievement that no other provincial athlete could match to date.
"After two tournaments for juniors, I received strong support and encouragement of family, coaches and supporters. They all believed in me and said I could do well at bigger events," said Van who became Thanh Hoa's key athlete at the national championship three months later.
"I tried my best to ignore who was swimming next to me. I just looked at the finish line and swam hard," she said.
After the three first days of the senior national championship, Van had three silvers in the 50m and 100m freestyle and 50m backstroke and a bronze in the 100m backstroke, a solid performance for the youngster.
But she truly made her mark on the final day.
Van finished first in the 50m butterfly event with a time of 27.97sec. Her amazing performance beat out SEA Games bronze medallist Le Thi My Thao (28.21sec) and SEA Games champion Nguyen Thi Anh Vien (28.55sec), who could only come second and third, respectively.
"Her result is just 0.37sec behind the national record. At her age, it is a really good result and she could be better in the future," said coach Sang.
Nguyen Duy Tu, director of the provincial Sports Training and Competition Centre, said it was a valuable gold for Van individually and Thanh Hoa because it was the first time they had won in this category.
"Whenever I am in the water, I just want to do my best. I practise hard every day as my coaches say 'practice makes perfect'," said Van.
"Defeating them (Thao and Vien) was partly lucky because they were a little tired after winning events in previous days. However, it partly helps me be more confident in my ability and look forward to other targets," Van said.
After some time enjoying the Tet (Lunar New Year) holiday with her family, Van flew to the National Sports Training Centre 3 in Da Nang to start a new journey with the national team.
"I am happy with the title. Now I will work with new coaches and teammates. I am looking forward to coming competitions," said Van, referring to the 31st SEA Games in November-December later this year in Hanoi. VNS

The 400m medley swimming record set by Vietnam's top female swimmer Nguyen Thi Anh Vien in 2011 was broken by 15-year-old Vo Thi My Tien at the National Age Group Swimming Championship 2020 
Vietnam's top swimmer Nguyen Thi Anh Vien will be the country's main medal hope at the Southeast Asian (SEA) Games 31 to be held in Vietnam next year.