FIFA praise captain of Vietnam women's team Huynh Nhu

An article titled "Captain Nhu out to make history with Vietnam" has been released by FIFA detailing the exploits of Huynh Nhu, the captain of the Vietnamese women's football team.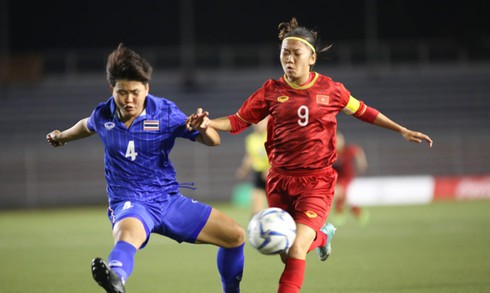 Huynh Nhu, the captain of the Vietnamese women's football team (R)
The article comes off the back of a highly successfully 2019 in which Huynh Nhu captained the Vietnamese women's football team to a gold medal in the 30th Southeast Asian (SEA) Games.
Following on from this, the team enjoyed a strong start to 2020 by finishing Group A in second place in order to progress to the play-off round of the 2020 Tokyo Olympics. The group stages saw the side record an easy 1-0 win over Myanmar before suffering a 3-0 defeat to the Republic of Korea.
The women's national team will now take on Australia in the first-leg tie of the play-off stage at the McDonald Jones Stadium in Newcastle, Australia, on March 6.
Discussing the endeavors of captain Huynh Nhu, the FIFA article states, "Obviously Nhu's confidence is backed by her standout performances during the qualifying campaign thus far. The dynamic striker excelled throughout, managing to score three times as her side reached the play-off against Australia."
"Notably, she opened the scoring as her side edged hosts Uzbekistan 2-1 in the second round, a hard-fought victory which still left her reflecting with excitement.
From there Nhu appeared to be unstoppable, scoring goals against Hong Kong and Jordan as they progressed as group winners. Despite losing out to the Republic of Korea in the third-round opener, a solitary-goal win against Myanmar was enough to send them through to the play-off tie."
Upon reflecting on the article, Huynh Nhu seemed modest, noting, "As the captain, my duties are to keep the team's spirit high. Of course, I need the support of all my team-mates. Football is a team sport and only collective efforts can see us through."
"In my opinion, this has already been a successful campaign for us," she summed up. "The whole team are united and are working hard for the common cause and we have made progress game after game. I want my team to have a good result and, in the future, I hope Vietnam will be a strong team in Asia." VOV/FIFA

Huynh Nhu has a long love affair with the beautiful game since she was a child and reaching the top of her profession has only made her fall more deeply in love with football.

Head coach Mai Duc Chung on March 2 named a 19-strong national women's football team to prepare for their match with Australia in the upcoming AFC Women's Olympic Qualification Tournament play-off.