Festival to highlight Thai ethnic culture

Features of ethnic Thai culture will be presented through various activities held in the northern province of Dien Bien on October 18 to 20.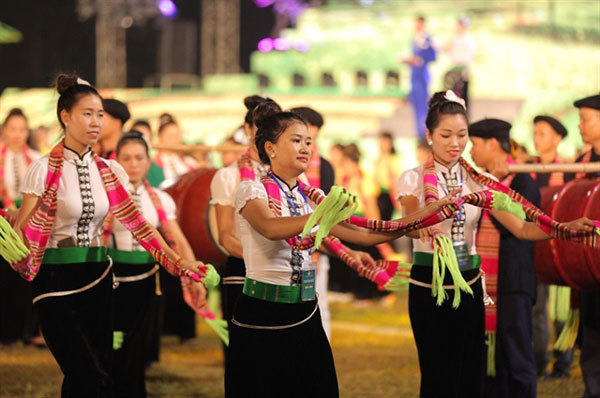 Xoe, a traditional dance of Thai ethnic people will be highlighted at the festival featuring Thai ethnic culture. Photo vietnamnet.vn
The second Thai cultural festival will be held with the participation of 600 artisans and artists from Thai groups of Son La, Lai Chau, Yen Bai, Thanh Hoa and Dien Bien. A troupe from Luang Namtha Province, Laos, will also perform at the festival.
The event aims to preserve and promote Thai people's unique culture in the process of national integration and development, according to Nguyen Thi Hai Nhung, director of the Department of Ethnic Culture under the Ministry of Culture, Sports and Tourism.
"The festival will help enhance mutual understanding between Thai and other ethnic groups, strengthening national solidarity," she said.
"It's also a chance to introduce the cultural and tourism potential of Dien Bien Province."
With the theme 'Preserving and Promoting Thai Culture in the Period of Integration and Innovation', the festival also introduces foreign tourists to the diverse culture of the country.
Various cultural, sport and tourism events will be held, including displays of traditional costumes and art performances.
Visitors can also learn brocade weaving skills and take part in folk games such as walking on stilts, crossbow shooting, and tug of war.
Visitors will have the opportunity to enjoy xoe, a traditional dance of the Thai, which has been recognised as a national intangible cultural heritage by the Ministry of Culture, Sports and Tourism, and will be nominated as a UNESCO intangible cultural heritage of humanity.
Xoe dance is an integral part of Thai festivities, in which people hold hands and dance together. Anyone can join the dance. They clap hands, move back and forth and wave scarves.
Another highlight of the festival is the presentation of weaving pieu (traditional embroidered scarves) of Thái women. It is not only a kind of accessory but also a cultural symbol of the Thai. Each scarf tells a story about the wearers' feelings and character through patterns and colours.
No matter how the life of the Thai has changed, the traditional art of weaving pieu is still preserved, reflecting the aesthetic sense and weaving skill of Thai women. They wear the scarves at festivities, perform xoe dance and consider the scarves as divine protection.
The province will also take many travel companies on familiarisation trips to find new tours and travel products in Dien Bien Province.

As many as 5,000 people will perform xoe, a traditional dance of Thai ethnicity people, to set a Guinness World Record, at the opening ceremony of Muong Lo Culture and Tourism Festival on September 20 in the northern mountainous province of Yen Bai.
VNS