Festival honours traditional heritage

Traditional handicraft artisans from across the country have been demonstrating their skills and products during a five-day festival to celebrate Vietnam Cultural Heritage Day which fell on Saturday.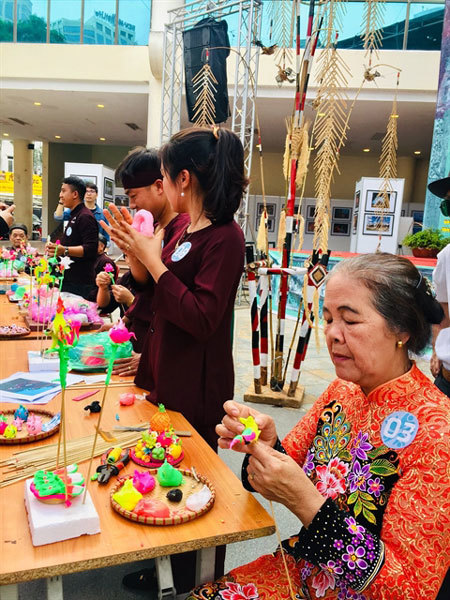 Artisans from Xuan La Village, Phu Xuyen District, Hanoi demonstrate the art of making to he (toy figurines) at the event. — VNS Photo Ha Quyen
The festival which kicked off in Hanoi last weekend, features unique cultural trades that encompass natural landscapes, custom and historical relics.
With the theme Cultural Heritage – Development and Integration, the festival is organised by the Ministry of Culture, Sports and Tourism in collaboration with cultural agencies in Ha Giang, Cao Bang, Quang Ngai, Dak Lak, Gia Lai, Thanh Hoa, Thua Thien-Hue and HCM City.
Each city/province is introducing local costumes and specialities. On display are traditional trades from 33 localities that have been recognised as national intangible heritages, such as Dai Bai bronze casting (Bac Ninh), Bat Trang pottery, Dong Ho folk paintings, Xuan La to he (toy figurines made from rice powder), Quat Dong hand-embroidery (Hanoi), Hue glass paintings and Hoi An lanterns (Quang Nam).
A photo exhibition displaying 100 entries gives a panoramic view of national heritage.
A culinary area also presents Vietnamese tea culture and cuisine from various regions such as smoked beef from Phu Yen Province, grilled chicken from the northern mountainous region, banh gai (sweet black sticky rice cakes filled with green bean and coconut) from Thanh Hoa Province and grilled beef from An Giang Province.
The festival will run through November 27 at the Vietnamese Culture and Arts Exhibition Centre, 2 Hoa Lu Street, Hanoi.
November 23 is Vietnam's Cultural Heritage Day which aims to promote and honour the values of unique cultural heritage elements of Vietnam.

The management board of Hanoi's Old Quarter are preparing to host a range of activities between November 22 and December 15 to mark Vietnam Cultural Heritage Day on November 23.  
Xoan singing, a traditional ritual art form, is believed to date back to the time of the Hung kings (2890 BC to 250 BC) in the ancestral land of Phu Tho.
VNS