Fencer Vu Thanh An named Vietnam's flag bearer for fourth time

Vu Thanh An, the no. 1 fencer in Southeast Asia, has been assigned to hold the national flag for the Vietnam sports delegation at the opening ceremony of the 30th SEA Games.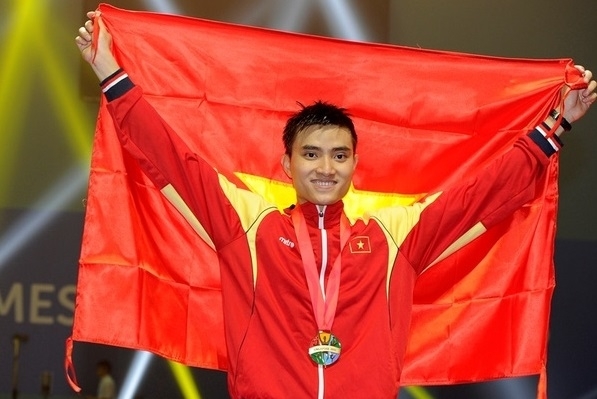 Fencer Vu Thanh An 
An has received the honour not only because of his ideal height of 1.87 metres and bright face, but also due to the exceptional achievements that he has obtained at international competitions in recent years.
This is the fourth international sport event in which the 27-year-old athlete has been chosen as Vietnam's flag bearer, following the 2016 Olympic Games, the 2017 SEA Games and the 2018 Asian Games.
Two years ago, as the flag bear for the Vietnamese contingent to the SEA Games in Malaysia, An brought home the men's individual sabre gold medal in a convincing fashion. In Manila this year, he is highly determined to strike gold again as a meaningful gift for his first child, who is expected to be born soon after he returns from the Philippines.
Vu Thanh An said he felt very proud and motivated when receiving the honour of bearing the national flag at the 30th SEA Games opening ceremony. The fencer pledged his utmost efforts to realise the assigned task of defending his regional title in the Philippines.
With the brilliant results at international competitions over recent times, An is moving close to securing an official berth in the 2020 Olympics. He is currently world no. 51 in the men's individual sabre event, and by retaining his place in the world's top 60, An will have his hand on a ticket to Tokyo next summer.
In his Olympic debut three years ago, An progressed to the round of 16 following his brilliant display, including a resounding win against the reigning Olympic runner-up at that time, Diego Occhiuzzi (Italy). Nhan Dan

Sharifa Akeel, Miss Asia Pacific International, has been selected to accompany the Vietnamese delegation during the Athletes' Parade at the Southeast Asian (SEA) Games 2019.

The Vietnamese sporting delegation on November 26 left Hanoi for the 30th Southeast Asian (SEA) Games in the Philippines on a charter flight of the national flag carrier Vietnam Airlines.