VN Football Federation confident Park Hang-seo will extend current contract

National team coach Park Hang-seo is close to signing a new contract, according to the Viet Nam Football Federation.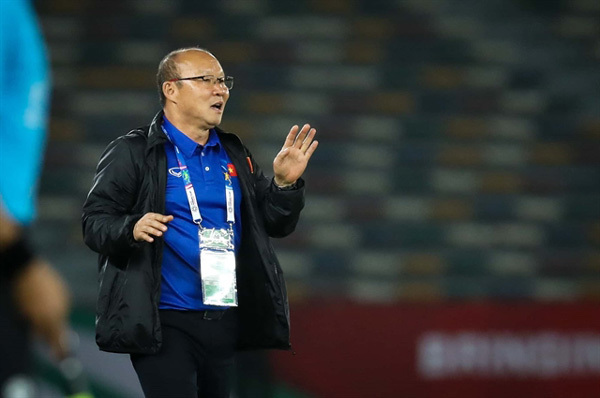 National team coach Park Hang-seo.
Federation President Le Khanh Hai yesterday confirmed that his deal will be extended in the near future.
"I have found no reason preventing us from extending the contract with Park Hang-seo," said Hai in a meeting with media yesterday in Hanoi.
The president said they can and would pay higher salary for the South Korean expert and is confident Park will stay in charge of the Vietnam national teams.
"We will appeal to enterprises and organisations to help us pay for Park. He deserves to have a good salary for what he has done for us. The Federation is working hard to find the best possible plan which fits his huge contribution.
"This time we will not only discuss with Park but also his assistants who played key roles in Viet Nam's football development," Hai said.
Park's salary of about US$20,000 is paid by Hoang Anh Gia Lai boss Doan Nguyen Duc. Duc is former VFF vice president in charge of finance. He invited Park to Vietnam.
Park started his job in Vietnam in October, 2017. The deal will end on January 31.
The two sides will talk three months ahead of his current contract expiring.
But after his success, it seems Park is a wanted man. Reports suggest his has been offered four times his current deal to move to Thailand.
In a recent meeting with Vietnamese supporters, Park said he was moved by his love of the fans. "I had the privilege to work in Vietnam and I received much love from Vietnamese supporters, so I must be responsible for that," he was quoted as saying on thethao247.vn.
"The process for the contract is quite complicated. I have authorised my representative to come to an agreement with the Federation."
Park will lead the national team in the second round of the 2022 World Cup qualifier, Asia zone, in September and October. In November, he will guide the U22 team as they search for their first ever title at the Southeast Asian Games in the Philippines.
VNS

South Korean Coach Park Hang Seo said that he will renew his contract with the Vietnam Football Federation (VFF).