Fashion students reflect social issues through collections

Through the language of fashion, young graduates of the Hanoi-based London College of Design and Fashion (LCDF) covered urgent social issues through a fashion show on Saturday.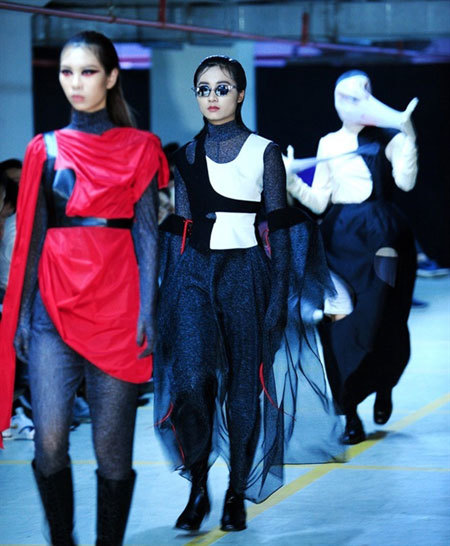 Models show off the collection Dystopia designed by Nguyen Tuan Anh. It's about people who are impacted negatively by social networks and technology. — VNS Photo Do Huu
After the show, the collections remain on display at the LCDF, 98 To Ngoc Van Street, Hanoi, for one week.
The highlight of the event is Luong Thi Ngoc Quynh with the collection Admonito, reflecting traffic safety. She uses waterproof materials, denim, leather and lace to create a collection with slogans such as "fasten seat belts" and "stop drinking".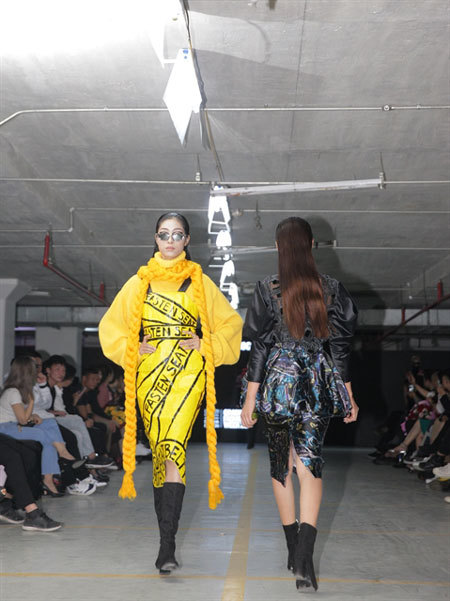 The collection Admonito by Luong Thi Ngoc Quynh reflects traffic safety.
Jamie Nguyen Bao promotes a message of saving and recycling with the collection Pattern of Thoughts in which he reuses old clothes from family members.

Vu Thi Khanh Linh uses strong colours such as red, orange and yellow in the collection Beyond Original. She finds inspiration from endless sand dunes. Like Bao, Linh also creates clothes from recycled materials.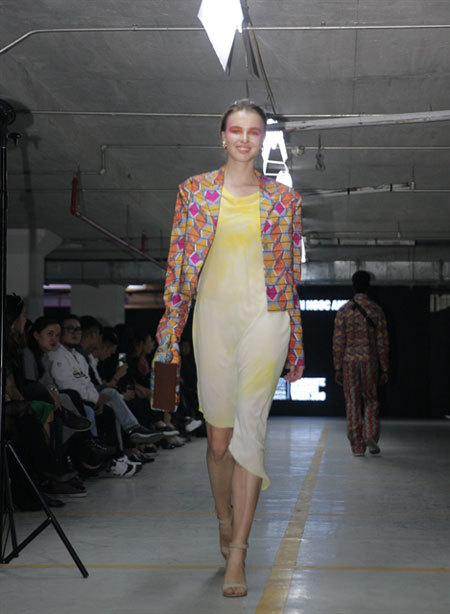 A model demonstrates Vu Tran Ngoc Anh's collection Heal the Soul. All fabrics are dyed with eco-friendly colours.

Sharing the same concern about the environment, Vu Tran Ngoc Anh introduces the collection Heal the Soul, which is inspired by the style of Nigerian artist Fela Kuti. Using colours and patterns from Africa, the collection combines natural materials and eco-friendly colours in dyeing. — VNS

Artist Pham Hong began creating contemporary art in 2005. Her latest piece, entitled Sự Im Lặng (The Silence), was named as one of 14 finalists in the Dogma Award 2019 and was displayed last month in HCM City.

The first-ever Vietnam International Beauty & Fashion Week closed with an impressive performance in Hanoi on December 15, with plenty of celebrities taking part in the stylish event.