Exhibition shows Italian landscape seen from helicopters

The spectacular landscape of Italy from above at twilight is on display at an exhibition that has opened in Hanoi.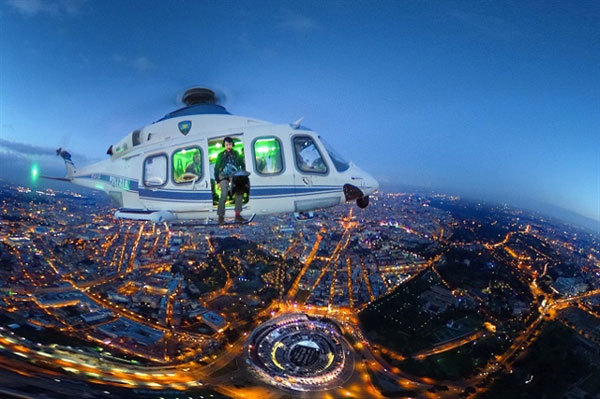 Photographer Massimo Sestini is seen from a police helicopter, where he takes many photos of Italy at twilight. — Photo courtesy of Massimo Sestini
Italy - Twilight Skylines from Police Helicopters shows 17 pictures taken by Italian photographer Massimo Sestini, a winning entrant at the World Press Photo contest in 2015.
When taking photographs for the Italian police, Sestini captured Italy's landscapes an hour after sunset and an hour before sunrise. With their beautiful light, the images on display document the wonders of Italy, unique in their variety and harmony.
This unique project was conceived to present the public never-seen-before views of Italy. The photos allow visitors to discover the wonders of the country, ranging from major cities to cultural centres, from the seaside to the Alps.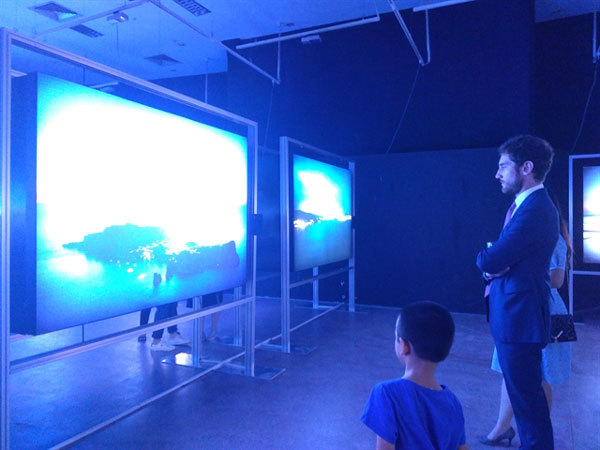 The exhibition brings people an apical view of Italian landscape. — VNS Photo Minh Thu
A view of the beautiful cities such as Rome, Venice and Florence are shown alongside stunning parts of the country such as the salt marshes in Trapani.
"The artworks, similarly to a Renaissance triptych, can be admired on three levels: for the skill of the photographer, for the skill of the pilots and naturally for the extraordinary beauty of the Italian landscapes, which we hope can be visited by an even more wider public of Vietnamese tourists," said the Italian Minister of Foreign Affairs and International Cooperation, Enzo Moavero Milanesi.
Ambassador of Italy to Viet Nam Antonio Alessandro said the exhibition is a part of the Vivere all'italiana (Italian lifestyle) programme which helps promote Italy to the world.
Following a showcase at the Palazzo del Quirinale in Rome, the exhibition is now touring the world, from Moscow and to the Southeast Asia. Earlier in May the exhibition was held in HCM City.
"For the first time ever, the beauty of Italy is exposed through the photos which took place in very special moments, before sunrise and after sunset," said Bui Nhat Quang, director of the Viet Nam Museum of Ethnology.
"Through the exhibition, we would like public have the chance to discover about Italy with the particular view from above the cities. We hope that in the near future, the museum can continue to co-operate with Italan Embassy to have more new exhibitions, in order to strengthen the friendship between two countries," Quang said.
The exhibition will run until August 10 at the Viet Nam Museum of Ethnology at 1 Nguyen Van Huyen Street.
VNS