Exhibition displays life of a monument maker

Sculptor Ta Quang Bao seemed calm talking to friends and acquaintances at the opening of a recent exhibition, but deep down he was hiding strong emotions at the start of his first solo show.
Veteran sculptor honored with Ho Chi Minh Award
Sculptor Ta Quang Bao: I can assert myself only through art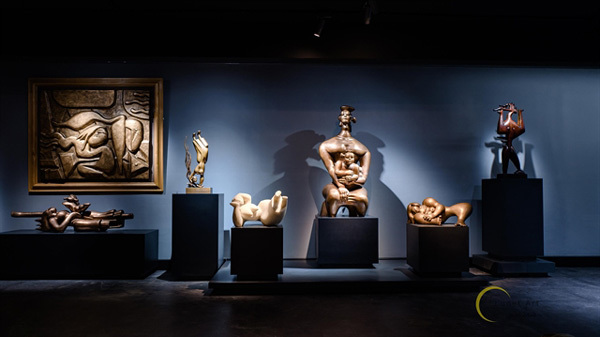 PROTECTIVE: Me Con (Mother and Child) (third from right) is a highlight of the exhibition. Photo Lunet Art Galerie
The Portrait of an Artist - Sculptor Ta Quang Bao introduces another perspective to the sculptor whose works can be found in 20 provinces and cities around the country.

The exhibition has already welcomed veteran artists, researchers, critics and fine arts lovers.
"His life and career are associated with the growing trend of Vietnamese art," Luong Xuan Doan, chairman of the Vietnam Fine Arts Association, said.
"His talent has a positive impact and influence on visual arts development in Vietnam. His large monuments and smaller sculptures evoke unexpected visual impressions."
Bao is now 79 years old, but he is still dedicated to his work.
Dozens of sculptures made from different materials are on display at the exhibition.
The works feature a modern take with sculptural shapes full of sensuality and surface tension, reflecting light and movement, and convex and concave compositions.
Each work has its own personality, but is still unified by the creative style of the artist.
"This exhibition is being held to honour his devotion to Vietnamese art," said exhibition curator Luneta Phan.
"In order to reach the highest level, the artist must constantly adapt and create," she said.
There are works filled with strong emotions while others contemplate reality and life.
It is not difficult for viewers to realise that he is devoted to women.
"In this world there is nothing more beautiful than women, especially gentle Vietnamese women," said Bao.
"They have suffered many hardships and made sacrifices waiting for their husbands to return from war. I'm inspired to compose statues when I think of my mother."
Before becoming a sculptor, he was a soldier during the anti-American War. That is why he loves and respects woman. He devotes most of his statues to mothers and children.
One of the sculptures entitled Mẹ Con (Mother and Child) is representative of the series of maternal love. It was made in 1977.
The work features a woman with her feet appearing to be buried deep in the ground, with her hips stretched like a firm base and her breasts pushing forwards facing straight on.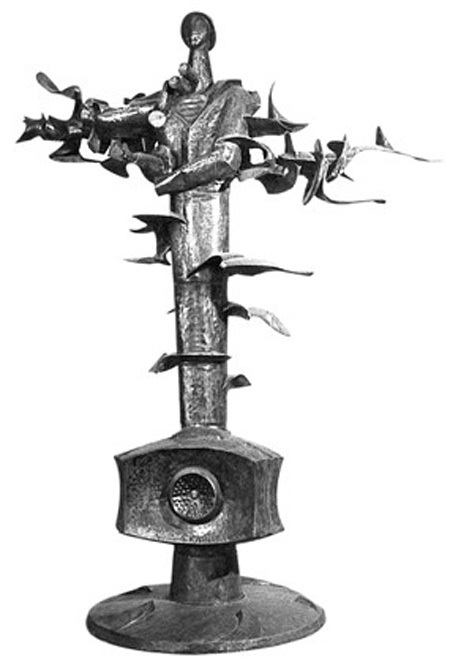 STANDING TALL: Dao Tien Tieu (Outpost Island), a bronze statue, was made in 1980. Photo hufa.edu.vn

The mother stands like a tree trunk stuck firmly in the ground, with her child held horizontally as if flying.
"The image of the women in Bao's creations have nothing to do with pretentious city women," said artist and collector Nguyen Huy Hoang.
"They are resourceful mothers and wives. The strong characters in his sculptures feature stylised hips and chest that are larger than usual. It is a skilful technique."
Bao was born in the central province of Thanh Hoa. Now retired as a soldier, he still holds a great love for his homeland, and spends most of his time making artworks for the country.
His monumental works have been erected in many provinces and cities, such as the 21-metre victory statue in Nha Trang, the 12.5-metre carving of soldiers hauling a cannon in Dien Bien Phu battle, and the 16-metre Xuan Trach Victory statue in the northern province of Vinh Phuc.
He was the first artist in Vietnam to use island and sea themes for his sculptures, realising the subject matter was extremely important and sacred to the country.
"After the liberation of the south, Vietnamese soldiers were sent to protect the Truong Sa (Spratly Islands)," the artist said.
"At that time, I thought Vietnam was a big country with many islands and seas. It needed to protect them. It took several years to create Đảo Tiền Tiêu (Outpost Island), a bronze statue, that earned me a top prize at a national exhibition in 1980."
Sculpting is one of the most difficult forms of art, especially when using heavy materials. It needs talent, creativity and good health.

It is hard to believe that after such a long and distinguished career, Bao is soldiering on using just one hand after suffering a stroke that left him paralyzed in the other about ten years ago.
He created his Hoàng Sa sculpture in 2014 when Chinese drilling rigs infringed upon Vietnam's sovereignty in the East Sea, and that work also won the top prize at a contest in 2015.
He received the Ho Chi Minh Prize for Literature and Art in 2016.
"I was trained in a difficult environment, and sometimes there was nothing to eat," Bao said.
"In those testing years, we studied hard and wanted to become useful for the country. Then the difficulties passed and today we have a peaceful and developing country, and we also have an environment to devote ourselves to art.
"The strength of Vietnamese artists is in their culture, wherever they are in the world. Artists must understand how to combine national pride with modern art in harmony."

The Portrait of an Artist - Sculptor Ta Quang Bao will run until January 16 at Lunet Art Galerie, Pan Pacific Hotel, 1 Thanh Niên Street, Hanoi. VNS
By Nguyen Binh

An exhibition of artworks by leading Asian artists is taking place at the Vincom Center for Contemporary Art (VCCA) in Hanoi.  

Seven artists from the Sai Gon Ceramic Arts Group are showing 170 ceramic sculptures depicting life, people and love in at the HCM City Fine Arts Museum.