Exciting but challenging: the life of a professional chef

Instead of an "air-conditioned office" job, many young people these days are pursuing a culinary career.
Chef brings best of Korean cuisine to Vietnam
13 world renowned chefs participate in Hanoi culinary event
The icing on the cake for young chef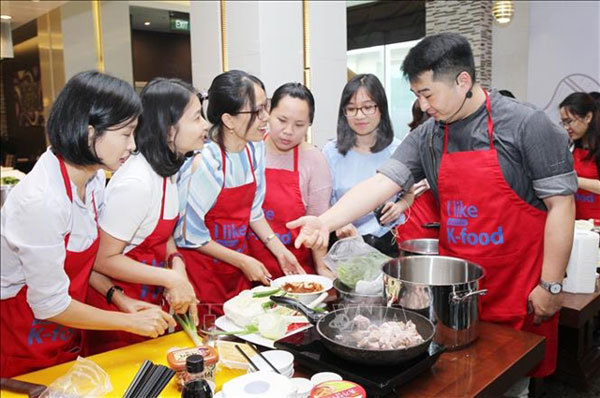 Many young people today are interested in becoming a professional chef. VNA/VNS Photo
Vietnam currently has several sitcoms that picture the life of a chef, similar to shows from Hong Kong, Taiwan, South Korea and Japan, such as Vua Đầu Bếp (Master Chef Viet Nam) Iron Chef and Chiếc Thìa Vàng (Golden Spoon), according to Sài Gòn Giải Phóng (Liberated Sai Gon) newspaper.
These sitcoms, according to many people, have brought a breath of fresh air, gradually changing the stereotype that cooking is a low-income job or only for women, while, in fact, many world-renowned chefs are men.
Chef Nguyen Truong Giang, who specialises in Vietnamese dishes at a restaurant on To Hien Thanh Street in HCM City's District 10, described the job as extremely challenging and one that only someone with passion should pursue.
"Although I went to professional cooking school, I still had to pick vegetables, catch fish, and pluck chicken feathers, among other tasks, before officially moving on to operate the kitchen." Giang said, while pointing at his scarred hands.
Meanwhile, chef Hoang Truong Dung, who works at a large restaurant on Go Vap District's Quang Trung Street, said that cooking is a high-pressure job, especially during Tet (Lunar New Year) or peak holiday seasons when restaurants sometimes lack manpower or ingredients to cook.
A chef has to ensure that every dish is delicious and beautifully presented, he said, adding that a simple mistake can easily make customers unhappy and significantly affect both the chef and restaurant's reputation.
Having good health is another important factor that every chef needs, Dung said.
Manpower shortage
Le Minh Thanh, deputy head of Hoa Sen University's Tourism Department, said the cooking industry currently has high recruitment needs.
As Vietnam's tourism industry is attracting more international visitors, cuisine is playing a huge role in connecting Vietnam and tourists.
However, local vocational training has not met certain standards since some hotels and restaurants still book international chefs to cook Vietnamese dishes for their facilities, he added.
Culinary expert Tran Thi Hien Minh said that a cooking career has gradually gained more respect, with minimum monthly salaries ranging from VND6 million (US$261) to VND7 million ($304) for inexperienced graduates and about VND20 million ($870) for experienced chefs.
At large hotels and restaurants, a chef often receives a salary of $2,000 per month.
However, Minh said he was concerned that many young people always look for high-salary jobs without considering their cooking skills.
"New graduates need to be responsible and have a sense of what they are doing while improving their second language and life skills," she said.
Many experts agree that chefs are no different from artists because they help awaken the senses of customers.
These days, many culinary contests are being held by universities, colleges and vocational schools, among other institutions, attracting many contestants.
VNS