Epizode pre-party in Hanoi this weekend

Southeast Asia's top dance music festival kicks off in less than a month, and Hanoi is getting a taste of the action.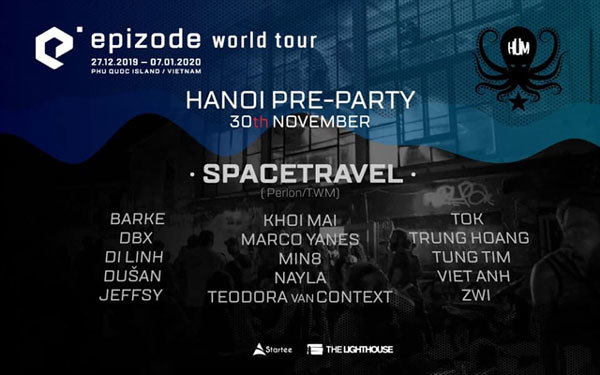 The Epizode world tour of pre-parties will hit Hanoi on Saturday. Photo from Facebook of HUM
Epizode festival will run from December 27, 2019 to January 7, 2020 on Phu Quoc Island in Kien Giang Province, but the party gets started in the capital on Saturday.
Hanoi Underground Movement (HUM) will host an official Epizode pre-party as part of a world tour of pre-parties in Hà Nội at The Lighthouse club from 9pm until the wee hours.
With 16 local and international DJs playing across two stages in the legendary late-night haunt in Hoan Kiem District, the pre-party is an ideal warm up for the marathon 11-day Epizode festival.
German DJ Spacetravel will headline the Hanoi event with his futuristic and experimental sounds.
Advance tickets cost VND100,000 (US$4.3) and tickets on the door cost VND150,000 ($6.5). For more ticket information check out the event page on Facebook.
The fourth edition of Epizode is again jam-packed with top DJs, including British Hessle Audio co-founder Ben UFO, Chilean-German groove master Ricardo Villalobos and Italian composer and multi-instrumentalist Giorgia Angiuli, to name a few.
11-day passes and 'Sister Multi Passes', allowing two women to enter for the price of one ticket, are on sale now for 319 euros (VND8.2 million). Three-person passes cost 819 euros (VND21.2 million). Tickets and the full lineup can be found at www.epizode.com.
Việt Nam News is running a ticket giveaway for the festival, with seven tickets up for grabs. Visit our Facebook page and check out the pinned post for more information. VNS

Epizode returns to Vietnam in just a few weeks, bringing 11 straight days of world-class dance music to the beaches of Phu Quoc Island.

The full lineup for Southeast Asia's top dance music festival has been released, and ravers are in for a treat.