Epizode offers more than a world-class party

Epizode returns to Vietnam in just a few weeks, bringing 11 straight days of world-class dance music to the beaches of Phu Quoc Island.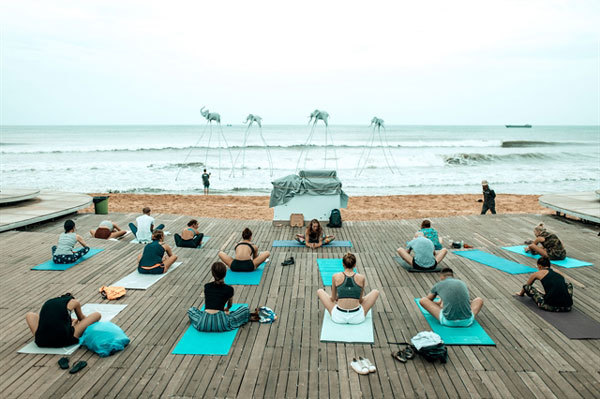 TIME TO CHILL: Yoga is just one of the daytime activities on offer at the festival. — Photo courtesy of Epizode
The fourth edition of the festival, running from December 27, 2019 to January 7, 2020, is again jam-packed with top DJs, including British Hessle Audio co-founder Ben UFO, Chilean-German groove master Ricardo Villalobos and Italian composer and multi-instrumentalist Giorgia Angiuli, to name a few.
But there's more on offer than just dancing the day and night away in Kien Giang Province, as the organisers of Epizode have recognised that not everyone has the stamina to party for 24 hours a day, 11 days straight.
For a start, Epizode's organisers have worked to ensure there are comfortable chill out zones on the festival grounds this year, something any experienced raver knows is crucial to making it to the sunrise still conscious.
On top of that, more food options will be available than previously, with a food court and marketplace. This has been made possible by expanding the festival site at the Sunset Sanato Beach Club.
Efforts are also being put into the creation of a comfortable leisure area with yoga and sports, group meditation classes and healing sound sessions, with the Gardens of Babylon showcase in particular set to offer a unique experience to festival goers.
Epizode CEO Natasha Rogal told Việt Nam News that she was looking forward to the Gardens of Babylon showcase, as they are "are famous for their parties filled with ceremonies and meditations gradually turning into complete harmony on the dance floor."
The festival has also gotten more environmentally conscious, with plans to substitute plastic straws with organic ones made in Vietnam, a cup-sharing system and reusable pocket ashtrays.
With the art installations still to be announced as well, it's clear there's plenty on offer at Epizode apart from 24/7 partying.
11-day passes and 'Sister Multi Passes', allowing two women to enter for the price of one ticket, are on sale now for 319 euros (VND8.2 million). Three-person passes cost 819 euros (VND21.2 million). Tickets and the full lineup can be found at www.epizode.com.
Việt Nam News is running a ticket giveaway for the festival, with seven tickets up for grabs. Visit our Facebook page and check out the pinned post for more information.

The full lineup for Southeast Asia's top dance music festival has been released, and ravers are in for a treat.

Vietnam's top underground dance music festival returns to Phu Quoc Island again this year, bigger and better than ever.
VNS