Entertainment industry takes huge Covid-19 outbreak hit

Many show organisers have incurred big losses due to postponed and cancelled shows due to the Covid-19 outbreak.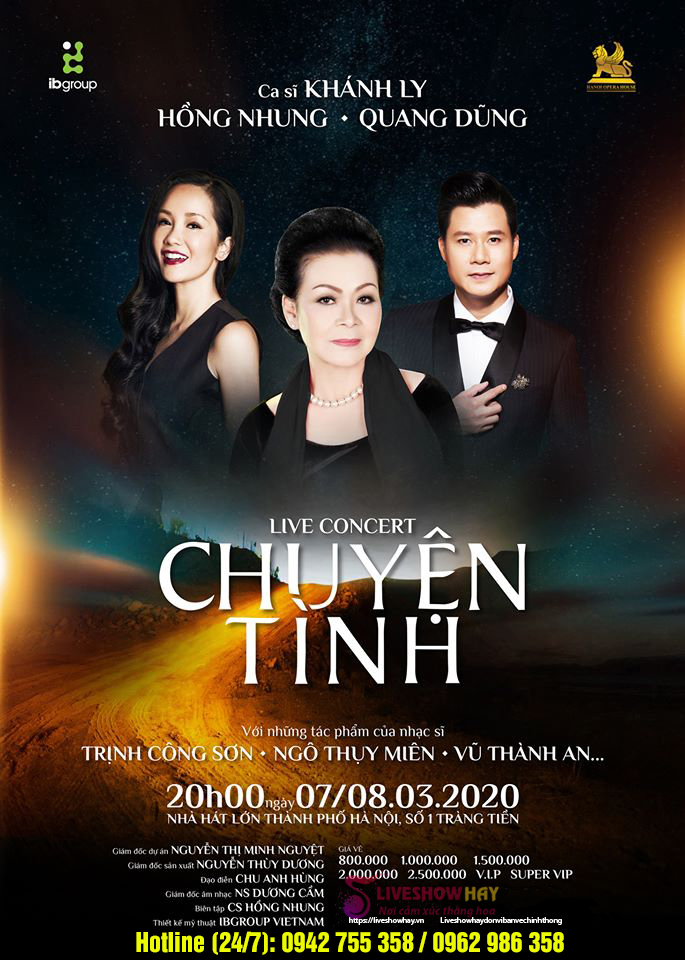 Love Story Live Concert (Chuyen Tinh) postponed
Various entertainment events and music shows are often held right after the Tet holiday. But this year, all of the shows have been either postponed or cancelled, including big shows like the Modern Talking and Sandra Live Concert in Vietnam.
Nguyen Thuy Duong, chairman of the IB Group Vietnam, the organiser of the Khanh Ly - Love Story Live 1 concert said they invited Khanh Ly, Hong Nhung and Quang Dung for the show on International Women's Day, March 8.
"Famous songs bu well-known writers like Trinh Cong Son and Ngo Thuy Mien would have been performed. All preparations were completed but we had to postpone the show until the outbreak ends so that the audience can enjoy," he said.
The concert will be delayed until Vietnamese Women's Day on October 19 and 20. The organisers will refund all ticket prices.
Dong Do JSC also had many shows planned and ready for the International Women's Day, corporate events or student field trips to Thao Dien Van Loc Farm. But they have had to be delayed, while large events are cancelled.
They suffered a huge loss from the students' field trips. According to the company, they organised trips for 100,000 students at the cost of VND60,000 per student. "Luckily we hadn't yet started selling tickets for the music show yet," the company's representative said. "The singers were understanding and agreed to wait until the show could be organised."
The company have cancelled 14 shows and suffered tens of billions of VND in losses since after Tet. In order to remain in business, the company has to find other ways to earn money from producing essential oils or pressed plywood.
Nguyen My Trang, deputy director of My Thanh Advertisement and Entertainment Company, said, "The Covid-19 outbreak has badly affected various industries, including marketing and event management businesses. Events have been postponed and cancelled right after Tet. Most of our customers are multinational corporations so they are even more careful with international events."
According to Trang, events planned for February and March were cancelled one after another including Asia-Pacific conferences. They will not have any revenue in February and March.
"Usually, we held 20-30 events a month and up to 40-50 events when there is high demand. We have a large number of employees and are already used to busy schedules. It's the first time since the company was established that most of us are now idle," she said. "Everyone hopes that the outbreak will end soon."
Trang said they were also searching for new ways to earn money to remain profitable.
Danviet/Dtinews

Authorities in Ho Chi Minh City and eight neigbouring provinces organised Covid-19 epidemic drills on Wednesday morning.

Activities within this year's annual festival of the Hung Kings' Temple, which falls on April 2, will be cancelled due to the acute respiratory disease caused by the SARS-CoV-2 (COVID-19).

In the TV show "Last Week Tonight" by John Oliver (HBO) March 1, the American host constantly praised a Vietnamese song on how to fight covid-19.