Entertainment Events in Hanoi & HCMC on January 6-12
Hung Yen- Ballet Swan Lake to be staged on Swan Lake in Ecopark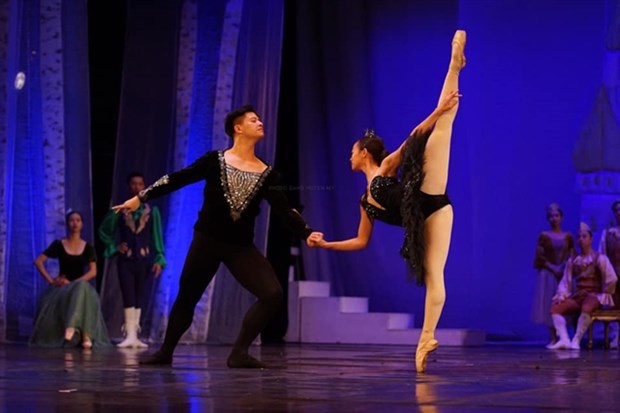 7pm, Jan 11,
Ecopark Urban Area, Hung Yen Province

The full four-act ballet will enchant viewers with leading dancers Dam Han Giang, Thu Hue and Phan Luong.

Tickets from 300,000 VND (13 USD) to 1 million VND.

Hanoi-Rock Symphony at Hanoi Opera House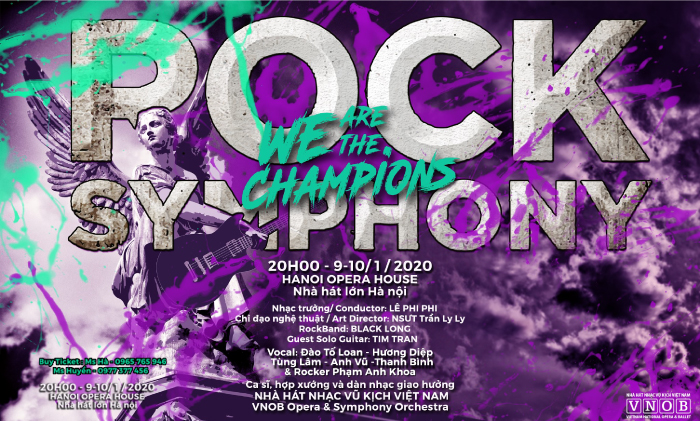 Jan 9 & 10, 8 pm,
Hanoi Opera House, 1 Trang Tien street, Hoan Kiem district

Artistic: Emeritus Artistic Trần Ly Ly

Conductor: Lê Phi Phi

Guest artist: Tim Tran (guitar solo)

Rock band: Black Long

And the Opera and Orchestra of Vietnam National Opera and Ballet (VNOB)

The show promises to offer audiences a unique and impressive music experience. All of Elvis Presley, BonneyM or Queen's famous songs will be played in the spirit of rock, but not only with electronic bands, jazz drums and riffs which is tearing off the electric guitar as usual, but also incorporates the soft sounds of an orchestra and a choir. Instrumental combination with a new style, immortal melodies like "Bohemian Rhapsody", "We Will Rock You" hay "We Are The World" will make the audience have an unforgettable night.

Ticket prices: VND 500,000 - VND 700,000 – VND 800,000 – VND 1,000,000 – VND 1,200,000


Hanoi- Happiness Concert
Jan 8, 8 pm,
Hanoi Opera House, 1 Trang Tien street, Hoan Kiem district

Featuring the performance of conductor Honna Tetsuji, cello soloist Miyata Dai, and the Vietnam National Symphony Orchestra

Programme:

Rossini – La Gazza Ladra

P.I Tchaikovsky – Rococo Variations

Rimsky Korsakov – The Moon – new and full – from 3rd movement of "Scheherazade" for cello and orchestra/ ARR. Yamamoto Sayaka

Conducting corner

From "The firebird"

I.Stravinsky – Ballet suite 'The firebird" 1919 version

* This performance is not for children under 5 years old.

Ticket prices: VND 200,000 – VND 350,000 – VND 500,000


Hanoi-Comedy Show "A Little Laugh for Year of the Rat"
Jan 11, 8.30 pm,

L'Espace, 24 Trang Tien street, Hoan Kiem district

Friendly, humorous and profound, the show promises to bring laughter and humane lessons to Hanoi audiences.

The show is presented in many interesting forms including 2 musical skits, 4 comedy video clips, 8 comedy skits and improvised comedies.
Tickets: VND 150,000 - VND 200,000.
Hanoi-A O Show by Lune Production
Jan 9, 6:00 pm and 8:30 pm,

Ho Chi Minh City Opera House, 7 Cong Truong Lam Son, Ben Nghe Ward, District 1

Featuring optical illusions and impressive acrobatics, paired with traditional music performances by a troupe of talented local artists.

Known as the Cirque du Soleil of Vietnam (minus the flashy outfits), this live show depicts the transition of rural Vietnam into today's modern landscape, using props such as giant woven baskets, scaffolding, bamboo canes, and ropes.

Price range: VND630,000 - VND1,470,000
_______________________________________________________________________________________
EXHIBITION


Hanoi-Art exhibition: "Ờ"

Jan 5 10
Exhibition Centre of Fine Art and Photography, 29 Hang Bai, Hoan Kiem District

A combination of three artists from Ho Chi Minh City: Thai Vinh Thanh, Le Hai Trieu and Hoang Vo currently taking place in Hanoi.

About the name of the exhibition: "Ờ" (Yes! / Yeah!), the three artists just laughed and said, "Well, it is it." But in Vietnamese, either "ờ" or "ờm" is the utterance, to show agreement or to expresses when you suddenly remember something. Bringing out dozens of paintings to display, then together say "Yes!" (which you also can understand as "That's right!", were the three artists trying to remember something? Is it time to open another way, to add another door?

With the three artists, in this primary exhibition, they raised their voices together with one word only, before calling out or giving a new title to their new works.

Of course every exhibition is important, but with "Ờ" is really important, because they must show off their prestige in Hanoi. With fine arts, Hanoi has not only a thickness of tradition, a thickness of achievements, but also a thickness of criticism, with a sharp look and typical criticism, so artists from other regions come here to have their own exhibitions are often very difficult to succeed. If these three artists succeed, it will also be a hinged precedent, contributing to opening more opportunities and attracting for many other shy artists.

Hanoi - "Untitled Fictions in the Age After Divinity"
Manzi Art Space, 2 Hang Bun alley, Ba Dinh district

 Featuring works by Bang Nhat Linh, Le Quy Tong, Nguyen Manh Hung, and Nguyen Tran Nam –the four important contemporary artists of Vietnam today.

Focusing on the visual relationships of disjointed elements and unusual scales, Nguyen Manh Hung's series of oil paintings depict activities and events of daily life in an absurd world.

Bang Nhat Linh – a dedicated collector of war memorabilia, continues his study into the depth of memories and history with a poetic video installation.

Le Quy Tong, as usual, directs the viewers to a brutal reality which is hidden underneath a veil of luxurious and cold colour palette of his paintings.

And Nguyen Tran Nam via his installation 'Like A Variant', attempts to reveal the dark, hidden and forgotten fraction between the past and presence, faith and retribution.


Hanoi-Exhibition "The Foliage 3"
Dec 20, 2019 – Feb 23, 2020 (Tuesday – Sunday), 10 am – 8 pm

Vincom Center for Contemporary Art (VCCA), B1 – R3, Vincom Mega Mall Royal City, 72A Nguyen Trai, Thanh Xuan District

The exhibition brings together young and talented Vietnamese and international artists: Quynh Lam, Phan Ah, Nguyen Van Du, Nguyen Dinh Phuong, Luong Trinh and Tristan Jalleh (Australia), the duo Caleb Stein & Andrea Orejarena (Colombia).

Continuing to support diverse creative activities, "Foliage 3" introduces the public to more than 50 artworks of various art languages: painting, photography, sculpture, video, installation and concept, a daring experiment in medium and expressions of promising artists.


Hanoi-Exhibition "Light" by Nguyen Tan Cuong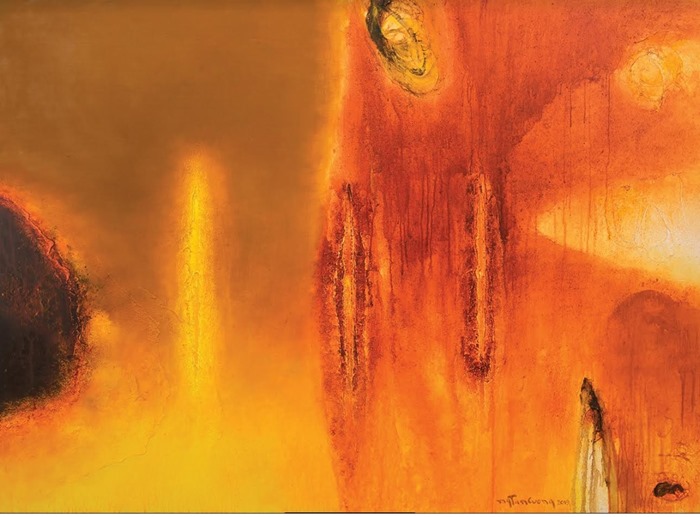 Dec 20, 2019 – Jan 20, 2020
Cuci Art Studio, Level 2, 25 Hang Bun street, Ba Dinh district

The first solo exhibition by Ho Chi Minh City-based artist Nguyen Tan Cuong, who is a veteran painting working in abstract art in Vietnam.

The artist's new collection shows us a complete metamorphosis proving what period of silence can change in a man.


Hanoi-Exhibition "Singing to the Choir?" & "Silent Intimacy"
The Factory Contemporary Arts Centre, 15 Nguyen U Di street, Thao Dien ward, District 2

Two new exhibitions: 'Singing to the Choir?', a group exhibition by Phan Anh, Tran Minh Duc, and Ngoc Nau; along with 'Silent Intimacy', a solo exhibition by Dang Thuy Anh.

Works on display at the 'Singing to the choir?' exhibition present the artists' reflections on humanity's demonstrated attachment of purpose to an intangible realm justifying the meaning of life.

Meanwhile, 'Silent Intimacy' is Dang Thuy Anh's first solo exhibition in her artistic endeavor with apple snails, contemplatively dubbed with the impact of urbanization on human life.

Tickets:

For adults: VND 50,000

For students: VND 40,000 (with appropriate student ID)

For children under 12: free (with appropriate ID)
Hanoigrapevines/Dtinews