Entertainment Events in Hanoi & HCMC on December 2-8
Hanoi-Classical Concert: Autumn Bamboo 4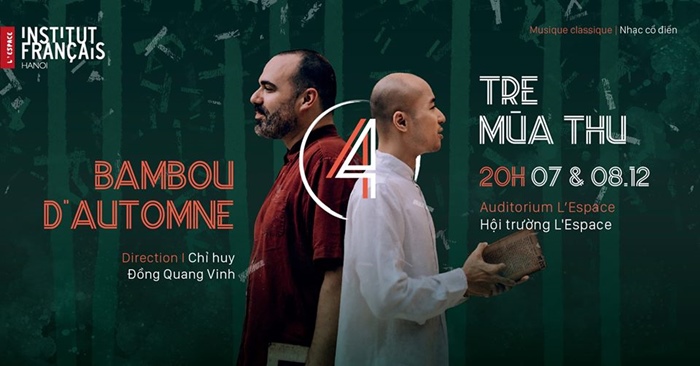 IF Hanoi
Dec 7 – 8, 8 pm
L'Espace, 24 Trang Tien Street

From L'Espace:

Sức Sống Mới is the only symphony orchestra in Vietnam that uses traditional instruments made entirely of bamboo to perform Vietnamese and foreign works in the form of chamber music. The audience will get to enjoy the masterpieces of French composers: Gabriel Fauré, Charles-Camille Saint-Saëns and classic Vietnamese compositions. An evening not to be missed, for the whole family.
Ticket price: 300 000 VND
Ticket price for members: 250 000 VND
Ticket price for students: 250 000 VND
Discounted prices applicable until 06 Dec 2019
Get your ticket online here
Tickets are available at L'Espace (Mon to Thu: 8.30 am – 7 pm / Fri: 8.30 am – 6 pm and 6.30 – 8 pm / Sat: 9 am – 7 pm) 
HN and HCMC – Science Film Festival 2019
Until Dec 20
Hanoi and HCMC
From Goethe Institut:

Students, scholars and the general public alike are invited to explore this year's theme "Humboldt and the Web of Life".

Featuring high substantial science films, aiming to promote the initatives of learning and to contribute to the cultural development in Vietnam. We are planning to reach 44 schools. The concept of the festival has proven to be very successful, that's why we expect our hand-on activities to again reach tens of thousands of students in Hanoi and Ho Chi Minh City. Each screening will be accompanied by interactive projects, discovery workshops and experiments. Youth can experience science with hands and eyes; they can do experiments on the spot. This will deepen the process of learning and understanding. We believe that curiosity and the ability to think critically in each young learner are the potential for being a researcher and constructor, a thinker and builder. Films and experiments will be the medium through which curiosity and the desire to explore are encouraged and our knowledge of today's world are expanded.
Danang-Pacific Alliance Film Festival
December 6-8.
Le Do Theatre, Tran Phu Street, Hai Chau District

Embassies of Chile, Columbia, Peru and Mexico will host the Alianza de Pacifico (Pacific Alliance) Film Festival

On Dec 6, 7.30pm: Violetta Went to Heaven, directed by Andrés Wood of Peru.

It features the extraordinary story of the iconic poet, musician and folksinger Violeta Parra, whose songs have become hymns for Chileans and Latin Americans alike. Director Andres Wood (Machuca) traces the intensity and explosive vitality of her life, from humble origins to international fame, her defence of indigenous cultures and devotion to her art.

On Dec 7, 4pm: The Kids are Back, a comedy, directed by Mexican Hugo Lara.
On Dec 7, 7.30pm: Old Friends, with Peru's director Fernando Villerán, tells of the misadventures of three lifelong friends in their 80's who, on a whim and in an act of defiance, decide to steal the urn containing the ashes of their departed comrade to take him on a tour of their old neighbourhood. Along the way, they stop off at some of their favourite hangouts for one last hurrah.

On Dec 8, 4pm: Lila's Book, an animation by Columbian Marcela Rincón.

Lila, a character in a children's story book, suddenly falls out of her paper world and ends up trapped in a place she doesn't belong and so starts this great adventure where Lila discovers that the only person who can save her is Ramon, the owner of the book who hasn't read it for many years.

All films are dubbed in Vietnamese, and tickets are free and can be picked up at the cinema from 9am to 8pm.


EXHIBITION
Hanoi- Art for You
Nov 28 – Dec 3, 9.30 am – 8 pm
Manzi Exhibition Space, No. 2 Ngo Hang Bun,


From Manzi:

In December 2014 we opened the doors to the first edition of ART FOR YOU. Our plan, was to create a meaningful calendar event that aimed to not only bring more Art into people's homes, but find a way to develop the art market in Vietnam to support artists and independent art spaces.
5 years have passed and with successful 11 fairs to date we are proud to announce the dates for the 12th Edition of Art For You.

Bring ART into your home this festive season and give a gift that will reward you for years to come. A meaningful and timeless way to solve the eternal Christmas gift conundrum… Socks, chocolate and vouchers are nice. But ART is our past, present and future.

Prices in ART For YOU range from $25 – $900 and many artworks will be reduced from the usual selling price for the duration of the fair only.

For more details about the event, visit:https://www.facebook.com/events/1424521087708885/
Hanoi-MAP 2019 – Exhibition BEYOND DESTRUCTION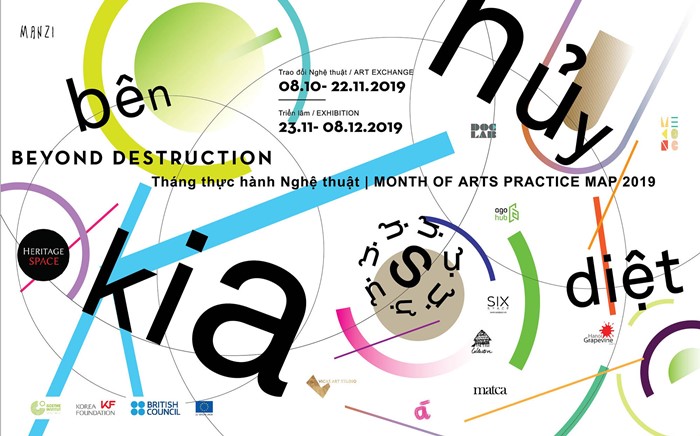 Nov 24 – Dec 8
Gallery of VICAS art studio, Vietnam National Institute of Cultural and Art Studies
32 Hao Nam st., Dong Da dist.,

From Heritage Space:

The final exhibition of our annual contemporary international art exchange project called 'Month of Art Practice – MAP 2019'.

As the theme of the project Month of Art Practice, BEYOND DESTRUCTION kindles inspirations and rationales for the incipience of artists' interrogations and quests for the 'beyond' places, which can be in manifold space-time realities, the inner mind, and personal cognition. In addition, incipience here also institutes various, adverse or exquisite contemplation about 'Destruction' hidden under implications and metaphors in real life, in unceasing transformations of mind, and in endless furious collisions of contemporary events reflecting history. BEYOND DESTRUCTION presents the art works of 15 artists from Japan, Korea, Switzerland, Germany, Myanmar, and Vietnam. They can be in different art forms: video, photography, performance, fine arts, installation, concepts, excerpts. Refined from field research and voyages through visible or invisible lands, those art works depict both ambiguously and meticulously the shape of the lands and the identity of decay in artists' deeply personal ways.
Hanoi-Vietnam-South Korea Monochrome Painting Exhibition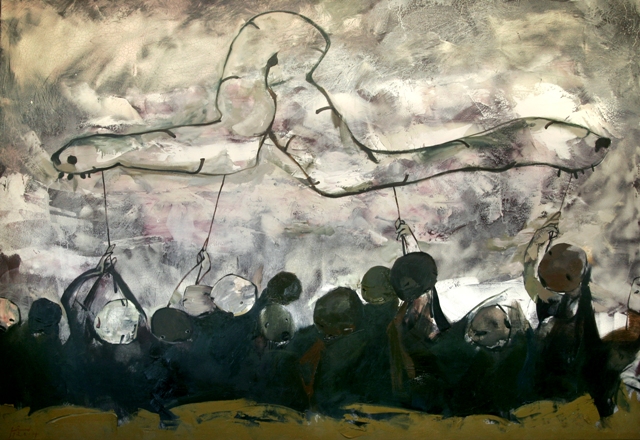 Opening: Dec 3, 4 pm
Vietnam Fine Arts Museum, 66 Nguyen Thai Hoc Street,
—
Exhibition: Dec 3 – 14
Vietnam Fine Arts Museum, 66 Nguyen Thai Hoc Street,
& Korean Cultural Centre, 49 Nguyen Du Street

Vietnam – Korea Contemporary Art Exchange Exhibition "Khác mà giống, giống mà khác" (Different yet similar, similar yet different) will introduce to art enthusiasts of the two countries the most beautiful, multi-dimensional views of monochrome painting by 12 talented Vietnamese – Korean artists. 
Hanoi-Exhibition "Event Horizon"
Nov 27- Jan 27, 2020

Erato School of Music and Performance Art, 56 Pho Tram

From the organizer:

A group exhibition by 15 artists specializing in multiple artistic disciplines.

The questions related to our existences remains unsettling. Although arts cannot provide us valid answers to these philosophical questions, it gives us individual insights. And gathering these separated perspective would give each person a different overview of arts and aesthetics. Hence, each of the milestones in the creative practicing is like an Event Horizon – where the inertia changes.

Each artist has an individual identity, and distinctive personality represented through his/her practices and artistic perspective. They are the artists who inherit the features of traditional art and bring it into experimental practices from the way of using medium to building concept.

It is the intertwinement of the two seemingly separated territories that have created distinctive personalities. For example, artists like Vu Xuan Dong, Oanh Phi Phi and Trieu Khac Tien have created modern interfaces on lacquer based on traditional techniques. In addition, those who practice on new media such as Tran Hau Yen The, Phan Hai Bang, Vu Kim Thu, Trieu Minh Hai, Pham Khac Quang and Nguyen The Son­ are always on the path to search for their personal identities and then finally discover themselves existing within the material as well as in the notions of culture and history. This is also enriched by the vital role of the young artists like Ngo Thu Huong, Can Van An… They do not only inherit the the seniors' practices but also gradually establish their own journey. The emerging artists are essential joints for the continuous growth of arts and initiate the shifting phase within the context of the contemporary art scene.

From these supposedly different artistic practices, any kind of combination would create an exclusive unity that does not depend solely on the orthodox views of the past and tradition. 
Hanoigrapevines/Dtinews