Entertaiment Events in Hanoi & HCMC on March 9-15
Hanoi-Lang Toi' (My Village) by Lune Production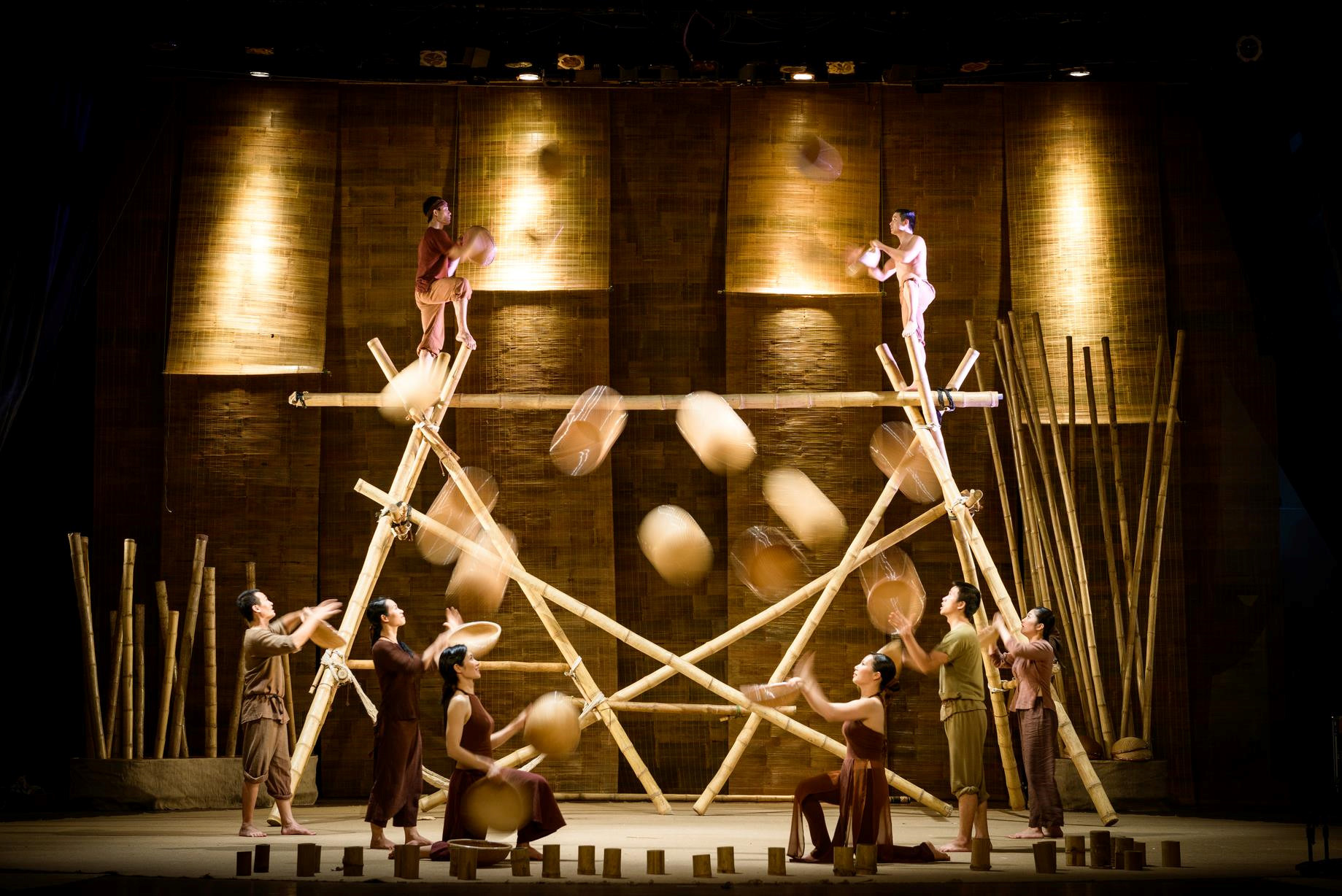 Mar 11, 13, 14, 6pm

Vietnam 'Tuong' (Classical Drama) Theatre, 51A Duong Thanh Street, Hoan Kiem District

A delicate merge of tradition and innovation, where the poetic beauty of Northern Vietnam's village life is presented through a new cirque approach.

Farming, building activities, traditional games, and the lifestyle of the Northern villagers are recreated through ancestral bamboo props, breath-taking cirque and acrobatics performances, as well as rhythmic dancing, performed with distinct folk music from more than 20 musical instruments.

Ticket prices: VND 700,000- VND 1,050,000
HCMC  -AO Show by Lune Production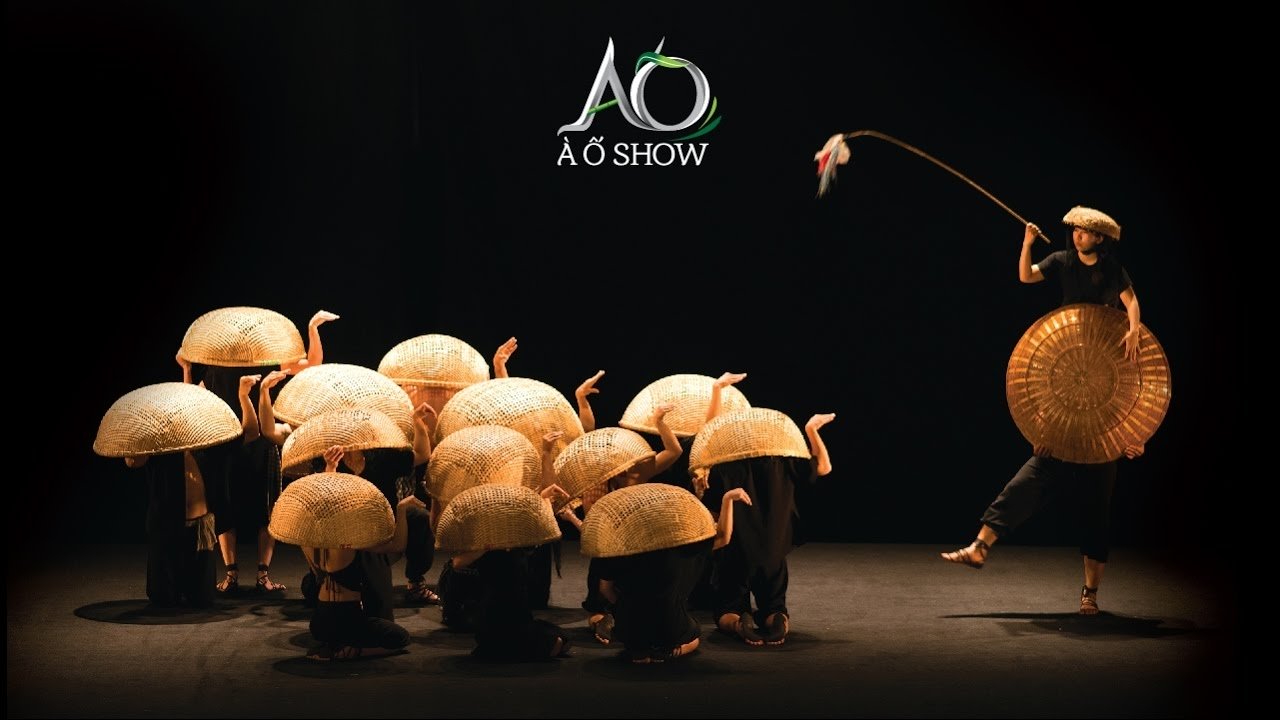 Mar 9 - 13, 6pm

Ho Chi Minh City Opera House, 7 Cong Truong Lam Son, Ben Nghe Ward, District 1

Featuring optical illusions and impressive acrobatics, paired with traditional music performances by a troupe of talented local artists.

Known as the Cirque du Soleil of Vietnam (minus the flashy outfits), this live show depicts the transition of rural Vietnam into today's modern landscape, using props such as giant woven baskets, scaffolding, bamboo canes, and ropes.

Price range: VND630,000 - VND1,470,000
_____________________________________________________________________________________


EXHIBITION

Hanoi- Workshop on Origami Lantern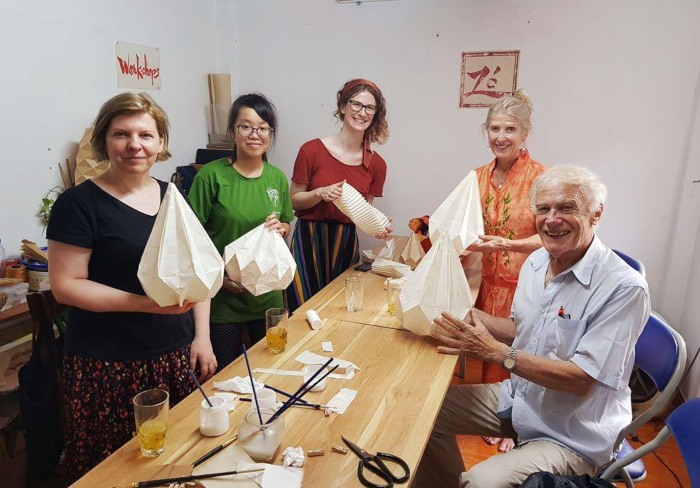 2 pm – 4 pm, every Sunday

Zo Paper – Art and Craft, 26 Tho Xuong street, Hoan Kiem district


A DIY workshop with Zo Paper project team
Participants are also given instructions on creating their very own lanterns by themselves.

Fee: US$25/ person

Maximum number of participants: 10

For reservation, fee should be transferred to bank account: 19021248376013

Name: Le Thi Ky

Techcombank 95 Ly Nam De Hanoi

Content: lantern workshop + Name


Hanoi - Phuc Tan Public Art Project

 Mar 15, 3-5pm

AGO Hub, 12 Hoa Ma street,

Mar 15,

Phuc Tan public art area

Note to participants: Please arrange your own transport and translator.

A talk with Curator Nguyen The Son and 16 artists who conducted a project to create an outdoor art space at street numbers 1 and 2 of Phuc Tan ward, Hoan Kiem district, Hanoi.

During the talks, the participating artists will share with the audience the project concept, the working process and the co-creation between artists and local resident.
HCMC - Vietnamese installation from London design festival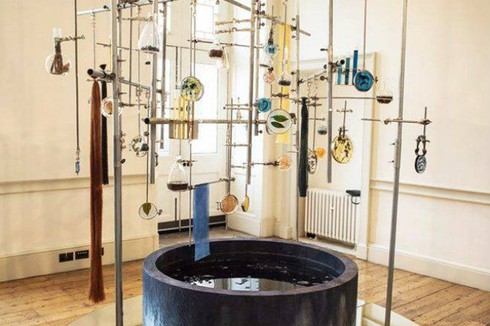 Mar 13-25,
Manzi Exhibition Space

Exhibition of "Khai", a Vietnamese installation created for the London Design Biennale 2018.
The installation was based on research by Dr. Marta Gasparin from the University of Leicester School of Business.

Led by British curator Claire Driscoll alongside designers Thao Vu, Giang Nguyen and Le Thanh Tung, the installation was created as a response to the biennale's theme "Emotional States".
HCMC - Exhibition "The Crossing of Disaster"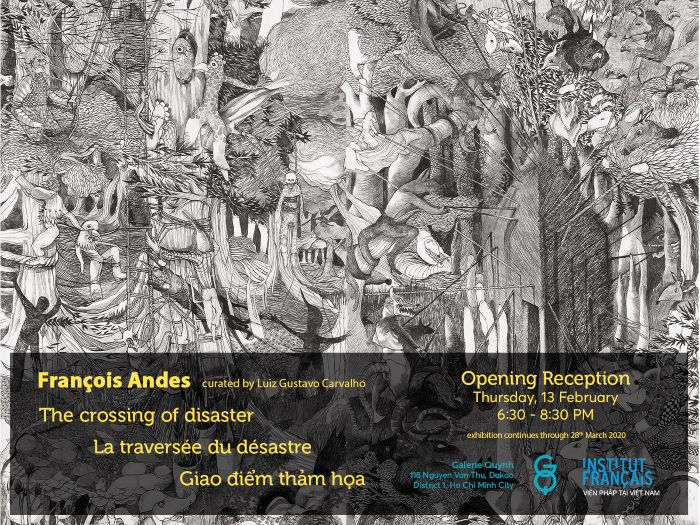 Until Mar 28, 10am – 7pm, Tuesday – Saturday

Galerie Quynh, 118 Nguyen Van Thu, Dakao, D1

A solo exhibition by French artist François Andes, curated by Luiz Gustavo Carvalho.

Conceived in 2016 and expanded upon during two periods of artistic residence in Vietnam between 2018 and 2019 at Villa Saigon, this project features an ensemble of works: drawings, animation, sculptures, costumes, masks, and musical compositions commissioned from acclaimed composers Samir Odeh-Tamimi (Palestine/Israel) and Sérgio Rodrigo (Brazil).


HCMC - Exhibition 'Ordinary Life'
Craig Thomas Gallery, 27(i) Tran Nhat Duat, Tan Dinh, D1

Introducing silk paintings by female artist Le Thuy. The paintings express the artists' intense of nature, as well as the regret and remorse for what has been lost in the natural world as the human race advances.

Thuy also brings smaller, ongoing events in the natural world into her paintings and presents them in the form of natural laws in the struggle for survival.

Free entry.
Hanoigrapevinews/Dtinews