Danang Dragons beat HCM City Wings on the road

Danang Dragons defeated HCM City Wings 75-69 in the Việt Nam Basketball Association (VBA) on Thursday.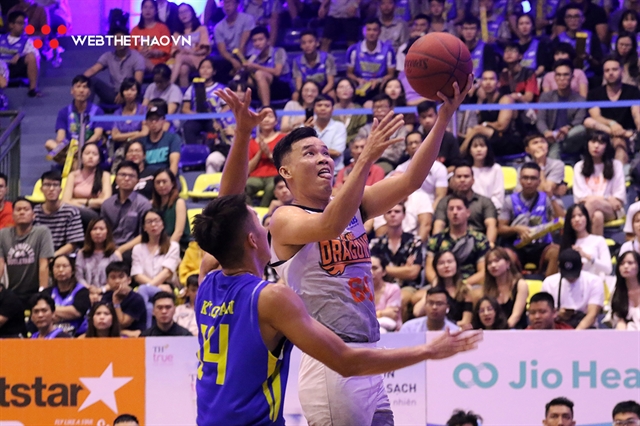 Danang Dragons playing HCM City Wings inthe Việt Nam Basketball Association (VBA) on Thursday. -- Photo webthethao.vn
The game was held at Hồ Xuân Hương Gymnasium in HCM City on Thursday.
The visiting side controlled the game from the start and easily rushed out to a 21-9 lead in the first quarter.
HCM City bounced back and scored 11 points in the second quarter but the Dragons still led 34-20.
The gap widened to 23 points in the third period as Sơn Minh Tâm and Anthony January made an impact with their three-point shooting to help the Dragons hold the lead.
In the remaining time of the third quarter, the Wings played better thanks to the individual efforts of Wayne Martin. However, the hosts still trailed the visiting side 41-60 going into the final quarter.
The fourth quarter saw the Wings play more aggressively. With two minutes left to play, the gap had been narrowed to just three points.
However, HCM City saw their chances of completing the comeback dented when coach Predrag Lukic got into an argument with referee Dominque Pomar and was sent out of the match.
With HCM City's coach out of the arena, Dragons captain Horace Nguyễn Phúc Tâm shone in the final minutes to lead his team to a 75-69 win.
The most valuable player award went to Horace Nguyễn with 20 points, four rebounds and two assists.
The Dragons will return home to take on Saigon Heat on August 11, while the Wings will face Hanoi Buffaloes on August 17.  VNS