Cultural & arts activities launched to celebrate nation's big holidays
A diverse range of cultural and arts activities have been launched nationwide to celebrate the 46th anniversary of the Liberation of Southern Vietnam and National Reunification Day (April 30), 
the 131st birth anniversary of President Ho Chi Minh (May 19) and the elections of deputies to the 15th National Assembly and all-level People's Councils for the 2021-2026 tenure.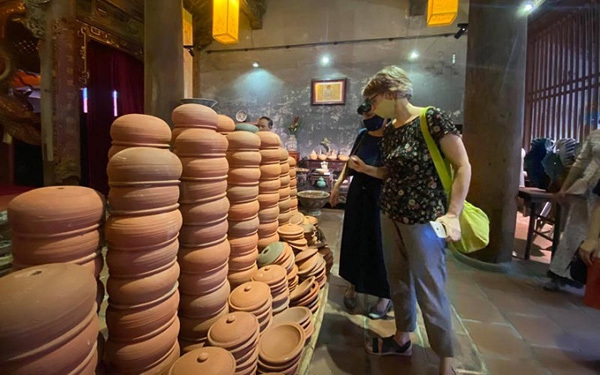 Visitors at the exhibition on traditional pottery at Kim Ngan Temple in Hang Bac Street, Hoan Kiem District, Hanoi.

On April 23, the Management Board of Hoan Kiem Lake and Hanoi Old Quarter launched a series of cultural activities introducing the unique cultural features of craft villages from Hanoi and other localities, such as the pottery villages of Bat Trang (Hanoi) and Phu Lang (Bac Ninh), and the Vinh Ba weaving village (Phu Yen). An exhibition showcasing traditional lacquer products is also being held as part of the programme, set to run through May 31.
* On the same day, the Hanoi Department of Industry and Trade opened the second Hanoi Vietnamese Goods Week 2021 at Thong Nhat Park in Hai Ba Trung District.
The six-day event features more than 100 pavilions from businesses and production establishments in the industries of consumer goods, industrial products, craft village products, agro-forestry and fishery products, organic and safe food, OCOP products, Vietnamese goods favoured by consumers, and strength products of localities and enterprises.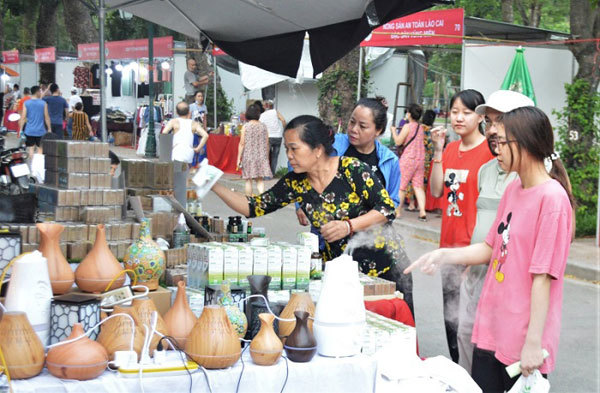 Hanoi consumers shopping at the programme.
* Ho Chi Minh City has planned a series of culture and arts events to celebrate the upcoming national holidays.
According to Vo Trong Nam, Deputy Director of the municipal Department of Culture and Sports, a photo exhibition on Vietnam's border areas at Lam Son Park in District 1 will kick off activities on April 26.
On April 28, an exchange with witnesses of the Ho Chi Minh Campaign is scheduled. The campaign liberated the south of Vietnam, paving the way for the country's independence and reunification after 21 years of separation.
There will also be ceremonies to bestow the Hero of People's Armed Forces title upon a number of recipients and to announce the Prime Minister's decision on recognising Can Gio District as a new-style rural area and Thach An Commune as an island commune under the administration of HCM City.
The department's pop music centre will hold a special concert on the evening of April 29, while the local Police High Command's brass band will perform on the evening of April 30, both events taking place on District 1's Nguyen Hue walking street.
On April 30, fireworks displays will take place at 9pm at four venues around town.
A host of activities are also set for May to celebrate President Ho Chi Minh's 131st birthday on May 19.
* On the evening of April 23, Tuyen Quang Province's tourism stimulus programme 2021 was launched at Nguyen Tat Thanh Square under the theme "Tuyen Quang – Convergence of Beauty".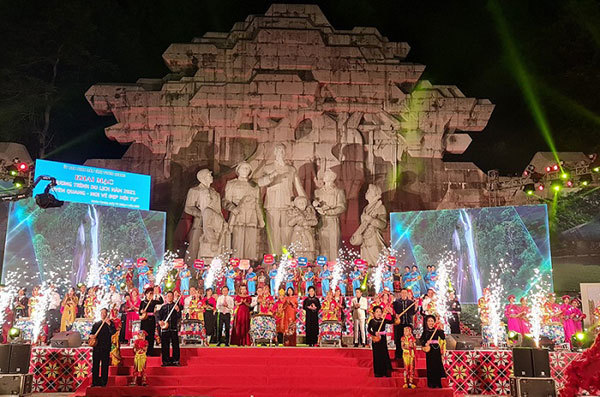 An arts performance on the opening night.
The programme focuses on enhancing tourism promotion on media channels, organising tourism photo displays, arranging delegations to survey tourist sites in the province to develop tours, holding seminars connecting businesses operating in the tourism sector, and organising cultural events to lure tourists.
* Deputy Director of the Da Nang Department of Culture and Sports Nguyen Thi Hoi An said the city is organising various cultural, arts and sports activities from April 18 to May 2 to create a joyful atmosphere for local people and tourists.
They include traditional arts performances, street music, street dance combining costume and musical performance, and especially an art programme celebrating the 46th anniversary of the Liberation of Southern Vietnam and National Reunification Day in Bach Dang Street on April 25 and a concert "Water World" at Trung Vuong Theatre four days later.
An exhibition showcasing sketch paintings themed "Da Nang – Days after liberation and today" is also scheduled at the municipal Fine Arts Museum, alongside bowling and beach football tournaments, as well as a diverse range of events at the Sun World Ba Na Hills tourist site.
Nhan Dan

Domestic travel companies are looking forward to the return of international visitors and their significant contribution to tourism revenue.

Many streets of Hanoi have been decorated with flags, banners and slogans to celebrate the 45th anniversary of the Liberation of the South and national Reunification Day (April 30).