Coach Park keeps his eyes on World Cup prize
In a small, spartan office at the Vietnam Football Federation headquarters, just around the corner from My Dinh Stadium in Hanoi, coach Park Hang-seo plots the next chapter of the national team's remarkable success story.
While the only decorations in Park's austere office are pictures of some of his famous victories, Vietnamese football fans can be assured their hero is only looking to the future.
After winning an AFF Cup, the SEA Games and a historic silver medal at the AFC U23 Championship all in less than three years, you could be forgiven for thinking the South Korean coach is ready to rest on his laurels.
Well, you'd be wrong, because the 63-year-old is working harder and smarter than ever, with the ultimate prize of World Cup qualification firmly in his sights.
New faces
Park, his players and staff are currently in Hanoi for a three-week training camp the South Korean strategist arranged to prepare for a crunch 2021, when Vietnam will play their final three games of Group G in the second round of qualifying for the 2022 World Cup, as well as attempt to defend their AFF Cup and SEA Games titles.
Vietnam currently lead Group G by a slender two points and stand on the precipice of advancing to the third and final round of qualification for the first time ever and coach Park is doing everything he can to ensure the opportunity doesn't slip through his fingers.
"There are two purposes for this gathering. Firstly, we know that old players in the national team didn't join a gathering for a long time so I want to gather them and remind them of our tactics. I am afraid that if they don't join the team for such a long time, they will forget our tactics and I also want to clarify more about the new strategies," he told Việt Nam News.
FOCUSED: Coach Park Hang-seo is determined to have a successful 2021 after a year when football was greatly affected by the COVID-19 pandemic. — VNS Photo Hoang Ho
One of the first things you notice being around Park is how full of energy he is. Whether he's gesticulating to make a point, playing with his wedding ring or scanning the room, the man is perpetually in motion, never standing still, which informs his approach to management.
"Secondly, we have new players; I want to see how they are. Currently, I have a plan that those 12 new players are all 12 positions on the pitch. I want the quality of the team will be improved through this fair competition," he said.
Park was at pains to add that although he's become known for consistently selecting from the same pool of players, all the new faces called up for this training camp have a chance to win a place in the squad for the next qualifier against Malaysia in late March 2021.
"Currently, we have 13 new players. For these players I don't know if they were called up before, but this is the first time those players have gathered with the team since I have been coach. I think all new and old players are in a fair competition," he explained.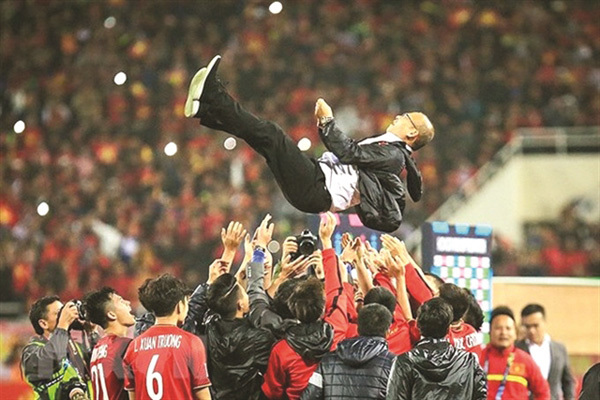 Vietnamese players and coach Park Hang-seo after winning the AFF Cup. Photo courtesy of Vietnam Football Federation
Soldiering on
As with all aspects of life in 2020, Vietnamese football has been severely impacted by the COVID-19 pandemic, with cancelled training camps, postponed matches and untold other disruptions to the beautiful game.
"We know that COVID-19 not only affects our team, it affects every aspect of life including politics, the life and culture of Vietnamese people and the whole world as well," Park said.
The stoic manager went on to add that he had hoped to schedule international friendlies, but recognised his team was not alone in being impacted by the pandemic.
"It would be good if there were foreign teams to play, but we know that it is impossible in the COVID-19 time," adding, "Our team is not the only one who is being affected by COVID-19. We just operate under the directions of the Government."
While the pandemic has ravaged sport the world over, the V.League 1 was one of relatively few regional leagues able to conclude the 2020 season, albeit shortened, but Park said that would be unlikely to provide much benefit to his team.
"Each championship has its own characteristics. It is based on climate, characteristics, and environment," he said, adding, "It completely depends on the environment, climate and situation of each country. I don't think that whether the season ends late or early will affect us."
Instead, Park said moves from other teams in Group G to strengthen their squads would have a greater impact on his team's chances of reaching the next round of qualifiers.
"I think the schedule is not as important as the fact that Malaysia has added four imported players, they are now planning to add three, which means there are many naturalised players in their team," he said.
"The UAE has completed the procedure to add three new naturalised players.
"I think this is the thing that we need to pay more attention to. We need a right strategy. We still continue to have more information about those players and analyse their play through video as well." 
Humble
For a man at the pinnacle of his profession and the height of fame in football-obsessed Vietnam, Park is a disarmingly humble man, generous with his time and quick to crack a joke.
That humility was fully on show when he explained how he's always trying to impart his wisdom onto his players but isn't sure how successful he is.
"I have a message for the players but I do not know how much they understand," Park said.
Judging by the results, they understand plenty of whatever it is coach Park is preaching, and the whole of Vietnam is his congregation. VNS 

The Vietnamese national team are training in Hanoi to prepare for the upcoming World Cup 2022 second qualifying round.

Vietnam national team head coach Park Hang-seo was adamant that his star defender Doan Van Hau's brief loan spell at SC Heerenveen in the Netherlands was positive for both player and country, calling it a "meaningful experience".