Coach Park confident of Vietnam's win against Indonesia

Vietnam's football team are prepared to secure a win against Indonesia in the World Cup 2022 qualifiers, said head coach Park Hang-seo.

Head coach Park Hang-seo of Vietnam's football team
Vietnam's football team are prepared to secure a win againstIndonesia in the World Cup 2022 qualifiers, said head coach Park Hang-seo.
The game will take place at 6:30pm (Hanoi time) on October 15 at the Kapten IWayan Dipta Stadium in Bali.
Vietnam gained theirfirst win of the qualification campaign against Malaysia last Thursday afterthey were held to a goalless draw by Thailand in their opener last month.Meanwhile, Indonesia have lost all three of their qualifiers so far.
"Vietnam had a difficult match at home against Malaysia. Tomorrow, we haveanother game with Indonesia away. Our rivals are very strong but fans can believein us," said Republic of Korean coach Park at the press conference in Indonesiaon October 14.
"Indonesia are a strongteam with good players, however, we are prepared to get a victory," Parkaffirmed.
Park names Vietnam's 23-man final roster for World Cup qualifier against Indonesia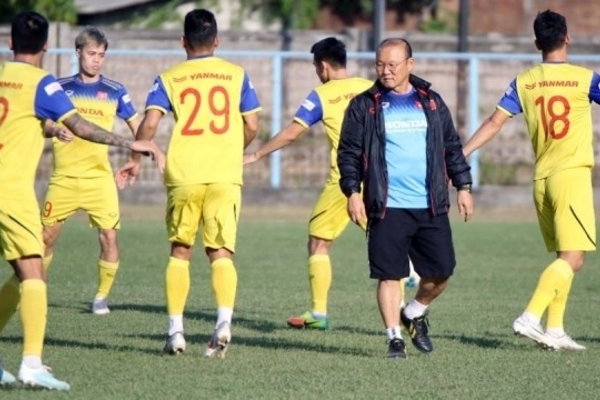 Coach Park Hang-seo has finalised his 23-member squad to face hosts Indonesia on Tuesday. (Photo: Vietnam Football Federation)
Vietnam men's national team will be without key central midfielder Nguyen Tuan Anh as well as rookie Nguyen Trong Hung for their 2022 World Cup qualifier against hosts Indonesia on October 15.
According to the Vietnam Football Federation, head coach Park Hang-seo on Monday revealed his final 23-man roster for the tomorrow match in Group G under the second Asian qualifying round of the World Cup 2022, five days after they recorded their first win of the qualification campaign against Malaysia at the Hanoi's My Dinh Stadium on October 10.
The list came after a technical meeting on Monday afternoon, in which midfielder Tuan Anh and striker Trong Hung dropped out of the final roster, while defenders Pham Xuan Manh and Tran Van Kien were added to the 23-man squad.
To prepare for the match against hosts Indonesia, the Korean tactician brought to Bali a total of 25 players. Based on the strategy as well as the health status of the players, Park decided to select 23 names as required by the regulations.
Young striker Trong Hung seems to need more time to accumulate experience as he has not yet been able to compete with other senior teammates in the attacking line like Nguyen Cong Phuong or Nguyen Van Toan.
Meanwhile, the absence of key midfielder Tuan Anh has caused regrets among fans. Considered one of the most talented and technically gifted midfielders that Vietnam football has ever seen, the 1995-born started both of Vietnam's World Cup qualifiers against Thailand and Malaysia so far, but picked up an injury in Hanoi last week, forcing him out of the 1-0 win over Malaysia at half time.
Sharing about Tuan Anh's injury, Park said that the Hoang Anh Gia Lai FC star is recovering well. However, in order to ensure safety for him, Park and assistants have decided not to use Tuan Anh in tomorrow's game.
As in a pre-match press brief earlier the same day, the 60-year-old strategist confirmed that Vietnam have been fully prepared for the tie against Indonesia and his side are aiming for a victory.
On Monday afternoon, Park and his players had an official training session at Bali's Kapten I Wayan Dipta Stadium, the hosting venue of the match.
After two matches played, Vietnam collected four points to rank third in the group that features regional rivals Thailand, Malaysia and Indonesia, as well as favourites UAE. Meanwhile, Indonesia still have not won any points yet after three consecutive defeats.
The Indonesia-Vietnam clash is scheduled to take place at 6.30pm tomorrow evening (Vietnamese time) in Bali and will be broadcast live on Vietnam Television Channel 6 across Vietnam.
Nhan Dan/TTXVN