Coach Park chooses players for World Cup qualifiers in UAE
Along with athletes from many different sports, 47 football players will be given priority for vaccinations against Covid-19.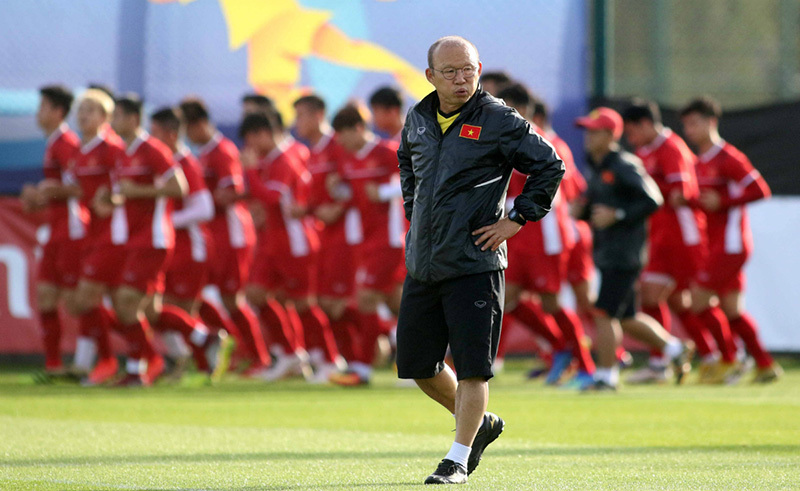 The national football team will be vaccinated against Covid-19 before flying to the UAE.
The Korean head coach of the Vietnamese national football squad, Park Hang Seo, has made a list of 47 players who will be summoned to prepare for the three remaining matches in Group G of the second qualifying round of 2022 World Cup, which will take place in the United Arab Emirates (UAE).
On April 5, the first 22 members of the national football team will be vaccinated, including the Vice Chairman of the Vietnam Football Federation (VFF) Tran Quoc Tuan; Chairman of the National Coach Council Nguyen Sy Hien and members of the coaching board - coach Park Hang Seo, his assistants Lee Young-jin, Park Sung-gyun, Le Huy Khoa, Luu Danh Minh, Vu Hong Viet, Kim Han-yoon, Kim Hyun-tae, Nguyen The Anh, Ahn Su-young, Cho Sung-wan, Dinh Kim Tuan and doctors Choi Yu-young, Tran Anh Tuan, Tuan Nguyen Giap, and Tran Huy Tho.
As the matches of of the 7th round of V-League 1 are scheduled on April 2, 3 and 4, players will be vaccinated on April 8, 9 and 13.
Upon arriving in the UAE, Vietnamese players will be tested for Covid-19 at the airport. The test will be conducted every two to three days in the UAE until the last game ends on June 15.
The list has familiar names to Vietnamese football fans such as Quang Hai, Van Quyet, Duc Huy, Trong Hoang, Cong Phuong, Xuan Truong, Tuan Anh, Van Toan, Tien Linh.
Defenders Duy Manh and Dinh Trong, after a long period of injury treatment, will join the national team this time. Veteran player Anh Duc will be also called by Mr. Park Hang Seo.
The team, however, will not include important midfielder Do Hung Dung who has had serious injuries.
Doan Van Hau and Nguyen Hai Long of Quang Ninh Coal FC, although being treated for injuries, are still on this list.
The list also has the names of new players such as Nguyen Van Vi, Dao Van Nam, Ly Cong Hoan Anh, and Le Van Xuan.
According to the Asian Football Confederation (AFC)'s plan, the remaining matches of Group G will be held in the UAE. The Vietnamese team will face Indonesia on June 7, Malaysia on June 11, and the UAE on June 15.
After round 13 of V-League 1, the national football team will group up in Hanoi on May 10. The team will have three weeks of practice before making the final list and flying to the UAE on May 31.
Nghia Hung

The COVID-19 pandemic seems to have thrown another spanner in the works for national team coach Park Hang-seo, whose efforts to prepare for upcoming World Cup qualifiers are being hamstrung.

The national football squad's South Korean chief coach Park Hang Seo has returned to his work after quarantine. The coach faces challenges and great expectations.