Coach Chi inspires HCM City women's team to new heights

After a glittering playing career, a lot of top footballers hang their boots up, content to leave the time-consuming and turbulent world of coaching to others. Doan Thi Kim Chi, though, is different.
Coach Doan Thi Kim Chi wants to devote for football more. — Photo hff.vn

After winning four National Women's Football Championship titles with HCM City 1 as a player, the former national team member started coaching her old squad and has added four more trophies to her collection.
Considered the most successful coach in domestic women's football, the 40-year-old pivoted from success as a striker and midfielder to coaching and has been City's only female coach so far.
"I have different feelings when I took each title as every year has different situations, moments and people. However, every title brings joy for people who love the team," said Chi.
Last year, City won the title with one match to go and took the awards of best player (striker Huynh Nhu) and best goalkeeper (Tran Thi Kim Thanh).
Earlier, the team also triumphed three times in a row from 2015-17.
"We were very happy with the title last year as the whole team tried very hard to gain it. Moreover, the competition format also changed compared with that of three years ago with a two-leg event," said Chi.
The title in 2019 was also very meaningful for the team following a clash with Vietnam Coal and Mineral in the semi-finals.
Nguyen Thi Van of Vietnam Coal and Mineral committed a dangerous foul on Truong Thi Phung of HCM City 1 in the last minutes of the match in which City won 2-0. Phung ran after Van to retaliate, which sparked a mass brawl between the two sides.
"My players proved that their furious reaction at that time was only temporary behaviour. They knew their mistakes, thought a lot and grew up," said Chi.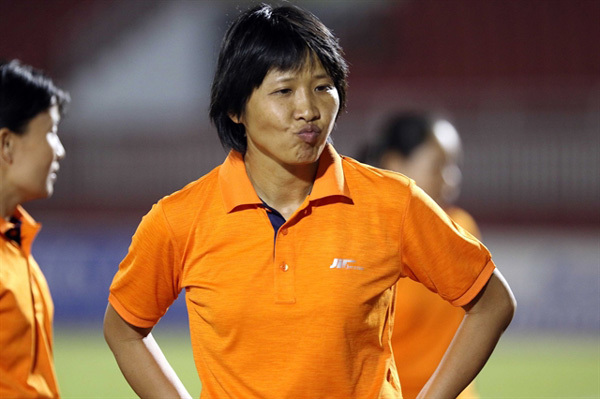 Doan Thi Kim Chi is considered the most successful coach of Vietnam women's football in national events. — Photo nld.com.vn

Learning online
According to Chi, she intended to become a coach after retiring and trained very seriously.
"I had a sense I wanted to be a coach so I paid attention to training sessions. When I started as a coach, I wasn't very confident because I lacked experience. However, with the encouragement of leaders, assistants and players, I was more and more confident," said Chi.
Chi also revealed that she improved by learning from colleagues and the internet.
"I learn from my coworkers. I also found training lessons online. I found a lot, but I mainly watched sessions about technique and tactics. In fact, I rarely looked for women's football. I preferred to look for men's football," Chi added.
Achievements
Chi spent 13 years as a player, including a decade turning out for the national team.
During her career, she took Southeast Asian Games titles in 2001, 2003, 2005 and 2009, along with the AFF Women's Championship in 2006.
She also helped the City win the National Women's Football Championship four times.
For her outstanding performance, Chi was four-time Vietnam Golden Ball winner in 2004, 2005, 2007 and 2009. She also won the Silver Ball award in 2006.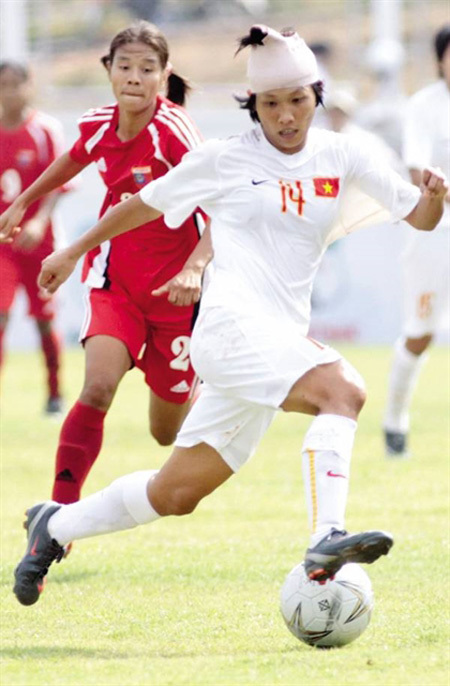 Doan Thi Kim Chi (in white) played at the SEA Games 2009 in Laos. She was injured in the match with Myanmar, however, after bandaged, she asked the training board to continue to compete. — Photo xaluan.com

Born leader
Chi was born in the southern province of Ben Tre in 1979.
After graduating high school in 1997, she attended HCM City University of Sports and trained at the athletics faculty. However, she had a great passion for football and often played with her male friends after school.
Her talent was discovered by coach Tran Anh Tuan who was the director of the sports training centre of District 1, HCM City and then she became a member of HCM City women's football team and the national team.
According to Mai Ba Hung, deputy director of the HCM City Department of Culture and Sports, Chi is a born leader.
Just leading City for her first season in 2015, Chi helped the team take the title after five years of waiting, showing her coaching prowess.
"Besides her leadership abilities, Chi is at pains to learn, instead of being satisfied with herself. Chi manages to improve the ability of footballers and limit their weakness to bring successes to the team," said Hung.
For striker and captain Huynh Nhu, Chi is not only a coach but also an aunt to the team.
"She always tries her best at work. I think that the national titles of HCM City were more than half thanks to Chi's contrubition and the remaining part belonging to team's unity and effort," said Nhu. — VNS

An outstanding performance at the 30th SEA Games and her brilliant form in the domestic championship pushed Chuong Thi Kieu to be favourite for the 2019 Golden Ball title which will be announced next week.
Goalkeeper Tran Thi Kim Thanh really is Wonder Woman. In fact, the 26-year-old is known as the 'steel shield' of the Vietnam national women's football team.

Huynh Nhu has a long love affair with the beautiful game since she was a child and reaching the top of her profession has only made her fall more deeply in love with football.