Clean Bandit to collaborate with Vietnamese artists

Clean Bandit, a British electronic band who won a Grammy in 2015, will join Vietnamese artists JustaTee and Phuong Ly in a special music project.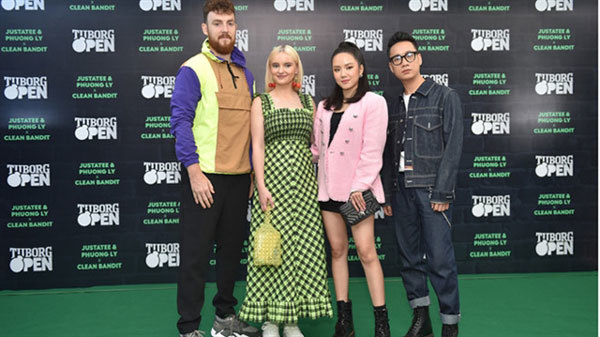 (From left) Jack Patterson, Grace Chatto, two members of Clean Bandit joined Phuong Ly and JustaTee in a collaborative track calling people to open their minds. — Photo zing.vn
The artists announced the co-operation during a press conference in Hanoi on Wednesday.
Grace Chatto and brothers Luke and Jack Patterson joined Tee and Ly at the Tuborg Open 2019 concert, also on Wednesday, as part of the Tuborg Open campaign. Vietnamese audiences were feted with big hits such as Rockabye, Symphony and Solo.
The global campaign aims to use music as a platform to encourage people to be open to more by pushing the boundaries of what they know and like.
As part of the collaboration, Clean Bandit will feature Tee and Ly in a single which is expected to be released in early September.
Sharing the spirit of Tuborg Open campaign, the song is produced with a view to encouraging young people to open their minds to new and diverse experiences.
The new collaborative track will incorporate all the new experiences of Hanoi, Chatto revealed.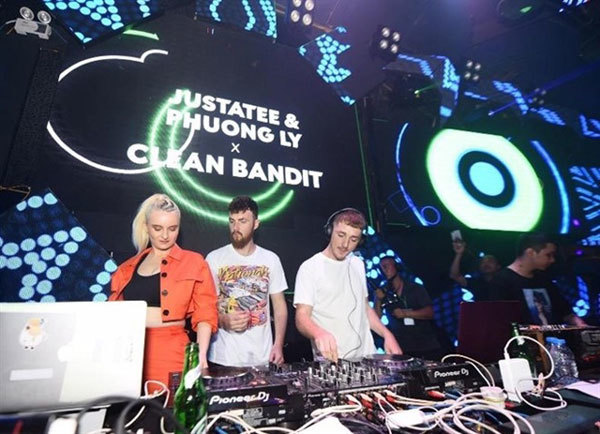 Clean Bandit performed at the Tuborg Open Concert in Hanoi. — Photo zing.vn
"We're excited to visit artists and fans throughout the world as part of Tuborg Open. We're always keen to travel to new places and absorb the culture.
"While working with artists from different countries, we have a chance to approach different musical styles, languages and cultures. It's amazing because the collaborative track with local artists will bring unexpected emotion and experience."
Chatto said the trip to Vietnam is a dream come true as she had wanted to visit the country for a long time.
"Tee and Ly are energetic artists who inspired me to widen my perspective and creativity in music," said Chatto.
"We are excited for the collaboration with Tee and Ly as we want to understand more about the country and people who become inspiration for two of them."
Originally formed in 2008 in the British city of Cambridge, the band has released two albums and sold 44 million singles worldwide. They have worked with various famous artists, including Sean Paul, Zara Larsson, Demi Lovato, Craig David, and Ellie Goulding.
The trio's musical style is a fusion of different genres including classical, pop and electro.
The Tuborg Open campaign brings Clean Bandit to China, India, Nepal, Russia and Vietnam this year. These are key and varied markets - where local artists will immerse the band in local cultures and experiences that have shaped their musical style.
On the occasion, the Grammy winners also paid a visit to popular destinations around the capital and hosted a fan meeting.
VNS