Chinh to put best foot forward at SEA Games
Le Tu Chinh is Vietnam's top sprinter. The 24-year-old has dominated the 100m in the Southeast Asian Games since 2017. As Vietnam is to host the biennial Games for the second time later this year or in spring next year,
HCM City-based Chinh is hoping to defend her title and regain top spot in the 200m as well. She talks with Thanh Ha about her dreams and future plans.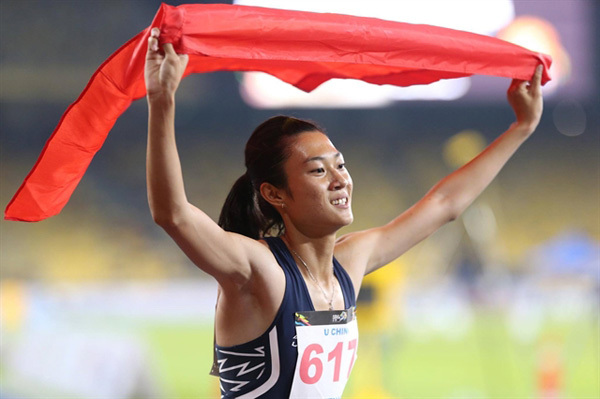 Vietnam's fastest runner Le Tu Chinh, Photo nld.com.vn
Because of the COVID-19 pandemic, few local races have been organised in 2020 and 2021. How do you feel about your performance?
I pocketed five medals at the 2020 National Athletics Championship in the women's 100m, 200m, 4x100m, 4x200m and 4x100m mixed relay last December. I was sad and cried after my fifth gold in the 200m as it was not as good as I wanted. It was because I took part in five events and the 200m was on the last day when I was not strong enough to make a breakthrough. I felt pleased with the 100m individual title because my 11.43sec is a good result after months out of competition. It is a push for me to go on.
In April's Speed Cup in HCM City, I won golds in the 60m, 100m and 200m. Despite winning, these results were not good because the tournament was not held at my peak, which is set to be the SEA Games. It was only a test tournament to help me get in competition mode. The national championship in September is another one ahead of the Games.
If there had been no COVID-19 pandemic, my results could have been better as we could have gone abroad for intensive training and international races which would have let me know where I am.
What do you think about being called the 'Queen of Speed'?
Thank you! It is a gift and a complimentary name for me. It will be a motivation that reminds me to practise and compete better. I will not let anyone be disappointed.
Coach Nguyen Thi Thanh Huong is not only your trainer but also a mother figure who has taken care of you since you were a little girl. Can you share a little about your relationship?
When I won the 100m I burst into tears and just want to hug her tight. I told her "I made it."
Huong is my second mum [Chinh's mother died when she was young] as she has been with me for more than 10 years. I tell her everything in life while she shares with me experiences that help me solve my problems. I have learnt many things from her. As a coach, she trains me hard, encourages me with good results and pulls me up from injuries and disappointment.
I always want to celebrate my victories with her. It is when our hard work brings good results.
Both officials and supporters have had high expectations for you since your SEA Games debut in 2017. You have also experienced many local and international competitions since then. What has been the biggest change for you personally?
In my first time in Malaysia, I was like a white paper [a Vietnamese phrase meaning a novice]. I was bewildered and new to the tournament. However, it was an advantage for me as nobody knew me and I felt no pressure.
It will be my third time this year. Many people know me, meaning there are higher expectations for me. It is a strong force and pressure for me especially as these Games are on home turf, so the pressure will be heavier than ever.
In my elite career, the biggest change is my personality. I was a silent and shy girl. I struggled to talk or share with strangers and was called a 'cold' person. I am now more open and welcome people to be friends.
What is your advice for junior runners and newbies to track and field?
Not only young ones but everyone should train hard every day. It is the only way to touch the highest podium.
If you choose running as your profession, you have to strive day by day. Sacrifice is obvious but after that, we will receive glory.
The moment that we are on top and sing or listen to our national anthem is invaluable. It is really a proud moment that many people want but can't have. 
To those who start running for health, my advice is please go ahead. Sport supports good health and helps escape from stress. I have seen many people do sport daily. Some of them pay a lot for their running activities. 
Injuries seem to be part of sport. Have you suffered any serious injuries and how did you bounce back?
Almost all athletes get injuries. Some of them even get injuries consecutively. I have tasted that and luckily I can control my practice and avoid injury pretty well.
Warm-up activities and relaxing after working out are important and musts for all athletes to avoid injuries.
My most serious injury was during my training in the US in 2018. I had a torn thigh muscle with fluid which prevented me from training and competing for two months.
No one can avoid such bad moments in their career. I also suffered nightmares such as unexpected results in training and an unstable mentality leading to poor performance.
But being lazy and giving up will not help improve your ability while kicking you out of tournaments. It means that you will have no chance to sing the national anthem, the most wonderful moment in life. I always keep my discipline and work professionally with a strong and steely mind.
What are your greatest running memories? Have you faced any challenges from your family and supporters?
The 100m gold in the 2019 SEA Games is the best memory in my career. It marked my great effort passing Filipino Kristina Knott, who was 'imported' from the US, with surprise after she beat me in the 200m previously.
Support from my family, friends and supporters is a huge encouragement for me but sometimes it brings high pressure. I have to make sure they are not disappointed with me. It is really challenging.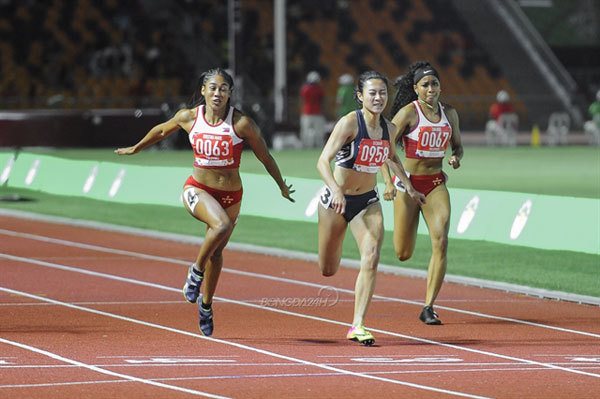 Le Tu Chinh of Vietnam (centre) runs at the 2019 SEA Games' women's 100m event. She wins gold medal and is going to defend her title in the coming Games. Photo bongda24h.vn
In the 2019 Games, you came behind Filipino Kristina Knott in the 200m but defeated her in the 100m. How did you feel right after crossing the finish line?
I always think nobody knows who is the winner when the tournament has not begun. Losing to her in the 200m did not get me down. I still believed in myself and was confident I could defend my 100m title.
I was a little nervous because we almost crossed the line at the same time. We had to wait for several minutes before the final announcement I was 0.01sec faster than Knott. I was speechlessly happy to get that sweet result.
Do you spend a lot of time researching your rivals?
No, I don't. I rarely spend time on them, just on myself. I just care how I can push myself faster and faster. For example, to prepare for an event, I will review myself and fix my weaknesses as much as possible. At the tense SEA Games, I will keep my mind pressure-free and then give 100 per cent on the track to have the best result.
Your rival Knott recorded the best results in ASEAN in both the 100m and 200m in 2021. She ran 11.27sec and 23.19sec, respectively. Did you know that and are you worried?
Yes, I do read the news. But it is not a big deal that could make me worried. It, on the other hand, is a reminder for me. I will look at it and find out how she can run that fast and focus on my training programme. She can do it, why can't I?
What are your targets at the coming SEA Games?
My target is to defend my title in the 100m. I won it in 2017 and 2019. I will try to have an opportunity to sing the national anthem on home ground.
Another goal is to raise my result and break my own record. My personal best is 11.40sec. 
To me, exceeding my own record is the most important thing that helps overcome all rivals. I am really confident and will work harder to lift my result up and run to win at the coming SEA Games.
Do you have further dreams?
The Olympics is my dream, in the far future. I really want to contribute my humble labour to bring home prestigious medals from international competitions. I want friends to know about Vietnam and Vietnamese sport.
Source: Vietnam News 

Representatives of Southeast Asian (SEA) nations have yet to set the official date for the 31st SEA Games following hosts Vietnam's proposal to postpone the event due to COVID-19,