'Cai luong will never die,' says People's Artist Minh Vuong

Veteran artist Minh Vuong of HCM City was awarded the title People's Artist by the Prime Minister in recognition of his great contribution to cai luong (reformed opera), a 100-year-old traditional theatre genre of the southern region.
100 years of cai luong celebrated in HCM City
New show honours cai luong to be held in HCM City
Historical play restaged at National Cai Luong Festival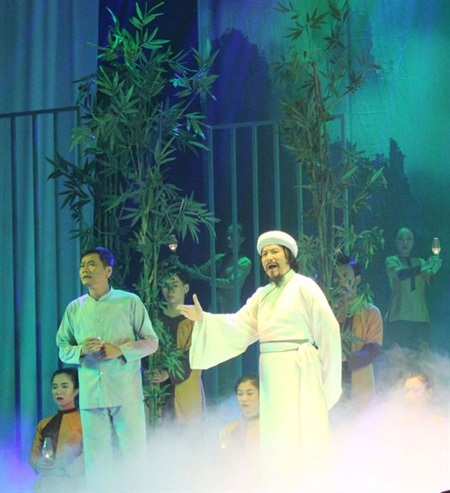 People's Artist Minh Vuong performs in the play Tổ Quốc Nơi Cuối Con Đường (The Country). (Photo courtesy of producer)
Millions of theatre lovers in HCM City and Mekong River Delta provinces tuned in last week to watch Chuông Vàng Vọng Cổ (Nostalgia Golden Bell), one of the most popular music programmes that airs on the HTV7 TV channel.
While audiences were mostly interested in the art, the contest's candidates and professional actors were focused more on the judge, People's Artist Minh Vuong.
Since its first show in 2006, Chuông Vàng Vọng Cổ (Nostalgia Golden Bell) has helped dozens of young talents develop their career in cai luong (reformed opera).
This year, the event offered new concepts for the theatre thanks to a jury of veteran artists and theatre researchers, especially Vuong, who has more than 50 years of experience working in the industry.
The 70-year-old artist, who is one of the contest's producers, has helped young artists improve their talent by training through performing.
"Vuong is a great man of cai luong," said Quach Thi Diem Ngoc of Ca Mau Province, winner of the Chuông Vàng Vọng Cổ 2019 competition.
Ngoc's performance attracted more than 1,000 guests at the contest's final round at the HTV Theatre last weekend.
"Vuong's art and his training helped amateur and young artists perfect their voice and performance skills without going to school. He helped poor farmers like me to believe that theatre can open a future for everyone, poor or rich, old or young," the 25-year-old woman said.
"I have loved cai luong through Vuong's shows since I was a child. I learned how to sing traditional tunes in the unique style created by Vuong, my idol," said young actress Tu Quyen of the State-owned theatre Thế Giới Trẻ in HCM City.
Quyen performed with Vuong in Tổ Quốc Nơi Cuối Con Đường (The Motherland), a cai luong play on true stories about soldiers who sacrificed their lives for the country's independence.
"Vuong trained us to perform live with the orchestra on stage, which is the norm in cai luong, instead of playing recorded music as is often done today," Quyen said. "Our show left a very strong impression on audiences and theatre critics."
The play Tổ Quốc Nơi Cuối Con Đường won the Golden Prize for Best Play at the National Cải Lương Professional Festival 2018 held in Long An Province.
The 14-day festival, organised by the Ministry of Culture, Sports and Tourism, attracted 25 theatres and troupes from HCM City and provinces of the Mekong River Delta region.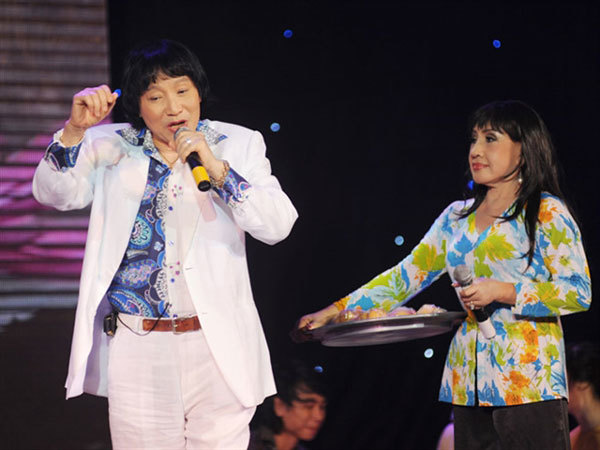 Through his productions, Vuong and his colleagues have found ways to win the hearts of people living in remote areas who watch and listen to theatre on television and radio. (Photo courtesy of HTV)

Several hundred veteran and young performers were featured in 32 historical and social plays.
After the festival, tickets for the play Tổ Quốc Nơi Cuối Con Đường sold out in HCM City for two months.
"Vuong's strong and melodic voice and appealing and powerful stage presence impress audiences," Meritorious Artist My Hang of HCM City said. "I see the beauty of the Vietnamese spirit through Vuong's art."

Vuong said during an interview with Thể Thao & Văn Hóa (Sports & Culture) newspaper: "I'm very interested in working with young actors. I believe they help preserve traditional music and theatre.
"I think people can understand why and how cai luong is still alive after 100 years, through the love and devotion for the art of our artists."
Career
People's Artist Vuong has performed in several hundred plays and TV shows and recorded albums in praise of Vietnamese culture and lifestyle in both traditional and modern styles of cai luong.
Born in 1949 in Can Giuoc District in Long An, he fell in love with cai luong when he was a child.
He studied opera singing with Bay Trach, a singer and music player of Kim Chung Troupe.
He began his professional career when he was 14 after winning first prize at a cai luong singing competition on Sai Gon Radio for young artists.
Vuong later worked for Kim Chung Theatre in Sai Gon (now HCM City), one of the region's leading cai luong troupes.
In 1967, he played his first leading role, and after that, was hired to play mostly leading characters.
"Cai luong is my life. I have worked every single day to improve my art. Besides my love for cai luong, self-discipline has helped me develop my career," Vuong said.
"Young artists should be more confident. They should not follow older generations because they need to reach a higher level of art."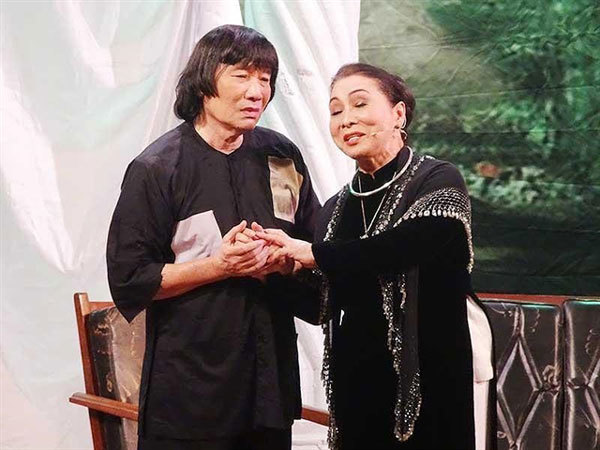 People's Artist Minh Vuong and People's Artist Bach Tuyet, both have more than 50 years working in cai luong. They have worked hard to keep theatre alive. (Photo courtesy of HTV)
 
After 1975, he performed in the famous plays Tô Ánh Nguyệt (Ms Tô Ánh Nguyệt), Đời Cô Lựu (The Life of Ms Lựu) and Nửa Đời Hương Phấn (The Flavour).
The plays featured the themes of love and women. His voice and dance skills are considered a standard for cai luong.
In the 1990s, Vuong worked with Can Tho Television, HCM City Television (HTV) and film studios to produce TV shows, videos and albums featuring quality plays on social issues.
Through his productions, Vuong and his colleagues such as Le Thuy, My Chau and Ngoc Giau found ways to win the hearts of people living in remote areas who enjoy theatre via TV or radio.
He has worked with art schools and traditional theatres to train students.
According to theatre critic Thanh Hiep of Người Lao Động (The Labourer) newspaper of HCM City, Vuong and his colleagues, late artist Giang Chau and Thanh Tuan, who was named People's Artist this year, highlight the culture and lifestyle of southern people through their art.
"They have helped keep cai luong alive," he said.
By Thu Anh
VNS