Cai luong show to raise funds for poor theatre performers

Dozens of veteran and young theatre performers will participate in the sixth charity concert Nghệ Sĩ Tri Âm (Traditional Performers Together) launched by People's Artist Kim Cuong in HCM City today.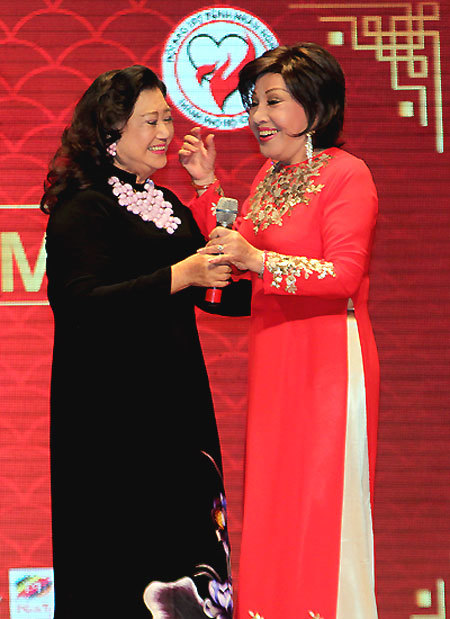 People's Artist Kim Cuong ( left) and dozens of cai luong artists will perform for free at the charity show Nghệ Sĩ Tri Âm (Performers Together) organised by People's Artist Kim Cuong in HCM City today to raise funds for poor artists during the Tet season. (Photo courtesy of the producer)
The artists will raise funds for poor theatre artists during the Tet (Lunar New Year) holiday.
Theatre stars Huu Chau and Thanh Loc, together with younger colleagues from traditional art troupes, will be highlighted. They will perform vọng cổ (nostalgia) songs and famous extracts from historical plays.
"Our concert this Tet is for 80 poor actors, especially elderly and backstage workers, as well as children from artists' families," said 83-year-old Cuong, a member of the HCM City Association in Support of Disabled People and Orphan Children.
According to Cuong, all artists at the event will perform for free. They will give clothes, food and money to the poor. Scholarships worth VND3 million ($120) each will also be offered to 15 children.
"Through our show, we hope to encourage more organisations and individuals to contribute to charities aimed at theatre artists who have devoted their life to their art," said Cuong, adding that last year's event, Nghệ Sĩ Tri Âm, attracted nearly 200 artists, raising over VND1.5 billion ($65,000).
Born to a traditional family in Sai Gon, Cuong began her professional career when she was 17.
She became a star after performing with cai luong gurus such as Năm Phỉ and Phùng Há, students of her mother, Bảy Nam, head of Đại Phước Cương Troupe.
In the 1960s, she opened the Kim Cương Drama Troupe, managing a staff of 70, including young talents.
Her troupe offered dozens of quality plays on topics such as love, family and social problems, with most of them written by Cương. They are still staged today.
Cương played leading roles in several hundred cải lương plays, dramas, TV shows and movies.
For her contribution to the theatre, Cương was honoured with the title People's Artist by the Government in 2012.
The show Nghệ Sĩ Tri Âm will begin at 8pm at 24 Nguyen Thi Dieu Street in District 3.— VNS

A web series on People's Artist and theatre actress Le Thuy, a star of cai luong (reformed opera), has been released on YouTube to mark the artist's 40-year career.

A new show called Cải Lương: Trăm Năm Nguồn Cội (Reformed Opera: A Hundred-Year History) will take place in HCM City next month.