British Council funds to develop cultural heritage

The Film, Archive and Music Lab (Famlab) Fund announced six projects that would receive financial support to explore Vietnam's music and film heritage through contemporary mediums.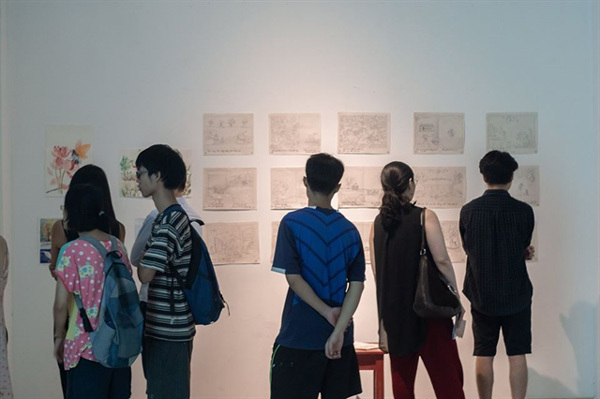 An exhibition of the Future of Traditions project which was a recipient of Famlab last year. — Photo courtesy of British Council
The projects are entitled After the Silent Tiger: Shooting the Indigenous Sound in Central Highlands; Dust and Metal; A Flatpack Festival; Legends as Souls; Liberation Radio and Vườn Lài Wonderland.
They have been selected from 30 nominations throughout the whole country.
Vietnamese moving-image artist Nguyen Trinh Thi launched a project in the Central Highlands of Vietnam, reworking a 1930s American silent film. It also combines newly filmed footage and new music written and performed by Gia Rai ethnic master musicians.
Liberation Radio is an immersive and interactive gallery installation that explores the dynamics between the history of cinema and the history of the country.
The project will be carried out by sound artist Vietnamese Nguyen Hong Nhung; UK writer and journalist Matthew Sweet and UK video artist Esther Johnson.
"I met Sweet and Johnson last year and we found common ground in history, archive, film and music," Nhung said.
"In the project, Sweet has made research and collected sound material. Johnson has worked with video including the Vietnamese cinema archive."
Johnson has his own project entitled Dust and Metal. Using existing, archived and new footage the project aims to centre on the history of motorbikes in Vietnam and through the decades – the project seeks to unearth cultural and social phenomena and to bridge the future with the past.
A Flatpack Festival project will be made by Vietnamese and British music and visual artists featuring rock 'n' roll in Vietnam in the 1960s and 1970s.
In the Legends as Souls project, Cham ethnic poet and artist Inra Jaka in collaboration with other Cham and Kinh artists and researchers preserve and develop Cham music and culture heritage including a publication; audio archived materials, new musical pieces and document.
Vườn Lài Wonderland is a participatory project that surveys and engages with the heritage of queer moving image in Vietnam.
Undertaken by Queer Forever collective in conjunction with various communities, the project will be realised across multiple activity strands – including archiving, screenings, discussions and workshops.
The FAMLAB Fund is a part of two-year pilot project Cultural Heritage for Inclusive Growth by the British Council working in Colombia, Kenya, and Vietnam.
It was launched in Vietnam last April for Vietnamese and UK-based practitioners, initiatives and organisations seeking to create opportunities for communities across the country to contribute to, benefit from and the safeguarding of their cultural heritage.
The fund provides grant packages of £100,000 (over US$130,000) to 20 projects in two years. Grant values are offered between 3,000–10,000 pounds (approximately $4,000 to $13,000) for each project. — VNS

Authorities need to focus on five solutions to effectively preserve cultural heritage in HCM City, according to Pham Duc Hai, standing vice chairman of the HCM City People's Council.

Hanoi Creative City is the largest creative complex in Hanoi. Launched in September 2015, it brings together organisations, businesses, individuals, products and services as well as creative activities.