Book on Vietnamese fine arts history needed, says critic

The Vietnam Fine Arts Association's conference will take place on December 15. This is a chance for artists, researchers and critics to review its performance in 2014 - 2019.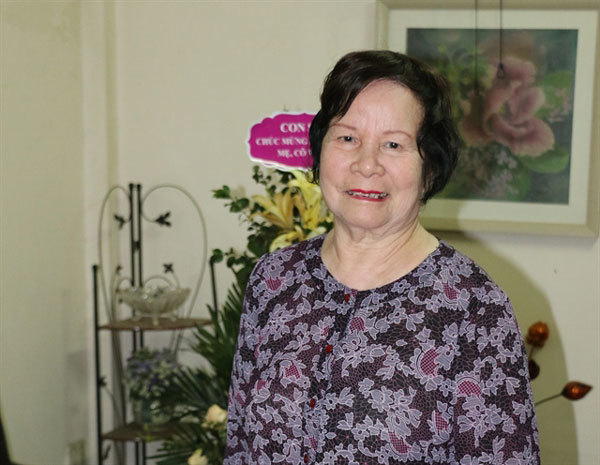 Art critic Nguyen Hai Yen. VNS Photo Doan Tung
They will also discuss the action plan of the association for 2020 - 2024.

Art critic Nguyen Hai Yen spoke with Việt Nam News about the importance of creating records of Vietnamese fine arts history.

Why is it important to have records of Vietnamese fine arts?

Firstly Vietnam has not yet had a book recording Vietnamese fine arts' achievement over national history.

Secondly we need a book which will be for those who want to study Vietnamese fine arts.

Finally, we need a scientific background which helps assess the value of old architectural works and artworks.
It is very important because preservation is damaging relic sites and fake paintings are mushrooming.

Is this the first time creating such records has been brought up?

This issue was raised by artist Do Cung when he was director of Vietnam Fine Arts Research Institute in 1962.

His work included setting up a display system in the Vietnam Museum of Fine Arts and going on field trips to collect documents. He also wrote scientific research to systematise Vietnam's fine arts. So it's not a new idea that we need a book of Vietnamese fine arts history.

I think Cung planned all the work that he did. Setting up the museum displaying system and fine arts research were carried out at the same time to compare and supplement each other.

These works are based on documentation, real objects and history of the nation from prehistory to present.
The artefacts in the museum were selected so that viewers can see Vietnamese fine art history in historical periods.

Museum displaying is also based on scientific research which helps generalise the displaying system.

The displaying space may be limited but scientific research creates a non-limited and more flexible space.

Led by director Cung, the institute has published several books about ancient fine arts work research in different times such as the Ly dynasty (11th century) the Tran dynasty (13th century), the Le So (15th century); the Mac dynasty (16th century) and a photo book Điêu Khắc Dân Gian Đình Làng (Village Folk Sculptures).

The book authors were Nguyen Du Chi, Chu Quang Tru and Nguyen Ba Van. They were selected and coached by Cung. They were the first researchers of Vietnamese fine arts.

Each book comprises four sections including architecture, sculpture, decoration and objects. They are important pieces of research contributing to recording the history of Vietnamese fine arts.

Why does the institute focus on ancient fine arts?

I think that it is due to Cung (1912-77) whose father followed Confucianism. Cung graduated from Indochina Fine Arts College. He was one of few artists to be successful in art creating and researching.

He wanted a book of Vietnamese fine arts history from prehistory to present.

What about research on fine arts in the prehistory and modern periods?

Fine arts of Vietnam is displayed at the Vietnam Museum of Fine Arts with five main contents including prehistory art, decoration art of ethnic groups, fine arts in feudalism, folklore handicraft, and painting and sculpture in modern times.

Although there is no book about prehistory and modern art, they are featured in exhibits with specific introductions.

Plus, patterns and designs by primitive man are also displayed at the museum. These things help researchers.
We now have research on modern and present fine arts like the Indochina Fine Arts College, the Gia Dinh Fine Arts School, socialist-themed artworks and đổi mới (renewal)-themed artworks.

It is quite different from the 1960-70 period. At that time, the institute was newly-established and it began to research.

What needs to be done to compile a book collection on Vietnamese fine arts history?
I think the institute should promote fine arts research as its function. It needs a person to lead the institute. They should inherit research from the veterans and outline a research strategy.
To compile the book collection we need a leader who has a profound understanding about history and fine arts. VNS