Arts clubs keep retirees active and engaged

Social engagement is one of the best ways to help retirees have a fulfilling life. In groups specialising in music, arts or dance activities, older people who are no longer working can share their life experiences and interests. 
Amateur singers stay evergreen
74-year-old woman enters finale of singing contest
TV music show appeals to youth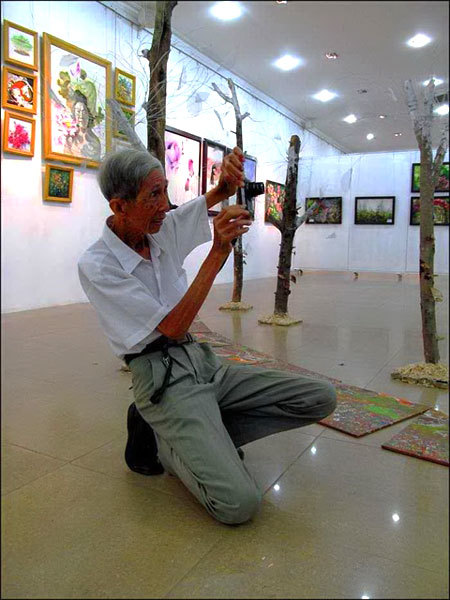 Veteran architect Co Van Hau takes a photo at a 5P Studio exhibition. Photo courtesy of 5P Studio group
5P Studio, one of the most popular arts groups in HCM City, was established 30 years ago by veteran painter Nguyen Thi Tam and her late husband, painter Nguyen Long Son.
"At first, we just invited some friends to our home to talk about life and share my interest in painting. But since then my friends and their friends have been working together as 5P Studio," Tam, head of the club, said.
The group, which has 50 members, includes professional painters and retired doctors, architects, biologists, dentists and engineers.
The 79-year-old Tam said: "The group is where arts lovers whose creativity was postponed due to their social and family responsibilities meet and explore art further."
The painting group is one of several arts clubs in HCM City that offer retirees a chance to develop their hobbies and take part in social activities, including travel.
Tran Thi Duyen joined the club to realise her "teenage dream".
"I was busy with social and family responsibilities. After retirement, I now have time to follow my dream," the former journalist said.
The group has also attracted the attention of veteran architect Co Van Hau, who found an interest in painting in 2008.

Professional painters like Tam, Phan Mong Hoan and Nguyen Nhu Khoi impart their knowledge to members who have just begun to engage in the arts.
Over the last 30 years, hundreds of paintings have been created by the club's professional and amateur painters.
Their works, done in watercolour, oil or acrylic on canvas or silk, feature images of natural landscapes and life in many areas in Vietnam where the group has travelled to relax and be inspired.
The group's paintings have been displayed at dozens of exhibitions in Vietnam as well as in other countries like Laos, Malaysia, Singapore, South Korea, France, the US, and Switzerland.
Duyen said that the meetings, trips and paintings had helped 5P Studio members have an active and happy life.
Singing club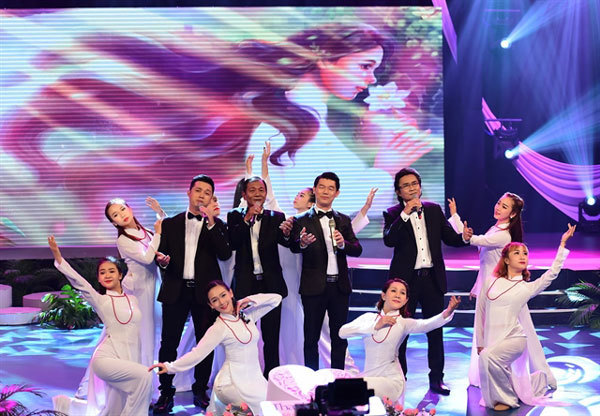 Former contestants of Tiếng Hát Mãi Xanh (Evergreen Voice) singing contest perform in the Thay Lời Muồn Nói (What We Want to Say) music show. Photo courtesy of the producer
Since 2011, Tiếng Hát Mãi Xanh (Evergreen Voice), HCM City Television's annual singing contest for amateurs aged 35 and up, has become a popular venue for aspiring artists, particularly retirees.
Dinh Van Long, 63, a former worker at the HCM City-based Viet Thang Textile Joint Stock Company, took part in the 2016 contest where he met several people with the same interest.
"I love singing and will continue singing until I no longer can. Singing makes me happy and I can also make friends," said Long, who began singing for a church choir at the age of 17.
After marriage, he stopped his dream of being a professional singer to spend time taking care of his family.
"This contest continues my dream of standing on stage," said Long, who has taken part in the event for four consecutive years.
Long and many contestants from HCM City meet frequently at coffee lounges to share their life experiences and to sing together.
Long said that he had stayed at home and sang karaoke in the past, but now he has a lot of friends who share the same interest.
"It's incredible. I never thought singing could connect me with more people," he added.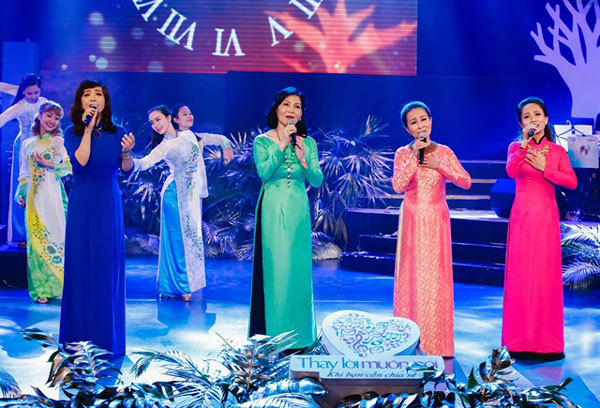 Tiếng Hát Mãi Xanh (Evergreen Voice) singing contest becomes a popular venue for aspiring artists, particularly retirees. Photo courtesy of the producer
Long and other contestants have also been invited to perform in music shows organised by HTV like Thay Lời Muồn Nói (What We Want to Say).
They have worked together to release music albums to introduce their beautiful voices to their senior fans.
"We are loved by many audiences. They often ask us to sing a song when they meet us at the cafe," Long said.
MC Quynh Huong, host of the programme, said "Tiếng Hát Mãi Xanh is a rare competition for senior people nationwide to have an opportunity to meet, sing together and share their stories."
"The contestants bring passion and youthfulness to their performances that inspire people, especially youth, to have faith in life and have a happy and optimistic life." VNS
Phuong Mai