Artists anxiously await Gov't financial support
Performing artists have expressed their appreciation for a recent Government pledge of financial support.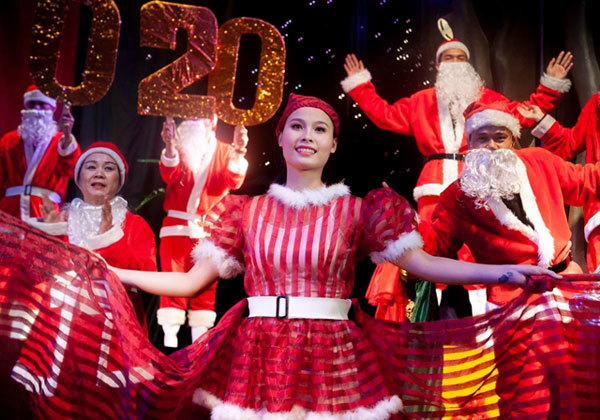 Artist Thuy Anh (centre) from Thang Long Puppet Theatre who has been working for the theatre since 2016, expresses her happiness on hearing the news of the Government's support. — Photo courtesy of the artist
The offer of assistance has lifted their spirits during the COVID-19 pandemic, but they also hope to get the aid soon.
The Government's Resolution No 68/NQ-CP issued in early July promises to provide some of VND26 trillion (about US$1.1 billion) for people affected by the pandemic, including theatre performers and officials with a class IV professional title.
However, it has been nearly two months since the move was announced and many theatres and performance groups have submitted applications, they all are still waiting for the funds. 
Theatre owners and artists said they were very grateful, but were also "anxious" as they did not know when they would receive this money.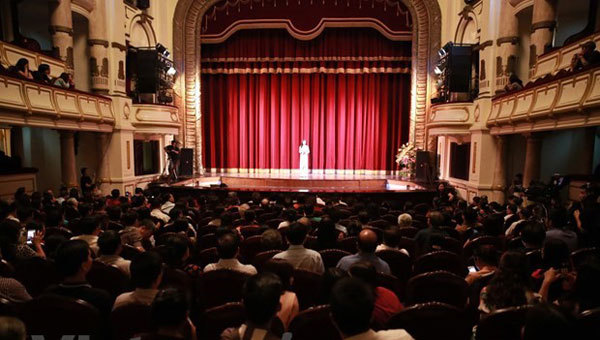 Artists look forward to the day when the stage opens again so that they can entertain once more. — VNA/VNS photo Minh Khanh
"Artists are facing a very hard life... We hope that the procedures to get this support will be resolved quickly, meeting their demands and aspirations at this time," People's Artist Tong Toan Thang told vietnamplus.vn.
The artist, who is Deputy Director of the Vietnam Circus Federation, said the circus artists are struggling.
"For many months, the federation has had to mobilise financial sources to support staff by buying rice and necessities, especially for those living in dorms because most are young graduates with very low incomes," he said.
Thang said the unit had compiled a list of more than 100 cases that need support.
"The performing arts have been struggling for two years now and it is unknown how long the pandemic will last. The amount of support may not be much, but it means a lot to encourage the spirit of artists," he said.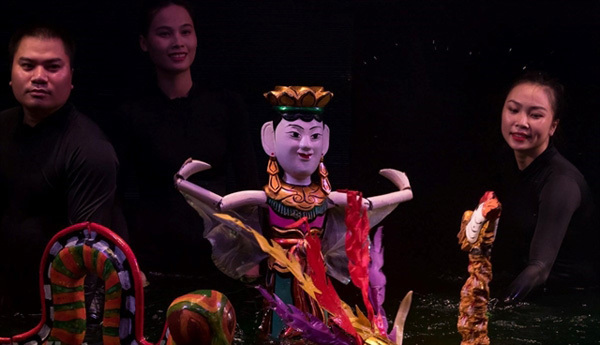 A performance by artists at the Thang Long Puppet Theatre before being hit by the COVID-19 pandemic. — Photo vietnamplus.vn
The artist highlighted and appreciated the responsibilities of State management agencies.
"When the crisis occurs, we find that the State always cares, supports, and sets a strategy to help the performing arts," Thang added.
Artist Thuy Anh from Thang Long Puppet Theatre who has been at the theatre since 2016, expressed happiness on hearing the news of Government support.
Anh said she had to stay at home for more than a year now, having to take on different jobs to support her small family.
"When I heard that I was among artists in line to receive the support, I was really happy, feeling that I have been cared for by the State and not forgotten. This money is a very practical spiritual encouragement to help me at this time," she said.
"Although I know that it will take some time for the policy to be effective and until the money reaches the artists, I still hope to receive it soon," said Anh.
Meanwhile, Deputy Director of Vietnam Drama Theatre, artist Kieu Minh Hieu also said that the State's and Government's support is very valuable, showing their concern towards artists.
"However, after nearly two years of suffering, artists have no income, this financial allowance is only for spiritual encouragement," according to the artist.
He believed there should be a specific salary mechanism for artists to support their training and performance so they can feel secure in creating art and remain passionate about their acting and stage productions.
According to the Ministry of Culture, Sports and Tourism, the country has about 100 state-owned performance groups nationwide, excluding the armed forces' art units, with more than 2,000 employees who are artists holding a class IV professional title. This is a group of artists whose salary is lower than the regional minimum wage.
Those artists who are qualified for Government's financial support will have to submit applications to their groups, which will be reviewed and approved by the local Department of Culture and Sports under the Department of Information and Communications.
Source: Vietnam News 

All the moves to support businesses and enterprises hit hard by the pandemic need to be taken promptly, or beneficiaries will continue to struggle.

The Government has issued Resolution No. 78/NQ-CP dated July 20, 2021, in which the Government said it would allow imposition of stricter social distancing rules in COVID-19 hotspots.