Artist brings work closer to public

Ly Hoang Ly is probably the first professional artist to exhibit her installation at a school in HCM City.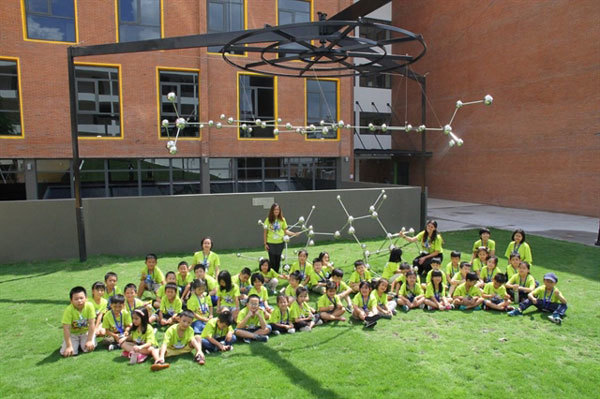 The public art work by Ly Hoang Ly is placed in EMASI Nam Long School in HCM City. Photo viettimes.vn
The installation, made of stainless steel frame in molecule shapes, titled Mật Mật Mật Hay Những Phân Mảnh Của Niềm Tin (Honey Honey Honey Or The Fragments Of Trust) was bought by EMASI International Bilingual Schools to place in EMASI Nam Long School campus.


"Not many Vietnamese people know about public art," said Ly. "I'm very happy my work is installed at this place and students will benefit.
"It is great for me because people can understand, share and enjoy my work. The inspiration to create public art came to me from Chicago where I studied. There, art is not only for people who are able to collect but also for the community," she said.
Honey has three meanings in Vietnamese - honey or sweet, bile and secret, according to the artist.
She wants to create art with "honey" and uses shaped-fragments and their concept to research and explore on how the structure of the contemporary society works.
"It is my journey to research about what people expect and desire in their life and the ideals that people hold as well," she said.
The work is a part of a multimedia project that Ly began in 2015. It was made in 2016-17 under the supervision of architect Ho Dinh Chieu.
After displaying at A Farm art space in HCM City last year, the work was brought and installed at the school.
"The artwork will make the school distinct," said Nguyen Tuyen, the school's CEO. "Normally, a school is built with air conditioner-equipped classrooms which look like boxes. But such boxes will be more attractive if they get art creativity."
The students will be encouraged to interact with the work and spin the molecules to create different patterns.
Ly is not just an installation artist. She also creates poetry, visual art and performance art.
She earned an MFA in Sculpture of School of the Art Institute, Chicago on the Fulbright scholarship programme.
Her sculptures and art projects such as Boat Home Boat, Water, Garbage, Prism, The View and more have won wide acclaim, while her popular poems have also been translated into English, South Korean, Chinese and French and published in several poetry anthologies and magazines abroad.
Since 2000, Ly has learned more about contemporary art, including installation, video art, performing arts and poetry performances.
She has exhibited widely in and outside of Vietnam, including in the UK, Germany and the US.
VNS