Artificial turf to be used in SEA Games

Hosts of the 30th Southeast Asian Games, the Philippines, have shocked participating teams by announcing all football matches in the tournament will be played on artificial turf.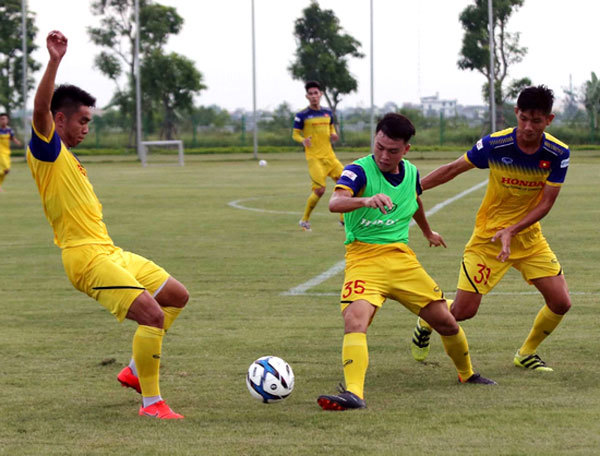 U22 players are in a short camping in Hanoi. Photo courtesy of VFF
This will be the first time in the 60-year history of the event that the football tournament won't be played on grass.
The organisers said in a meeting on Monday that matches will be held in the stadiums Rizal Memorial in Manila, Umak Football in Makati, and Binan Lagun in Laguna.
Except for the Philippines and Cambodia, all other teams are currently practicing and competing on grass. They will have four months to switch to an artificial surface as the football kicks off on November 25 and ends on December 10.
In Vietnam, several football clubs have grass and artificial surfaces at their facilities, but as matches are on grass "artificial surfaces are used only in raining weather" according to midfielder Trieu Viet Hung of Hoang Anh Gia Lai.
"The artificial turf is harder than the natural grass. It creates difficulties for us in performing. I believe competing on an artificial surface will prevent us from reaching our best," said Hung who is training with the national U22 squad in Hanoi.
Midfielder Pham Duc Huy said: "It is much more difficult when playing on artificial grass. We have no good feeling with the ball. It makes the ball run faster and bounces higher. It is a really big problem for us.
"Our speed is strongly affected as we may suffer unexpected injuries because of the poor grip of the synthetic grass," he added.
Coach Park Hang-seo immediately asked the Viet Nam Football Federation (VFF) to switch their plans to allow more time training on artificial turf.
VFF General Secretary Le Hoai Anh said both the national football governing body and the head coach were surprised but would soon adjust the training schedule.
"It is a shock news that forces us to overthrow our plans. We will send a representative to the Philippines to check the fields. It is not familiar to us but it must reach standards for competitions. We and other teams have to accept this decision," said Anh.
He added that players would arrive in the Philippines days earlier than originally planned to train on turf.
The hosts also rejected a proposal to allow teams having 23 players to compete at the SEA Games.
The organisers confirmed that each squad would have total 20 players in which two can be over-22.
To prepare for the Games, Vietnamese players will take part in the international football tournament BTV Cup on November 6-11 in Binh Duong Province as a final test.
Coach Park has set a target of winning a gold medal for the first time for Vietnam.
The women's football matches will also be played on artificial turf. Their competition begins on November 28 and end on December 9.
Coach Mai Duc Chung and his players also must change their plans.
Vietnam women are the defending champions.
VNS