AFC requests upgrades for My Dinh National Stadium
The Vietnamese national team may play in another stadium in the next round of World Cup qualifiers in the event that Hanoi's My Dinh National Stadium is unable to meet the standards set by the Asian Football Confederation (AFC).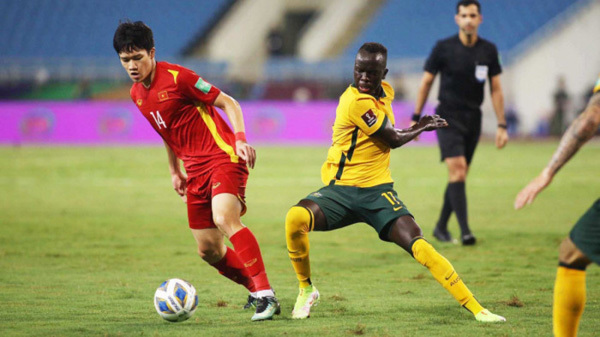 The AFC says Hanoi's My Dinh National Stadium has poor pitch quality, not meeting international standards for World Cup qualifiers. (Photo: Bao Giao Thong)
The AFC has sent a document to the Vietnam Football Federation (VFF) requesting that it reviews preparation works for upcoming home matches.
According to this request, the AFC underestimated the state of the pitch at the My Dinh National Stadium ahead of the national team's previous home fixture against Australia, including facilities such as its function rooms, and sound and lighting systems.
The AFC said organising upcoming matches on low-quality grass surfaces such as those present at the My Dinh will affect the professional quality of World Cup qualifiers.
In addition, the walls around the stadium show signs of serious deterioration, while the manual line markings fail to guarantee accuracy. The colour of the border line around the pitch needs to change in order to suit to AFC's equipment.
The AFC has asked Vietnam to report on upgrades to the My Dinh National Stadium before October 28, said Le Hoai Anh, general secretary of the VFF.
During the recent Vietnam vs Australia World Cup qualifier, head coach Graham Arnold of Australia criticised the poor pitch conditions of the stadium. Some Australian fans and pundits even took to social media describing the pitch as a "cow paddock" and raising suspicions that Vietnam had done it on purpose to cause trouble for Australia.
Source: VOV 

Vietnam lost 0-1 to Australia in a match of the final round of the 2022 FIFA World Cup Asian qualifiers, which took place at My Dinh national stadium in Hanoi on September 7.