Abstract artist finds spaces in the void
Colourful abstract paintings by veteran artist Tran Luu My track his feelings and experiences of life, landscapes, memories and people.
A series of large paintings are on display at his solo exhibition Khoảng Trống (The Void) in Hanoi.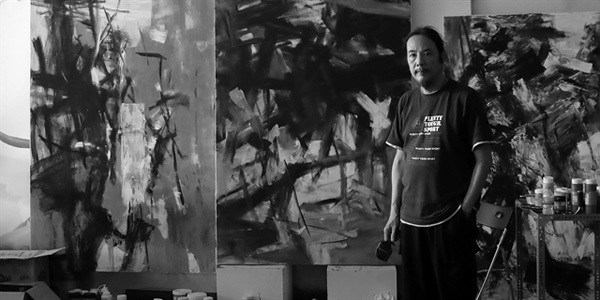 Painter Tran Luu My poses for a photo with his works. — Photo courtesy of the artist
My was born in 1963 in Hanoi and has participated in nearly 20 joint exhibitions at home and abroad and one prior solo exhibition in 1999.
Waiting such a long time for a second solo exhibition shows the care and maturity in his art. The time has also led to many changes in his artistic philosophy and career. Calling it the void, the artist said he expects to find spaces in his artworks and gaps in his life as well.
"The exhibition reviews my findings and discoveries in life, art and myself in the past years. It's also a chance for me to look at me again," he said.
Vietnam's first national abstract exhibition was held in 1992, gathering 32 artists nationwide with 100 paintings. Though My didn't participate, he and painter Mai Anh Chau hosted other exhibitions in Hanoi and HCM City. Since then, they have become big names in the abstract genre.
For My, painting helps him find invisible spaces in the mind. It's the way he reacts to the world and inner feelings.
Critic Nguyen Quan said when he looks at My's paintings, he remembers words of famous romantic poet Han Mac Tu: "We talk with each other with breath, gradually flowers turns to verse."
"So do the paintings of My, we don't need to talk, in other words, he talks to others through art. Looking into his paintings, I can see the world.
"The white canvas is blank, he fills it up by spaces in his mind, what he feels about life," Quan said.
"In my opinion, his paintings are not scramblingly inviting, they lure people with delicate aesthetic messages."
Another friend of My, painter Dang Xuan Hoa remarked that due to their large size (1.8m by 2m), the paintings are full of the inner feelings and emotions of a person who has experienced ups and downs.
"In this second solo exhibition, My seems to discover many new things in his personality and art. I can feel new energy."
The exhibition will run until November 21 at Art Space, 42 Yet Kieu Street, Hanoi.  VNS

A group exhibition by five painters telling street stories through their artworks will be held at the Center of Art-Photography Exhibition in Hanoi from August 10 to 25.

The Ministry of Culture, Sports and Tourism, in collaboration with embassies of ASEAN countries in Vietnam, held an exhibition of ASEAN traditional costumes in Hanoi on October 21.